For all the quality Matt Besler has, it's hard to find an area of his tool set that's truly excellent. He may be one of the smartest defenders in the U.S. Men's National Team pool, but unless you work with a guy day-in, day-out, that's a bit of an unknown. In the skills we see while watching with the Sporting Kansas City defender, the guy is steadily above-average, across the board. Even on throw-ins, he's very good.
He's the exact type of guy you want defending your goal, but he does have his limitations. He's not slow, but some can still run by him. He's strong enough, but on occasion, can be pushed around. He's decent on set pieces but not the man you want marking the opposing team's greatest threat. Even that suspected high game intelligence doesn't lead to mistake-free soccer. Solid in all areas, the Sporting captain isn't the ideal matchup against somebody with an elite skill.
Hence, Aurélien Collin. When he's on his game, the Frenchman is better than Besler, but he's not always on his game. In fact, that happens so infrequently that the U.S. international is generally considered the superior player. As last year's playoffs showed, Collin is capable of being the best player on the field, but over the course of a season — when individual games reveal and occasionally slow, foul-prone, and ill-tempered Collin — you'd probably take the more well-rounded, steady presence.
The Omar Gonzalez Conundrum
All of which brings us to Besler's national team partner. After last night's game against Mexico, Omar Gonzalez's play is again under the microscope. The LA Galaxy Designated Player lost Rafa Marquez on Mexico's first goal and was left hoping the assistant referee would bail him out of his part in El Tri's second. At other times, when he was losing aerial duels and otherwise looking amiss in his positioning and reactions, Gonzalez looked every bit the player some want dropped in favor of Clarence Goodson.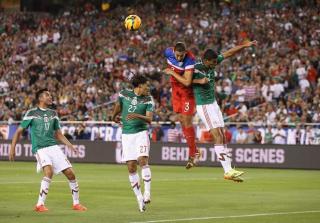 It creates a conundrum for Jurgen Klinsmann. As he showed in the 2012 MLS Cup final, Omar Gonzalez has the ability to define games, and while this summer's challenges will far exceed those the Houston Dynamo posed the Galaxy back then, Gonzalez represents the U.S.'s best chance to stand up to the likes of Germany and Portugal. When he is on his game, the former MLS Defender of the Year is by far the best center back at Klinsmann's disposal. To choose him along side Besler's steadying safeguard is to embrace the U.S.'s best-case scenario.
The other side of that coin defines Klinsmann's dilemma. Like Collin, more games than not, Gonzalez isn't a world beater, and his mistakes with the United States have become so frequent, people are starting to reassess the risk versus reward. How many Gonzalez errors become too much to justify his place in the starting XI? And is this just a lottery where, in the end, any winning proposition will likely be offset by the mistakes we've invested?
It's been too long since we've seen a dominant Gonzalez performance in red, white and blue. It's been a long time since we saw one for the Galaxy, too. Ever since his MLS Cup MVP-winnig performance in Carson, Calif., Gonzalez hasn't played like an elite defender. Wavering between very good and too mistake-prone, his reputation is treading on potential more than performance. Though he's only 25, Gonzalez's renown is based on his past more than his present or future.
That's not to say Gonzalez can't again be great, but Jurgen Klinsmann needs to get some indication that it will happen. Else, he's betting on memories. He's betting the Omar Gonzalez we haven't seen in over a year will emerge some time between now and June 16. And unfortunately for Goodson, that may create an unrealistic standard. Goodson not only has to out-play the current Gonzalez, he has to outplay the best Gonzalez possible – the one for whom Klinsmann seems to be holding out.
It's the type of player I often hate writing about, one that feeds into whatever bias viewers want to carry. If you're inclined to focus on the best parts of a defender's game — evaluating players on their highlight reels and not their 90-minute contributions — Gonzalez can still look great. Thunderous clearances. Decisive reads. The commanding way he can take a man off the ball. When he's Best Defender in the League Omar, it's all there, painting a tantalizing picture of his potential.
But for defenders, mistakes matter. They really, incredibly matter. It's part of the reason Germany's Mats Hummels may be one of the most overrated players in the world. Like goalkeepers, defenders can't just cancel out a key mistake with 89 minutes of good work. You can be great on the ball, spectacular on set pieces, have the strength to sack toss Hulk and the speed to chase down Ronaldo, but in the high leverage situations where defenders must perform, you can't screw up. Defenders can't consistently give up good chances.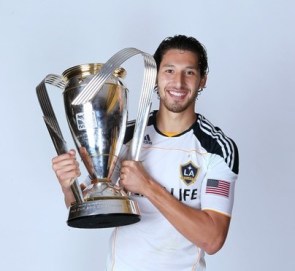 Between now and Brazil
Consistency is Gonzalez's main problem. Not game-to-game consistency, because he has been fairly predictable over the last season-plus. It's minute-to-minute consistency that's the issue, the type of varying performance that leads to a couple of nervy moments each match. As has been the case throughout his time under Klinsmann (with the possible exception of a small span last year), Gonzalez hasn't been able to string together 90 mistake-free minutes with the national team.
Wednesday only reinforced that notion, but there's still time. Between now and kickoff against Ghana, Gonzalez will have his opportunities to prove he's more reliable. Perhaps he won't start every game of the U.S.'s sendoff series, but he's sure to start at least one. And given the faith Klinsmann's shown in one of his first choice center backs, one good game may be enough. Gonzalez only needs to show that his past is still possible.
That's why it's too early to say Gonzalez played himself out of the lineup. Although the performance fit a larger pattern, Wednesday's game will be insignificant once the team gets together in May. And there's no question: Gonzalez will definitely be in Palo Alto, where he'll have every chance to prove his hiccups are behind him.
Yes, the performance was worrisome, but it's not going to redefine Gonzalez's prospects for Brazil. May, however, will.