Rising
Kyle Beckerman – Barring a complete collapse, the Real Salt Lake anchor was going to Brazil no matter what, but after seeing over 70 minutes of what a midfield with him and Michael Bradley looks like, you can't help but wonder if Beckerman should get more time. It's not about whether he's better than Jermaine Jones. There's a reason why Jones is so accomplished at club level. Its' more about what Beckerman allows his team's best player to do.
Going with a two-man midfield is going to be precarious against Germany and Portugal, part of the reason Beckerman might see playing time (as the base of a three) regardless, but against a team like Ghana, allowing Bradley the freedom of knowing there's a steady anchor behind him could be the way to go. And Beckerman is more suited to that role than Jones.
Brad Davis – Davis got the surprise start over Landon Donovan, and on an early first half set piece, he showed the unique quality he brings to the squad. His play over the course of 90 minutes against international-caliber opposition may leave U.S. fans with worries, but with the huge 23-man rosters teams can take to the World Cup, you can afford to select a specialist.
Last 10 minutes, down a goal, against an opponent whose no longer fighting for the ball? Might as well bring on your dead ball specialist and try to find Omar Gonzalez in the box. After last night, Brad Davis seems a lot closer to Brazil.
Michael Parkhurst – A second straight credible job at left back – what's probably his worst position in defense. That flexibility might not only get him to Brazil, it may allow Jurgen Klinsmann to take some players who, unlikely to get playing time, can get some valuable experience for the next cycle. If may also make room for some bubble players, like …
Chris Wondolowski – The dream is not only still alive, it's thriving. Wondolowski, transcending all the skepticism that has accompanied his place at the fringe of the national team, may be pushing his way into the 23. That flexibility that players like Parkhurst, Fabian Johnson, DeMarcus Beasley, and Brad Evans provide? It opens up spots for Klinsmann to say "you know what? Chris has done enough. He's one of our 23. He's another late match option."
And when we see him move the way he did on Michael Bradley's first half header, who's to say he can't actually be useful? Full credit to Wondolowski. He continues to defy expectations.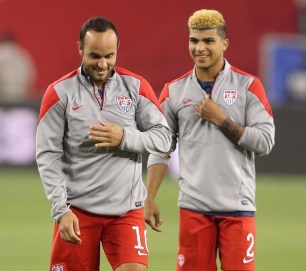 Falling
Landon Donovan – According to ESPN's coverage, Klinsmann felt Donovan hadn't looked 100 percent in training ahead of Wednesday's match, something that could be interpreted as a fitness concern or just a failure to perform.
It could also be something even more subtle. The players go through a battery of tests every time they're called into the national team camp, measures that help Klinsmann's staff round out the picture as to how the player's training at club level.
For whatever reason, be it on the field or off, Donovan just didn't measure up. He'll have work to do in May, but given where he appears to be on the depth chart, is he really a lock? I'm sticking with "yes," but it seems fair to wonder.
Omar Gonzalez – This deserves its own post. Suffice to say, the LA Galaxy star didn't do himself any favors last night. Perhaps his role on both goals can be explained in isolation, but Gonzalez seems to require a lot of explanations of late, a discussion that goes beyond what we see in the highlight reels.
DeAndre Yedlin – Yedlin "falling" is more about perception and selection than his performance. In his very limited time on Wednesday, he was fine, but many thought that time would begin at minute one, not 23 minutes from the final whistle.
The situation is analogous to the whole DeAndre Yedlin phenomenon. Initial reaction to his debut last season was irrationally positive, but then the blowback went too far. All along, a young right back with the talent to grow into one MLS's best has done just that: Grow.
As the right back situation's become cloudier, we've caught ourselves asking if Yedlin might be actually be a first team option. When Tony Beltran got the call in Klinsmann's starting XI, we were reminded: We gotten ahead of ourselves once more.
But just because Yedlin didn't start, there's no need to over-correct. He might not be as close to Brazil as we thought, but Wednesday wasn't a set back, either. Let's just meditate on this one, avoid being too bold about Yedlin's potential, and see where he ends up …
Except when we're talking about my MLS Team of the Month. Yedlin was totally in that.