When watching soccer on TV, have you ever sat there and wondered what the man behind the microphone really thinks?
Maybe this will go someway to helping with that.
In the latest edition of "View from the Booth" we chat with NBC Sports' lead soccer announcer Arlo White about Everton vs. Arsenal, Liverpool's title challenge and Man City and Chelsea both facing tricky games, plus plenty more.
(MORE: VIEW FROM THE BOOTH ARCHIVE)
You can hear Arlo calling live games every weekend on NBC Sports Network and NBC, and watch every single game available live online via NBC Sports Live Extra,
So, let's get to it.
Liverpool are ripping top teams apart, but they face a tricky game away at West Ham this weekend, and have trips to Norwich and Palace to negotiate. How do you think they'll fare?
I think they will do well against those that are fighting relegation, they have proven themselves in teams against all levels from recent months. It doesn't matter the opposition, they go about their game in the same way. I was at the Spurs game last Sunday and a number of things struck me, most noticeable was the noise from the Kop, which was extraordinary.
On occasions earlier in the season I felt the nerves form the terraces worked its way down onto the field and affected the whole occasion. But last Sunday was all about noise, passion and the belief that Liverpool can break this 24-year famine without a Premier League title. With S.A.S. playing the way they are, Jordan Henderson marauding around midfield, with Coutinho and Raheem Sterling, plus Daniel Agger in central defense and Jon Flanagan and Glen Johnson playing in their correct full back positions. At the moment they look very good to last the whole way, they should get a result against West Ham, then it is the big one against Manchester City.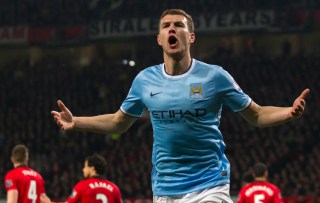 Man City and Chelsea have home games they should really win. Did you see either of them slipping up?
Southampton are a very dangerous side. It is all about whether they can put 90 minutes together at this stage of the season when it doesn't mean anything for them. They have been stuck well clear of the relegation zone but just out of the European places all season, if they take the fact that they're playing against a title challenge then they could make life very difficult for City. Stoke City are in fine form, they've won three in a row, are unbeaten in five and they've only lost one in nine which was against Man City. They are fighting to finish in the top half of the Premier League for the first time, so they have their own challenge now that they are safe.
Chelsea are in a very interesting situation, they are three days removed from a massive salvage operation against Paris Saint-Germain. They have got injuries, Samuel Eto'o could come back but Ramires is suspended. The striker role has been an issue recently, Jose Mourinho has been criticizing his sides defending against PSG and the bottle against Crystal Palace. It is a big moment for Chelsea, and the beginning of a season defining four games. Both of those sides face very stiff challenges over the weekend.
The big game of the weekend comes on Sunday at Goodison Park, as Everton and Arsenal do battle for fourth place. How do you see this match panning out?
Can't wait to get to Goodison Park, I circled it in the diary when Arsenal started to falter a few weeks back. Everton have got Lukaku and Deulofeu back on the paddock and they looked unstoppable in recent times. All of a sudden, Everton have a game in hand and are only four points behind Arsenal. What a huge six-pointer this is for them. They can make life difficult for Arsenal. As we've seen against the top four teams, they  have been abysmal away from home. Everton will look to make it a miserable record against the top five for Arsenal. It is a huge, huge game in a season when you think you know the script and what will happen, suddenly this season of all seasons hands us another gift. The race for the top four is not over. The neutrals have been handed another gift, Everton vs. Arsenal, it should be terrific.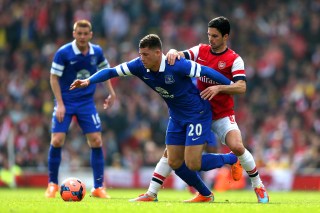 If Everton do beat the Gunners, are they the favorites to seal a Champions League spot? How big of an achievement would that be?
It would be incredible. Arsenal always managed to reach the top four, but this season would be the polar opposite to last year. If they don't make it and Everton pip them, Arsenal will have been top for a lot of days, 128 to be exact, and slipped gradually out of the top four. Last season they needed a win right on the final day to secure that top spot ahead of Spurs. They showed encouraging signs against Manchester City, but their fans and Arsene Wenger must be frustrated that this slide has taken place as they should be excited about being in the FA Cup semifinal and being favorites to win a trophy for the first time in nine years. Everton are well managed by Roberto Martinez, have their top players back and have two tremendous full backs, plus Kevin Mirallas and the emergence of Ross Barkley. If Everton do it, it would be a remarkable achievement but they have a long way to go yet. But they can put a marker down with three points against Arsenal on Sunday.
Finally, what else are you looking forward to?
Cardiff vs. Crystal Palace. Under Ole Gunnar Solksjaer, Cardiff have shown signs of life, especially in that 3-3 draw with West Brom, but it is getting to the point where they need to win games. If you look at the fixture list, you may have thought a few weeks ago that Cardiff would fancy their chances against Crystal Palace. But the Eagles have been superb after a little wobble. That win over Chelsea last Saturday was one of the top five results of the entire season. They aren't scoring goals, but they are so well organized and up for the fight that you wouldn't put anything past Palace. Massive game for both teams but more so for Cardiff who are absolutely desperate for three points.