The Portland Timbers welcome Cascadia rivals Seattle Sounders to Providence Park on Saturday (Watch live on NBCSN, 3 p.m. ET and online via Live Extra) with the need for a vital win intensified for the home side.
So far in 2014, the Timbers are without a win in four games, drawing two and losing two. Something just hasn't quite clicked for Caleb Porter's team, as the reigning MLS Coach of the Year is facing a big battle in just his second season coaching in Major League Soccer.
WATCH LIVE ONLINE VIA LIVE EXTRA
According to Porter's captain, Will Johnson, the biggest rivalry in MLS needs no extra hype. Portland's skipper epitomizes their fighting spirit and drive to get back to the highs of last season's Western Conference regular season title, and he's focused solely on toppling the Sounders on Saturday.
"It's big time, this rivalry doesn't need any building up. It is what it is, a fantastic spectacle of Major League Soccer," Johnson said. "It's intense, it's big, it's all those huge words you put next to it, it is fantastic. I think we are all ready to get this thing going, it will be a fantastic atmosphere where two good teams are fighting for three points."
Johnson, 27, has been a revelation since switching Real Salt Lake for the Rose City in 2013. The Canadian national team midfielder is the heart and soul of the Timbers, and his terrific two-way play in the engine room saw him rewarded with a new long-term contract at the start of this season.
With the captain's role comes responsibility, and although you'd hardly call Portland's slow start to the season a catastrophe, Johnson is rallying his troops behind the scenes to get their season kick-started against Seattle.
"I am just keeping everyone positive, keeping guys composed and not pointing fingers. We are all in this together," Johnson said defiantly. "When we are playing well, we accept the praise. And when we aren't doing well, we are all in this together and have to find a way to battle out of it. It's just about keeping the group united and making sure everybody understands that it is long season, and we are going to get this thing right."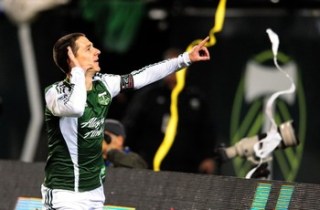 Matches against Seattle at a sold out stadium in downtown Portland, coupled with the energy, creativity and x-factor of the reverent Timbers Army, has seen this matchup become the most eagerly-anticipated game in MLS. It is certainly one of the first fixtures many neutrals look for when flicking through the schedule.
However, after two draws were followed by back-to-back defeats to Colorado and FC Dallas to start this season off, you could forgive the Timbers Army for letting out murmurs of discontent should another poor result arrive against Portland's biggest adversaries.
Johnson understands that, and believes the fans have the right to express their opinions. Positive, or negative.
"We are trying as hard as we possibly can to win games and perform well. But if they get frustrated if we aren't doing that, that's understandable," Johnson said. "We take the criticism just like we take the praise when we are doing well. It is just the reality of the situation. I would say it is good, because they really care about this team. They care about this city and us doing well, so if there is some criticism that goes along with the praise when we get it right, then so be it. We have the characters who can take that."
As mentioned, Johnson has tied himself to Portland for the foreseeable future, with the former RSL standout taking to life in PDX remarkably well. 11 goals in 35 appearances last season marked his best ever MLS campaigns, in terms of productivity, and the former Chicago Fire and Heerenveen player is delighted to be on board with the journey the Timbers are on.
"I love what this club is all about, through think and thin," Johnson said. "You want to find a place where you are valued, where they look at you like you look at yourself and you see eye to eye. I feel like I fit in well with this club and the philosophy and the city as well. Speaking to the fans, owners, general manager Gavin [Willkinson] and Caleb, I just really like what the club is all about. For me it was always an easy decision to commit my future here and give everything I have for the club. The hard part is trying to reward them for believing in me."
The next chance to reward the front office, coaching staff and their fans comes against Seattle. Johnson's praise for head coach Caleb Porter runs deep, and he believes the tactics and plans have been spot on. It is just the execution from the players that's been missing. Johnson thinks nabbing the Timbers' first win of the season against the Sounders would be extra sweet, given their slow start to the current campaign.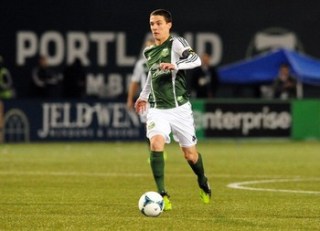 "It would be the icing on the cake, that's how we are looking at it," Johnson said. "Three points are there for the taking, we expect to win our home games. It would be nice to reward our fans, who have stuck with us for four games now without a win. We haven't played to our peak. We need to win against Seattle, it would be a nice treat to get our first win of the season at home against Seattle."
What about Seattle?
In recent meetings Portland have certainly had their number, at home. In 2013 they won 1-0 in the regular season, then knocked Seattle out of the playoffs with a 3-2 win in the Rose City which fueled the flames of rivalry further heading into Saturday's early season clash. This year, Seattle's squad is littered with players possessing bags of MLS experience, as their head coach Sigi Schmid has gone with a different approach to recruiting.
"It's their secondary guys, because you still have Dempsey, Martins, Alonso, those guys who've been on the team for a while. but they've done well," Johnson said of Seattle's rebuild. "They are a good team, but it's still the same guys who make them tick, Alonso in the middle, Dempsey and Martins up front, the guys they are counting on are the same and we have to be aware of them. They are dangerous, they are well organized and I don't think it's any harder… but I don't think it's any easier."
What would make things a little easier against Seattle would be going ahead early, as Johnson revealed his team must start strong and build off the intense atmosphere created by the Timbers Army. But they must stay calm and focused because as we've seen in previous Cascadia clashes, things escalate and get out of hand pretty quickly.
"We have got to get the first goal. We haven't had a lead this year, so that's been part of it. And we need a shutout, we haven't had a shutout either. So those are two key focuses for us," Johnson said. "The atmosphere, intensity, there's no need to 'rah, rah' and get everyone pumped up. The rivalry and atmosphere takes care of that, so it's almost calming the nerves and executing versus letting your emotions getting the best of you and being too up for a fight. We have to play smart, as well as be aggressive, and find that balance. That will be the key."
Off the field, Johnson is a bit of a nomad. He was born in Toronto, Canada in 1987, before moving to England and living in a suburb of Liverpool during his formative years. He then played in Chicago as a youngster, before moving over to the Dutch leagues and then he moved back to the U.S. with Real Salt Lake. Yeah, he gets around. In both Toronto and Liverpool, teams in Red are aiming to win their domestic titles this season. What does Johnson think about that?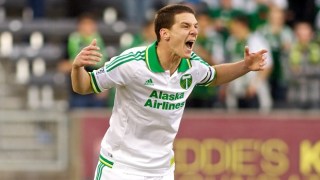 "It is great. The fans deserve it, they deserve a winning team in Toronto," Johnson said." For the league it is great when an ownership group is willing to pump in some money and get this thing going and generate buzz and press for the league. As for as it being Toronto, where I was born, a little piece of me is definitely very, very happy for them."
What about Liverpool?
"Until I was about ten years old I grew up in Crosby, which is just outside of Southport. I am a red, red all the way!" Johnson said. "I grew up watching Jamie Redknapp, Michael Owen, Robbie Fowler, Steve McManaman, all those guys. They were my heroes growing up. Now I am following the Gerrard's and the other guys today, it has been good. With NBC's coverage I get every game on the road home or away, I get to watch most games. It's been fun, it's been a good year to be able to watch them."
Johnson is hoping it will be a good year to watch his Portland Timbers side too. But what will the outcome be for a team rebuilt in 2013, and then going through some early growing pains in 2014? Reticent to look too far ahead, Johnson is thinking about getting the win against Seattle on Saturday, and building on it. Nothing more, nothing less.
At the end of the 2014 MLS season Portland will be…
"… MLS Champions. But I think that's too cliche," Johnson laughed. "We have just got to win our first game. You have to walk before you can run. Right now we are focused on winning against Seattle, but our goal is to win a trophy. That is why we are here, that's why we play."