1. Everton win gives life to Champions League hopes
This is really happening. For as much as we've talked about Everton having control of its Champions League destiny, it never felt real… until now. Before the Toffees routed Arsenal at Goodison Park on Sunday, this looked like another Arsenal close call; another plucky-but-short season from the Toffees; another reminder of the difference between the Premier League's mammoth and merely big clubs. If decades of Everton failure against Arsenal told us anything, it's that certain teams are allowed to be good, just not too good.
(MORE: Everton 3-0 Arsenal: Everton's Champions League dreams in sight with big win)
So much for that. Everton's 3-0 win over Arsenal wasn't just plucky. It was convincing, leaving no doubt as to which team is the fourth-best I'm England. The top three: they're title contenders. After that drop off, Everton is the best. They proved so on Sunday.
One point back of Arsenal with a game in hand, Everton's focus now shifts to the run-in. Can they fulfill the Champions League promise they flashed on Sunday? Here are the remaining games for each team:
Arsenal
(33 games, 64 points)
Everton
(32 games, 63 points)
vs. West Ham
at Hull City
vs. Newcastle United
vs. West Bromwich Albion
vs. at Norwich
at Sunderland
vs. Crystal Palace
vs. Manchester United
at Southampton
vs. Manchester City
at Hull City
There are enough stumbling blocks along Everton's road to give Arsenal fans hope, but those fans may also remember Mathieu Flamini's own goal at home against Swansea, a reminder of the team's extraordinary ability to turn its back on success. With the team also still active in the FA Cup, their last five games won't be distraction free.
Perhaps a Gooner's worst nightmare: Arsène Wenger uses his chance at silverware to condone his team's waning league results.
---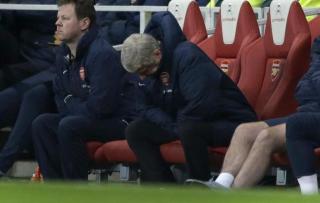 2. Not even Stan Kroenke would take this lying down
Let's not talk "crisis" – the unimaginative cliché that correlates so well with "Ctrl+W". Let's talk about the real implications of today's result, even if our limited knowledge of Arsenal's inner-workings means the conversation's no less speculative. But given the well-established suspicions about the Gunners, it's at least worth considering how the next four or five months will test conventional wisdom.
That wisdom holds that Stan Kroenke, Arsenal's majority shareholder, is less concerned with the team's silverware drought than its place in Champions League. Call it a financial concern, one that explains why, despite Arsenal's wane from perennial title contention, Wenger has remained beyond reproach.
A dip to fifth will test that hypothesis. If Arsenal loses that Champions League money and looks toward a 2014-15 season where Everton, Tottenham and Manchester United will challenge for that all-important fourth place spot, Kroenke and Ivan Gazidis may look at this season as a clear sign of unacceptable regression. Particularly as Roberto Martínez, an ideal fit for Arsenal's job, sees his name linked with places like Barcelona, the pressure to make a move could be greater than ever.
Provided Arsenal don't finish fourth, of course. But if they miss the top four for the first time in the Premier League era, the conversation might start. Hey, Arséne: That Paris Saint-Germain job, huh? Or Barcelona – what a fit, right? We just don't want to ruin what we've got.
It will be difficult for Arsenal to improve on Wenger, but as results continue to diminish (and the outcomes of big games become more disturbingly lopsided) the risks gain a different, more tolerable context. Arsenal's brain trust could be tempted to move on.
---
3. Top three hold serve
All three contenders at the top of the table held serve, something we shouldn't taken for granted in light of Chelsea's recent results. But in that same light, the Blues may have posted one of the weekend's most impressive results. A 3-0 win at home to Stoke looks obligatory, but Mark Hughes's team has seen steady improvement throughout the season. Given the Potters' 3-2 win over Chelsea at the Britannia, a devil's advocate could have expected more. Thanks to goals from Mohamed Salah, Frank Lampard, and Willian, the Blues slayed that demon early.
(MORE: Chelsea 3-0 Stoke City: Blues back on top)
Manchester City's 4-1 over Southampton was also impressive, but given some of the idealistic naiveté we've seen from the Saints, the game at the Etihad always had a chance to break this way. But against a talented team capable of capitalizing on a poor performance, City deserves credit for maintaining their standard. With a fixture list impacted by the two games in hand they have to make up, the Citizens will be challenged to bring this energy to their remaining seven games.
(MORE: Manchester City 4-1 Southampton: Citizens go second despite early scare (video))
And then there's Liverpool, who so many expected to struggle at West Ham today. It was a somewhat patronizing evaluation, as if playing a beautiful, progressive style is inconsistent with being able to handle Andy Carroll. Martin Skrtel and Mamadou Sahko may not be the league's best defensive pairing, but they're not weaklings. If there's one thing they can to, it's muscle up to a big, slow target man. Unsurprisingly, Liverpool won 2-1, albeit with two goals from the spot.
(MORE: West Ham 1-2 Liverpool: Contentious battle sees Liverpool through to top)
---
4. The hype begins now
Here's where City's early exit from Champions League becomes a blessing. Had they defeated Barcelona in the Round of 16, the Citizens would be playing mid-week ahead of Sunday's big game at Anfield. Given the long odds of any non-Bayern Munich team winning Champions League, it would likely be a waste of resources. For credibility's sake alone, Manuel Pellegrini would be compelled to play a strong team on Tuesday or Wednesday. While City's squad has enviable depth, the game would still be a distraction. Champions League may carry more glory, but City's chances to win the Premier League are far better.
None of which has anything to do with Sunday's actual game. Ever since Liverpool claimed first place, City's visit to Anfield has loomed large. With the Reds in the midst of a charge that's seen them win nine-in-a-row, Manchester City's games in hand appear to be the major obstacle between Brendan Rodgers and a breakthrough title. If, however, Liverpool could beat City at Anfield? Those games in hand could prove irrelevant.
Let the hype begin now. Chelsea and Manchester United's mid-week exploits in Champions League will serve as a brief distraction, but all along, our attentions will slowly be drifting to Anfield. Premier League fans have been subtly hyping this came for weeks. They don't have to be subtle, anymore.
---
5. No ground gained at the bottom
Fulham seemed to get a huge boost to its survival pursuit, taking a 2-1 result out of Villa Park. Then West Brom won, and all of the Cottagers' strides were put in a different perspective. While Fulham did climb out of the cellar, passing both Sunderland and Cardiff City, they didn't move closer to safety. They still need to gain six points on 17th place, even if 17th is now Norwich City, not West Brom.
(MORE: Aston Villa 1-2 Fulham: A vital three points could help Cottagers reach safety (video))
The news is worse for Cardiff, whose embarrassing loss at home felt like a ticket to the Championship. Against a Crystal Palace team that had scored only 20 goal this season, the Bluebirds conceded three times. Four games after earning what seemed a key win over the Cottagers, Ole Gunner Solksjær's team is now below Fulham in the standings.
(MORE: Cardiff City 0-3 Crystal Palace: Puncheon at the double (video))
For last place Sunderland, there's still hope, even if they've gone two months without a Premier League win. With seven points in their three games in hand, the Black Cats will be safe. How likely is it that a team that's only earned 25 points in 30 games can take seven in three? Well, that's why they call it hope.
(MORE: Norwich City 0-1 West Bromwich Albion: Amalfitano opener proves enough for West Brom this time (video))
(BREAKING: Chris Hughton sacked as Norwich City manager)
---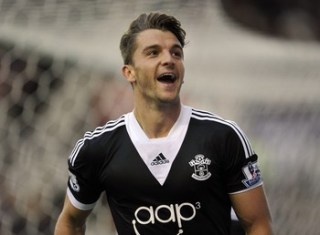 6. Jay Rodriguez falls
If Rickie Lambert was the attacking darling of last season's Southampton squad, Jay Rodriguez snatched that title this year, no small feat considering the love Adam Lallana has rightfully received. But with 15 goals this season, the 24-year-old Rodriguez has carved out a spot among the Premier League's goal scoring leaders, winning a place with the growing Saints contingent likely to represent England at this summer's World Cup.
Now all that needs to be written in the past tense. Rodriguez was stretchered off from Saturday's game with a knee injury everybody suspects to be a major one. Though at the time of this writing Southampton had yet to clarify the extend of the problem, players reacted with that knowing regret we only see with a severe injury. Let's just hope they're wrong.
(MORE: Jay Rodriguez's World Cup dream in ruins after knee injury)
Though he's an important part of Southampton's team, given what the Saints are fighting for right now, they're unlikely to truly miss Rodriguez in the near-term. And while England can use all the talented attackers it can get, it was still uncertain what role he would play for Roy Hodgson this summer.
The big loss here is to Rodriguez himself. Experiencing his first prolonged spell of top flight success, Rodriguez was taking advantage of his career's emerging prime. Now he could be sidetracked for up to a year. While he will still be young enough to comeback, reclaim some of this momentum, and challenge for a place at another major tournament, it's always sad to see a player lose some of the best time of his career. Especially when he'd just started tasting success.