Tom Sermanni is as surprised as anyone by his dismissal from U.S. women's soccer head coaching duties.
He was, after all, 18-2-4 in his 15-month tenure at the helm of the world's No. 1 team. But results weren't the heart of the issue, according to U.S. Soccer president Sunil Gulati. A difference in philosophies on where the team is headed ultimately cost the Scotsman his job, which is what caught him most off-guard.
"I wasn't aware of any major issues around the place, and perhaps that was my lack of insight," Sermanni told NBC Sports. "I don't know; it wasn't something that I had on the radar. I thought the team was headed in the right direction and we were building up a strong squad."
Gulati, however, said U.S. Soccer "needed to go in a different direction." The news was delivered shortly after the U.S. women defeated China 2-0 on Sunday in the first of two friendlies this week. It comes a month after the Americans saw their 43-game unbeaten streak snapped, and endured their first three-game winless streak in 13 years after an ugly display at the Algarve Cup.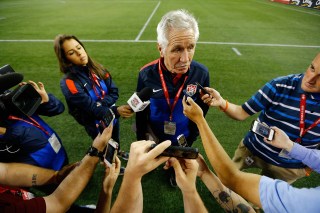 But that tumultuous week in Portugal – which included a historic 5-3 loss to Denmark – wasn't the problem, Gulati said Monday. There were "underlying issues" that were both stylistic and personality-driven.
Sermanni guided the team to an unbeaten 2013 record, but more importantly gave young players – and previously uncapped veterans – chances that they previously didn't get. He was willing to make changes consistently and try new pairings and formations.
And ultimately, that could be what cost him his job.
"Change can cause discontent, generally, of course," on an individual level, Gulati said.
He says that there was no player uprising nor one specific event that led to Sermanni's firing, and reiterated praise for Sermanni's upstanding character.
"This isn't a group of players coming and seeking us out."
The U.S. women excelled under former coach Pia Sundhage, whose greatest trait was managing a group of superstars and maintaining just enough collective chemistry to make them all gel. Gulati reiterated that Sermanni is a "class guy."
Sundhage was a free spirit, and there was a perception that players, on the whole, admired her as more than a coach, but a friend. There was camaraderie and chemistry. Sermanni is laid back as well, but in his own way.
"Tom does have a unique style and Pia's is very different," Gulati said. "What I would say is the demand both of all of us for the women's program, and in some way of the women's team itself, fits very well with certain styles and not so well with, perhaps, other styles.

"But that's also individual players. It's rare that everyone in a particular team finds a style that they buy into, but it's important that they collectively buy into the direction and how you are moving forward, and we had some concerns there."
Somewhere along the line, though, the powers that be – Gulati, USSF CEO Dan Flynn, and at least some players – lost faith in Sermanni's still-developing vision.
Sermanni's implementation of new talent like 21-year-olds Crystal Dunn and Morgan Brian look like they will both pay immediate dividends at the 2015 World Cup and in several cycles to follow. One eye on winning now, one eye on development – that was the message when Sermanni was hired, and that was what, on the surface, he was doing.
"We wanted someone who could continue to guide the women's national team at a high level and keep us at the right place internationally, which is right now at the top, and also to become involved in a broader scope on player development," Gulati said on Oct. 31, 2012, when Sermanni was announced as the new U.S. coach.
Those comments came after a two-month search that involved over 30 qualified candidates.
Gulati on Monday didn't deny that player development is always part of the job, regardless of who is coaching or when. The search for a new coach is already underway and could take several weeks or more. Just as she did when Sundhage left in 2012, Jill Ellis will serve as interim coach, starting Thursday when the U.S. plays China again in San Diego (11 p.m. ET, NBCSN & Live Extra).
Sermanni said he was previously unaware of any discontent among players, but he "would doubt if it was just solely Sunil" who made the decision to fire him.
"I stand to be corrected, but I'm an open communicator with players over the last 16 months or so, whether in individual meetings or casual meetings. I've certainly stated from Day 1 that if players did have any issues, whether they be soccer-related or other, that my door was always open."
Players have been noticeably silent since the coaching change, with only goalkeeper Hope Solo tweeting a departing thank you to Sermanni as of Monday afternoon:
It's a somber day for us all today. Tom is simply a classy man in every way, and he will certainly be missed.

— Hope Solo (@hopesolo) April 7, 2014
ESPN's Julie Foudy reports that players were instructed not to use social media to address the firing.
Seven or eight players visited Sermanni after the news dropped, the Scotsman said, and a few others sent emails.
The United States women's program continues to be a paradox. "Win now" will always be a priority, and that's how it is for any of the world's best teams, male or female. The team's No. 1 priority is to win the 2015 World Cup. That's been the goal since the U.S. women walked off the field on July 17, 2011, after losing to Japan in the World Cup final. The Olympics, which the Americans have championed three consecutive times, pale in comparison to the World Cup.
But this is a team in transition, marked by a core group of veterans and a promising batch of early-20-somethings who continued to get looks under Sermanni.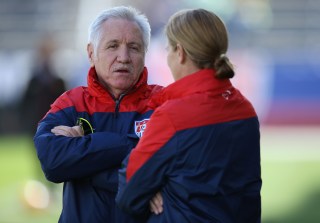 When games kick off in Canada next summer, it will have been 16 years since the U.S. last won a World Cup.  Yet this team, by however funny a system, has been ranked No. 1 in the world for the last six years.
Without a doubt, the recent small stretch of results raised concern for how 2015 would play out.
But struggles will happen within any team – "there are bumps in the road," Sermanni reasoned Monday after a short few hours to sleep on the news – and they happen to even the best. That 2011 U.S. team was the last of 16 to qualify for the World Cup after lethargic performances throughout 2010 gave way to a qualifying mishap (Sundhage kept her job then, by the way).
Germany goalkeeper Nadine Angerer, the reigning FIFA World Player of the Year and two-time World Cup winner, doesn't make much of her American rivals' recent struggles.
"The first eight teams in the world, they are so close, everybody can beat everybody — [it is] details that decide winning or losing," Angerer said last week. "So the U.S. didn't have a good tournament; in 2007 we finished in eighth place at the Algarve Cup and won the World Cup so it doesn't matter."
Sermanni is moving on graciously, returning to his home in Los Angeles to figure out what's next. He calls himself a "philosophical person," and says he'll evaluate what he could have done better in his year and a half at the helm of the U.S.
"The reality of a head coaching career is that tomorrow you could be out of a job and there might never be another job that props up for you. This is the first time in 25 years that I've ever been let go from a job. It's a new experience for me."
What's next for the U.S. women will be a highly-scrutinized 14-month build-up to the World Cup in Canada, under a yet-to-be-determined coach. Whether or not this decision pays off won't be known until July 5, 2015 – the World Cup final in Vancouver. But the ramifications will resonate well beyond that, for better or worse.