Midfielder Carli Lloyd said Tom Sermanni's firing as U.S. women's national team coach caught her off guard just like so many others, including teammates.
"I was shocked as much as everybody else was," Lloyd said Tuesday from San Diego.
"It's not something you think about after getting on the bus after a victory and getting called in for a meeting, so I really was just taken by surprise. It's just a very tough situation."
U.S. Soccer president Sunil Gulati said that the federation needed to move in a "different direction," saying that Sermanni's style wasn't working, a conversation Gulati says was accelerated by discussions with players and staff and recent results. There were "underlying issues," he said.
"It's rare that everyone in a particular team finds a style that they buy into, but it's important that they collectively buy into the direction and how you are moving forward, and we had some concerns there," he said.
Sermanni said Monday that even he was shocked. He didn't see any warning signs or have any conversations that led him to believe his job was on the line, and he "didn't sense that there was across-the-board dissatisfaction" within the team.
Gulati said on Monday that players did not seek him out, dismissing any ideas that players collectively sought change, but he did say that players and staff surrounding the team were consulted in the evaluation process.
"Whenever we have changes or possible changes or directional changes – whatever you want to call it – with our national team program, we do that quite a bit. We talk to players, we talk to staff, we talk to people that observe the team and we also rely on our own assessment."
Lloyd was not one of those players, she says, and didn't know of any conversations between Gulati and players regarding Sermanni's performance.
"I really wasn't aware of if there were conversations, if some people were unhappy," she said. "I just go out there and play the game and do what I do best, and that's just working hard every day."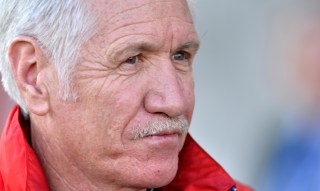 U.S. players have not commented much since Sermanni's firing. Abby Wambach told the Associated Press on Tuesday that there's no truth to a rumored player revolt and goalkeeper Hope Solo said "at the end of the day, we failed Tom, we didn't put together a good tournament" at the Algarve Cup.
Now the U.S. team is in need of a coach just over a year before the World Cup. Qualifying takes place in October. Jill Ellis is the interim coach, starting Thursday in San Diego against China (11 p.m. ET on NBCSN, Live Extra). Gulati says the search process has begun for a new coach, and they hope to have him or her in place "certainly by the summertime schedule…if not sooner."
Lloyd isn't concerned about the tight turnaround to the World Cup, admitting the circumstances will require a coach familiar with the team.
"I think we're well aware that we don't have too much time, but at the same time I don't think we're really worried," she said. "We've got faith and trust in U.S. Soccer that they will hire somebody who is somewhat familiar. I'm sure it's not going to be somebody who has no idea about our team and the players. I think it would most definitely be somebody who has got to be familiar with the system, the pool to make that transition a little bit easy."
On Tuesday, Portland Thorns FC coach Paul Riley and Houston Dash coach Randy Waldrum both said they don't think it would be impossible for a coach to temporarily handle both club and country duties, though both say they have not been approached about the U.S. job. Riley and Waldrum were finalists in the last search that yielded Sermanni, but each coach has since begun his new respective NWSL jobs in the last five months.
Elllis could be a serious candidate as well. She knows the system and already served as interim coach in late 2012 before Sermanni was hired and after Pia Sundhage left. Ellis compiled a record of 5-0-2, though she removed herself from contention from the permanent job last time around.
And as much as the timing for regrouping looks tight, there is something of a precedent for success under tight timelines. The U.S. won their second of three straight Olympic gold medals in 2008 with only nine months of preparation under Sundhage. Lloyd scored the Olympic gold medal-clinching goal in 2008 and 2012.
"Some of us have been through this situation, obviously, with the 2007 World Cup with Pia coming," Lloyd said, referencing Greg Ryan being let go in late 2007. "She had a really short time to prepare us for the Olympics. We had maybe eight months with her, so we've got a little bit longer now."