Don't know about you but I'm genuinely enjoying the thought of former Fulham manager Martin Jol moonwalking across his living room, "Thriller" blasting through his home speakers while his pelvis makes moves somewhere beneath his jolly midsection.
Now imagine it's happening with a 7-foot-6 Michael Jackson statue towering over the Dutchman, and the vision gets more surreal.
Yet that could've been the fate of Fulham's former "King of Pop" statue after Jol apparently made an offer of more than $33,000 for the art. The statue was removed from Fulham's grounds after Shahid Khan purchased the club.
The sale failed to materialize after Jol was set free from his post as Fulham manager, and now former Cottagers owner Mohamed Al Fayed has loaned the sculpture to the National Football Museum.
The National Football Museum is a splendid institution. The statue means a great deal to me and my family. But on reflection, I decided it should go to a place where it can be enjoyed by the greatest amount of people for ever. I think Michael would have approved of the choice. Like football itself, he entertained the world.'

An NFM spokeswoman said: 'The story behind the statue and its relationship with Fulham would certainly make for a thought-provoking addition. We are very grateful to Mr Al Fayed for offering to donate this important item.'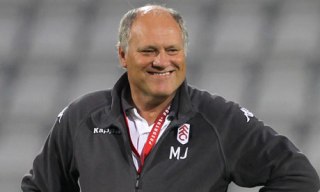 Museums are nice and all, but I neglect to understand why Jol owning the statue isn't a far more artistic option for the world. Sure, the giant statue would not be available for public viewing — at least until Jol's allegedly "eccentric" art collection hit a museum — but isn't the art of our mental imagery worth considering? Plus, it really makes my interest in an invitation to Martin Jol's even greater. Seems like an affable fellow.