As the final whistle blew at the Allianz Arena on Wednesday, Manchester United's fans must now prepare for life without the UEFA Champions League for quiet some time.
That's the reality.
David Moyes' men put up a brave fight against Bayern Munich, but bowed out of Europe's elite club competition at the quarterfinal stage after losing 4-2 on aggregate to the reigning champions. More than likely, United's 17-straight years in the UCL will come to an end next season.
(MORE: Bayern Munich ease into UCL semis, as Man United crash out)
Now that United are out of Europe, their chances of qualifying for the UCL next season are slim to none as they're currently seven points off the Premier League's top four with five games to go. When asked about the possibility of that next season, this is what Moyes had to say.
"Well, we've not got Champions League football. That's the way it looks," Moyes said with a resigned look on his face. "I believe that it's not far away, it will hopefully only be one year. With the way we are going to rebuild and our focus know is to get a team that will make sure we are back in this competition because it is a great competition, we've really enjoyed it and there's no shame in going out in the quarterfinals to Bayern Munich tonight. The players have played really well, it shows the quality we've got. So we we regroup and build towards being back in the competition again."
But what about the future?
With United's rebuild in the post-Ferguson era experiencing serious growing pains, Moyes must now struggle through the transfer market without having the luxury item of Champions League soccer to dangle in front of prospective new signings. The 50-year-old Scotsman doesn't see that as an issue. But what about the board and the owners who are now considerably out of pocket with UCL cash out the window?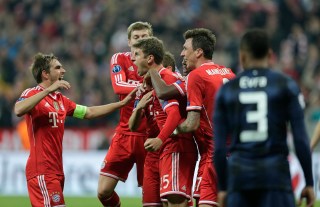 "The club is looking to spend the right money on the right player if they become available. It has nothing to do with Champions League football," Moyes said. "Any players that we've quietly discussed with are more than happy to join Manchester United. They are all keen to come, because it is a short thing, not a long thing [being without UCL soccer], that are all very keen to join such a great club."
(LATEST UEFA CHAMPIONS LEAGUE NEWS, RIGHT HERE)
United's fans must know curb their lofty ambitions, as their side will now face an uphill struggle to qualify for the UCL in the foreseeable future. Moyes actually praised his players after the defeat to Bayern. Yes, he is going to publicly stick up for his squad, but even if he's lambasting his side for what he called 'schoolboy errors' in letting Bayern back into the game so quickly after United had taken the lead, his attitude doesn't evoke what a United manager is all about. Being positive about crashing out of the Champions League isn't something fans will take to.
So often Sir Alex Ferguson was ruthless in widespread changes he made at various spells of his 26-year tenure in charge of Man United. Moyes needs to do that now, as even one of his most experienced players acknowleged they just aren't good enough.
"It's obviously not good enough, we've said that over the last few weeks. It is not good enough because this club should be in the Champions League," midfielder Michael Carrick said. "It was going to be tough tonight, but the reason we aren't going to be in the Champions League next season is not because of tonight. It is our league form throughout the season, we take responsibility for that. It has been over a long period of time now that we have had too many bad results, and ultimately we will pay for it."
Carrick went onto say that his side will be back rubbing shoulders with Europe's elite in no time. But how are United going to do that?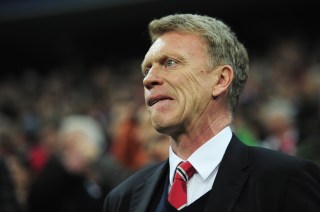 They must rebuild ruthlessly and efficiently, as the $100 million plus that the UCL brings into the clubs coffers has now vanished for next season. The need for Moyes to get creative with his signings and deliver success in the top four is crucial, if he's even given that luxury. Rumors continue to swirl that the Scot will be 'one and done' in terms of years in charge at Old Trafford, as the man Sir Alex Ferguson handpicked as his successor has failed miserably in his first season in charge.
Let's not beat around the bush.
Did we know it would be difficult to replicate Fergie's success with an aging team? Yes. But did anybody honestly see United finishing outside the top four, which they will likely do, this campaign? No.
If Moyes is given the opportunity to redeem himself next season, which in all honesty he should, after signing a reported five-year deal to take charge of the Red Devils, he must bring in two new central defenders, a left back, one more top striker and a true holding central midfielder. Veteran defenders Patrice Evra, Rio Ferdinand and Nemanja Vidic will all move on, and better replacements than Chris Smalling and Phil Jones are needed at the back. In attack, a foil to Wayne Rooney is what Moyes needs, as Robin van Persie's injury-hit season has exposed his age and Danny Welbeck isn't top, top class. In midfield the big-money signing of Marouane Fellaini always seemed like a risky one, and overall the Belgian has had a poor season. United need to invest in a midfield warrior in the engine room. Adding those five players, which is neither going to be easy or cheap, will help Moyes get this legendary club back to where it belongs.
Notice I said help, because the real job here is for Moyes to rally around and inspire his current crop of underachieving superstar's that will remain at Old Trafford past this season. Psychologically, the tribulations of this season will have a huge impact on the confidence and belief amongst the United squad.
All is not lost, but as we saw against Bayern, and so often in the Premier League this season, United's glory days are well and truly over. That famous 'glory, glory Man United' song could have a hollow ring to it for quiet some time, as a monumental rebuild is well and truly underway.