The Major League Soccer Players Union has the complete list of active players' salaries up on the web.
There are relative surprises and plenty of have nots to go with the haves. The lowest base salary in MLS is about $36,500, while the highest is shared by a pair of Toronto FC players.
Millionaires' Club (guaranteed compensation, 2014)
Clint Dempsey, SEA- $6.695 million
Michael Bradley, TFC – $6.5 million
Jermain Defoe, TFC – $6.18 million
Landon Donovan, L.A. – $4.58 million
Robbie Keane, L.A. – $4.5 million
Thierry Henry, NYRB – $4.35 million
Tim Cahill, NYRB – $3.625 million
Marco Di Vaio, MTL – $2.6 million
Obafemi Martins, SEA – $1.753 million
Pedro Morales, VAN – $1.41 million
Omar Gonzalez, L.A. – $1.25 million
Gilberto, TFC – $1.2 million
For the difference between guaranteed compensation (above) and base salaries (below), here's what the MLSPU site says:
In the survey, all player salaries are broken down into two numbers.  The first is the player's current base salary.  The second is characterized as annual average guaranteed compensation.  The annual average guaranteed compensation number includes a player's base salary and all signing and guaranteed bonuses annualized over the term of the player's contract, including option years.
 ***
Top base salaries (2014)
Michael Bradley, TFC – $6 million
Jermain Defoe, TFC – $6 million
Clint Dempsey, SEA – $4.91 million
Robbie Keane, L.A. – $4.5 million
Landon Donovan, L.A. – $4.25 million
Thierry Henry, NYRB – $3.75 million
Tim Cahill, NYRB – $3.5 million
Obafemi Martins, SEA – $1.62 million
Marco Di Vaio, MTL – $1.5 million
Pedro Morales, VAN – $1.19 million
Gilberto, TFC – $1.15 million
Omar Gonzalez, L.A. – $1 million
***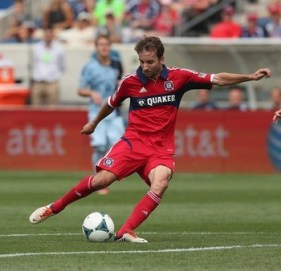 Highest base salary per team

Chicago – Mike Magee, $350k
Chivas USA – Mauro Rosales, $450k
Columbus – Federico Higuain, $580K
Colorado – Edson Buddle, $325k
Dallas – Andres Escobar, $625k
DC United – Eddie Johnson, $505k
Houston – Brad Davis, $345k
KC – Graham Zusi, $365k
L.A. – Robbie Keane, $4.5 million
Montreal – Marco Di Vaio, $1.5 million
New England – Jose Goncalves, $450k
New York – Thierry Henry, $3.75 million
Orlando City – Kevin Molino, $60k
Philadelphia – Maurice Edu, $650k
Portland – Diego Valeri, $500k
Real Salt Lake – Alvaro Saborio, $360k
Seattle – Clint Dempsey, $4.91 million
San Jose – Chris Wondolowski, $600k
Toronto – (tie) Jermain Defoe and Michael Bradley, $6 million
Vancouver – Pedro Morales, $1.19 million
***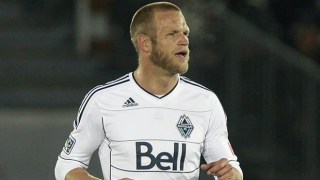 Of note

Carlos Bocanegra, CHV – $300k
Jay DeMerit, VAN – $184k
Steven Caldwell, TFC – $325k
Dwayne De Rosario, TFC – $137k
Clarence Goodson, SJ – $315k
DeAndre Yedlin, SEA – $80k
Osvaldo Alonso, SEA – $400k
Nick Rimando, RSL – $225k
Robbie Findlay, RSL – $215k
Will Johnson, POR – $300k
Darlington Nagbe, POR – $250k
Sebastien Le Toux, PHI – $250k
Bradley Wright-Phillips, NYRB – $330k
Bobby Convey, NYRB – $138k
Charlie Davies, NE – $75k
Jack McInerney, MTL – $230k
Juninho, L.A. – $325k
Dom Dwyer, KC – $80k
Aurelien Collin, KC – $275k
Matt Besler, KC – $200k
Will Bruin, HOU – $135k
Chris Rolfe, DC – $210k
Marvell Wynne, COL – $200k
Clint Irwin, COL – $75k
Drew Moor, COL – $235k
Michael Parkhurst, CLB – $275k
Sean Johnson, CHI – $250k