With excitement already building ahead of Manchester City's potential title decider against Liverpool on Sunday, (Watch live on NBCSN, 8:37 and online via Live Extra) City have been given a huge lift.
City manager Manuel Pellegrini confirmed that top scorer Sergio Aguero is back in his squad, as the Argentine striker has been out for over a month with a hamstring injury.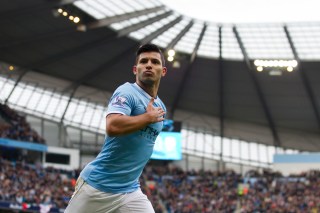 The last time Aguero played for the Citizens was in their 2-1 defeat away to FC Barcelona in the last 16 of the UEFA Champions League in March, and the man who scored the last-gasp goal to win the Premier League title in 2011-12 is now back and ready for the final seven games of the season.
Aguero has scored 26 times in 28 appearances this campaign and even though City boast a plethora of impressive attacking talents, they've missed their fox in the box. The 25-year-old striker missed Man City's 2-1 win over Liverpool at the Etihad Stadium back in December — a similar upper-leg injury also keep him out for a month at the end of 2013 — so the Reds' defenders will have to pay special attention to the razor-sharp attacker this time out. Aguero is trying to make up for lost time.
Speaking about the return of his countryman, City's Argentine right back Pablo Zabaleta believes having Aguero 100 percent fit will give the team a massive boost heading into a season-defining stretch. Zabaleta also stated that Aguero's return is similar to having Carlos Tevez back in the team when City last won the PL in 2012, but pointed out that other players have filled in admirably in Aguero's absence.
"Have we missed Sergio? Yes, of course we have," Zabaleta said. "You always you want the best players in the team and be fit for every game. But we know we also have important players like Dzeko, Yaya is having a great season, Silva, Nasri – we have a lot of talent up front. That is why, even without Sergio, we keep scoring goals. He is fit and he has been training well with the team this week, but he was not 100% to play against Southampton, so that is why the manager decided to leave him out – and let him be fully ready for Liverpool."