Falcons owner Arthur Blank and MLS commissioner Don Garber have planned a "major announcement" for Wednesday, April 16.
With the Atlanta Journal-Constitution reporting last week that Blank has agreed to bring Major League Soccer to Atlanta, it would appear this announcement will go public.
The event will be held at 5:00pm ET at the Ventanas rooftop event space on Baker St in downtown Atlanta. Alexi Lalas will also be in attendance.
Things likely to be cleared up next Wednesday include a team name as well as when the team will begin play, which could come as late as 2018.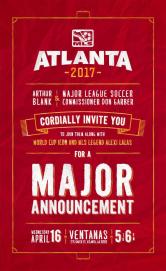 With Blank set to build a new stadium for the Atlanta Falcons, the new Atlanta MLS franchise will also likely be housed in this building.The stadium will not be ready until the 2017 football season in the fall.
(MORE – Report: Major League Soccer coming to Atlanta)
The stadium will fit 65,000 football fans, but was designed with soccer in mind, including a wide body and curtains to cover the upper level of seats so as to accommodate a smaller crowd.  It will have artificial turf, but it's unclear what kind.
Last week, Blank told Atlanta's 680 The Fan that "we're in the very final stages of doing our agreement" and called the addition of a new franchise in the city "a tremendous celebration of the sport."
The addition of Atlanta means there will be a Major League Soccer team in each of America's top 10 television markets.
Atlanta joins Orlando and Miami as new expansion teams, and Don Garber has expressed interest in adding one more.