Italy not only doesn't have a title race, nor does it have a race for second. Or third. Or fourth. At least five points separates each spot from its nearest competition, challenging our imaginations to see anything but inevitability from the season's final five rounds. Juventus seems destined for a third straight title, Roma and Napoli are on track to secure places in Champions League, while Fiorentina will head to Europa.
To its stubborn, belligerent credit, however, Roma continues to trick us into thinking it may challenge for Juve's scudetto. In fact, it you look at the standings, below, we see a mere five points separating the Giallorossi from the holders, and forget Juventus has yet to play its round 33 match, you could be tricked into thinking there's life in this race. With Juventus having fallen to Napoli two weeks ago, is there a chance the Old Lady could come back to the pack?
To do so, games like Monday's in Udine will need to become unexpected banana skins. In the meantime, Roma is doing its best to be in position to pounce, with this weekend's 3-1 win against visiting Atalanta giving Rudi Garcia's team seven wins in a row.
Saturday's performance would be vintage Roma if this team had been together long enough to have a vintage, yet with a three-goal lead, an array of different scorers, and 65 percent of the match's possession, the hallmarks of this year's team were all there. Eight different players have scored at least five goals this season, with Gervinho's eighth of the season giving the Ivorian a chance at a 10-goal, 10-assist campaign (he's already hit the latter mark). It was dominant, well-rounded, and convince – vintage 2013-14 Roma.
With upcoming matches against Fiorentina and a suddenly awakened Milan, the Giallorossi will be hard pressed to maintain its faint challenge, but with performances like Saturday's, they're giving us something to watch. In a season where the top of the table is sorted by mid-April, Roma is ready should Juve's opponents shake things up.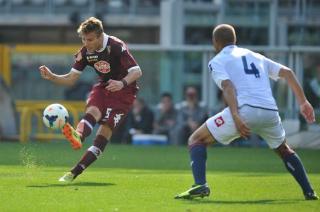 Immobile: Scoring himself into Azzurri contention
At this point, Ciro Immobile, capped only once by the Italian national team, has a strong claim to be in the Azzurri's squad for Brazil 2014, but just in case there's any doubt in Cesare Prandelli's mind, the former Juventus prospect continues piling on goals. On Sunday, Immobile's league-leading 19th goal of the season pulled Torino even with Genoa in the 92nd minute, a tie Alessio Cerci broke a minute later to give i Granata full points, 2-1.
The dramatics may go a long way toward securing a Europa League spot for Giampiero Ventura's men, who sit seventh after Sunday's result. In the bigger picture, though, the story continues to be Immobile, who may be playing his way into more than a mere World Cup spot.
With Giuseppe Rossi still returning from January's knee injury, forward depth is a concern for the Azzurri. Should Rossi fail to recover his form before mid-June, Prandelli will be looking for another forward to step into his place, with the likes of Pablo Osvaldo and Mattia Destro competing to be among Italy's non-Mario Balotelli options.
With only 21 minutes of international experience, Immobile still needs to impress Prandelli, but claiming Italy's capocannoniere would help. Having nearly quadrupled his Serie A career goal total, Immobile has put together an irresistible season.
Elsewhere
Sassuolo 1, Cagliari 1 – Agim Ibraimi conversion after Luca Antei's early second half penalty allowed Cagliari to equalize Simone Zaza's first half opener, leaving the Neroverdi mired in the drop.
Bologna 1, Parma 1 – Raffaele Palladino's 79th minute goal brought Parma even, but unable to take advantage of one of the league's relegation-threatened squads, Roberto Donadoni's team failed to build on last week's upset of Napoli, leaving them two points behind Inter.
Livorno 2, Chievo 4 – Alberto Paloschi's 11th, 12th and 13th goals of the season had Chievo up 4-2 before the hour, breaking open a shootout that left the sides tied at two after 34 minutes.
Verona 3, Fiorentina 5 – Five different goalscorers delivered full points for Vincenzo Montello, who saw his team concede twice late despite playing 11-on-10.
Sampdoria 0, Inter 4 – Éder's 20th minute dismissal saw the Nerazzurri to blow the game open, with three second half goals allowing the Milanese to reclaim sole possession of fifth place.
Napoli 4, Lazio 2 – Lorik Cana's 48th minute dismissal cleared the way for the weekend' second hat trick, with Gonzalo Higuaín running his season total to 17 after a trio of second half scores.
AC Milan 1, Catania 0 – An early Riccardo Montolivo goal held up for a Rossoneri team that had a difficult time with last place Catania, a struggle rewarded with a spot in Italy's top half. Milan has now won four in a row.
Others
Roma 3, Atalanta 1
Torino 2, Genoa 1
Monday
Udinese vs. Juventus
Standings
| | | | | | | | | | | |
| --- | --- | --- | --- | --- | --- | --- | --- | --- | --- | --- |
| Team | GP | W | D | L | GF | GA | GD | Home | Away | PTS |
| Juventus | 32 | 27 | 3 | 2 | 69 | 22 | 47 | 16-0-0 | 11-3-2 | 84 |
| Roma | 33 | 24 | 7 | 2 | 68 | 19 | 49 | 14-3-0 | 10-4-2 | 79 |
| Napoli | 33 | 20 | 7 | 6 | 63 | 35 | 28 | 11-4-2 | 9-3-4 | 67 |
| Fiorentina | 33 | 17 | 7 | 9 | 56 | 37 | 19 | 9-3-4 | 8-4-5 | 58 |
| Inter Milan | 33 | 13 | 14 | 6 | 55 | 35 | 20 | 7-8-2 | 6-6-4 | 53 |
| Parma | 33 | 13 | 12 | 8 | 53 | 42 | 11 | 7-7-2 | 6-5-6 | 51 |
| Torino | 33 | 13 | 9 | 11 | 49 | 42 | 7 | 8-5-4 | 5-4-7 | 48 |
| AC Milan | 33 | 13 | 9 | 11 | 50 | 44 | 6 | 8-4-4 | 5-5-7 | 48 |
| Lazio | 33 | 13 | 9 | 11 | 44 | 44 | 0 | 9-4-3 | 4-5-8 | 48 |
| Atalanta | 33 | 14 | 4 | 15 | 38 | 44 | -6 | 10-2-4 | 4-2-11 | 46 |
| Verona | 33 | 14 | 4 | 15 | 50 | 57 | -7 | 9-2-6 | 5-2-9 | 46 |
| Sampdoria | 33 | 11 | 8 | 14 | 40 | 49 | -9 | 6-5-6 | 5-3-8 | 41 |
| Genoa | 33 | 10 | 9 | 14 | 36 | 43 | -7 | 7-4-5 | 3-5-9 | 39 |
| Udinese | 32 | 11 | 5 | 16 | 35 | 44 | -9 | 8-2-5 | 3-3-11 | 38 |
| Cagliari | 33 | 7 | 12 | 14 | 31 | 45 | -14 | 7-4-6 | 0-8-8 | 33 |
| Chievo | 33 | 8 | 6 | 19 | 30 | 49 | -19 | 5-2-9 | 3-4-10 | 30 |
| Bologna | 33 | 5 | 13 | 15 | 27 | 51 | -24 | 3-8-6 | 2-5-9 | 28 |
| Livorno | 33 | 6 | 7 | 20 | 36 | 64 | -28 | 4-5-8 | 2-2-12 | 25 |
| Sassuolo | 33 | 6 | 7 | 20 | 32 | 62 | -30 | 4-2-11 | 2-5-9 | 25 |
| Catania | 33 | 4 | 8 | 21 | 24 | 58 | -34 | 4-6-6 | 0-2-15 | 20 |