This may be the most apt way for Landon Donovan to set the Major League Soccer goal scoring mark, because the guy has never been the league's most efficient goal-scorer. That's weird to say about a man who, already the U.S.'s all-time leading scorer, will soon hold the same honor in MLS, but it's true. Donovan's goal scoring has been more about quantity of chances than quality finishes;* prolonged, all-around greatness rather than dominant, individual seasons.
(*Please, analytics guys: Not now.)
Tonight was no different, with Donovan engaging in what is starting to become a weekly ritual: Teasing  those editors who have stories, videos, slide shows in the can, waiting for goal number 135 to hit the back of the net. "Donovan sets MLS career mark" has become the celebrity obituary saved to use at a moment's notice.
Tonight's big moment came in the 40th minute when a Dan Gargan cross found Donovan just above the six-yard box, waiting to head it inside the left post. When his attempt went wide, we instinctively knew: It wasn't happening tonight, part of the reason his 43rd minute miss off a Stefan Ishizaki pass seemed to carry less drama.
What did happen was LA's second win of the season, with Robbie Keane breaking through two minutes after halftime. The goal stood up, giving LA a 1-0 win, leaving the team 2-1-1 on the season. Against non-Real Salt Lake opposition, Bruce Arena's team is now 2-0-0.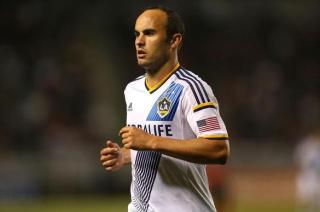 Despite those results, the story from here forward is likely to be Donovan. Now eight games without a goal, the chase for 135 has not begun to overshadow his otherwise strong performances, it's starting to overshadow his team's results. Donovan's quest for history is just more interesting than what the Galaxy's doing in April.
That may sound dramatic, but most records are, especially when the buildup goes on for this long. Not only did Donovan give us the offseason to think it, but this eight-game stretch is his longest drought since 2011, when he went 11 games without a goal.
If people are allowing No. 135 to overshadow results, it's not only because the record is in view. It's because the record is in view while Donovan's in a slump.
At least his team's results haven't suffered. Up to seven points through four games, the Galaxy now have better points-per-game rate than Real Salt Lake and Seattle, and while that's only good for sixth place in the West, it does provide a different context for LA's start. The only things keeping them from a higher place in their conference are their bye weeks, not their results.