1. Kompany error moves Liverpool one step closer to history
Maybe it was the occasion that left Manchester City stalled in the blocks, but until the teams returned after halftime, Liverpool were the decidedly better side at Anfield. It was only after the wakeup happened that it felt almost inevitable, with the Citizens pulling back Raheem Sterling and Martin Skrtel's goals by the 63rd minute. With David Silva picking up the slack from Yaya Touré's departure, the Citizens looked set to embrace their talent's promise.
It's a subtle irony that one of the team's most talented players, captain Vincent Kompany, undid that promise, but for well over a year now, the Belgian rearguard, whose authoritative steps into midfield leave him capable of dominating, has been an accident waiting to happen. In the 78th minute on Saturday, that accident came via a shanked clearance and some Philippe Coutinho opportunism, sending City to a 3-2 loss.
(MORE, Liverpool 3-2 Manchester City: Reds seal dramatic win to stay top)
It's tempting to see Sunday's match through that lens — the one forged by Kompany's error — but that shortchanges Liverpool. The Reds put themselves in position to capitalize on the mistake, and while City's reaction continues to feed the feeling that they are the more talented, more capable side, talent and capability came up short. Instead, it was Liverpool's early poise and late execution that pushed its own talent seven points clear of City.
On a 10-match winning streak, the Reds are closing in on their first title in 24 years, a relevance not even Liverpool fans could have predicted eight months ago.
2. Title picture: A little clearer, but still unresolved
The anticipation we felt ahead of Sunday's showdown usually gives way to clarity, but although Liverpool  have a more firm grasp on the title, the race is far from over, a status that serves as an anticlimax to Sunday's dramatic result. Thanks in part of Chico Flores's early red card at the Liberty Stadium, Chelsea was able to stay within two points of the top, a 1-0 win at Swansea City giving the Blues their 23rd win of the season.
(MORE, Swansea City 0-1 Chelsea: Ba breaks through vs 10-man Swans)
The results help bring April 27 into focus, with Chelsea's visit to Anfield giving us our second Match of the Season this month. With a win, only games against Norwich City and Cardiff City will stand between the Blues and another title, provided they also defeat Sunderland on Saturday. Yet with that Liverpool showdown wedged between Champions League semifinal matches, timing works against Chelsea. Over the course of nine days, José Mourinho's regulars will be forced to push through any end-of-season fatigue and challenge for both titles.
It's a schedule that also puts stress on the Sunderland and Norwich matches, where Chelsea will have to rotate players in preparation for its more important games. While that makes it more likely the Blues will slip between now and season's end, the team's mid-week performance against Paris Saint-Germain serves as a warning. José Mourinho's team can't be counted out.
3. England COMMEMORATES 25th anniversary of Hillsborough
Between previous anniversaries, continuing controversies, and the increased talk of bringing standing areas back into English League soccer, the tragedy that befell 96 people in Sheffield hasn't been far from our thoughts. Yet there was still an indelible poignance about how the league celebrated the disaster's 25th anniversary, something that went beyond the moment of silence and the seven-minute delay to each match's kickoff.
It was the unanimity. It was the solemnity. It was the reflection of a soccer generation that's been brought up in the memory of Hillsborough, one that's seen England's football culture remake itself in the wake of the loss.
It was the accord amongst supporters around the country who acknowledged the families' unimaginable loss. It was the lesson, that no one should have to hear why a loved one will never come home from a match.
Of course, the most poignant of the remembrances at Anfield, from the chilling moment of silence to the unforgettable rendition of You'll Never Walk Alone. The video, above, captures the weekend's spirit, one that saw a soccer nation come together to acknowledge the 96 it lost.
4. Win at Sunderland sees Everton claim fourth place
It was easy to forget, in the wake of last week's win over Arsenal, that Everton had yet to actually claim fourth place, but with the Gunners creating more drama for themselves in Saturday's FA Cup semifinal, the Toffees were finally able to take hold of the Premier League's last Champions League spot. With Wes Brown's 75th minute own goal in Sunderland, Roberto Martínez's team moved two points ahead of Arsenal, making up the game in hand that made last week's result so important.
(MORE: Fabianski the hero, as Arsenal beat Wigan on penalties to reach FA Cup final)
(MORE, Sunderland 0-1 Everton: Are the Black Cats sunk? (video))
With a match against Manchester City still on the schedule, Everton's two-point lead isn't exactly safe, but it also may be too much to expect an Arsenal team that's winless in four (in league) to win out. The Gunners' run-in is easy, but they also have two matches on the road, where the team has a negative goal-difference this season. This isn't a Premier League titan cleaning up against the league's weaker sides. It's a team lacking drive and identity being asked to summon a drive it lacks.
In theory, Everton can still draw a match and control its own destiny, provided Arsenal doesn't make up the six-goal deficit it has in goal difference. More practically, the Toffees may have a little more breathing room. As Saturday's match against Wigan shows, Arsenal is capable of playing down to its competition.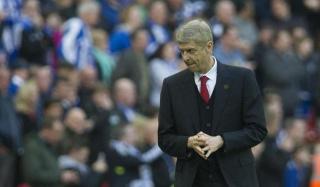 5. Are these the last days of Arsène Wenger?
Arsenal eventually came back to eliminate Wigan, but the game was far closer than most expected. The Latics went up through Jordi Gomez and eventually took the Gunners to penalty kicks, where two Lukasz Fabianski saves got Arsène Wenger's side into the final. Against a team Arsenal's talent should have easily managed, the Gunners produced another inexplicable result.
It's starting to become easier to imagine Wenger moving on: even if Arsenal does finish fourth; even if the Gunners do win the FA Cup. While he is one of the most important people in the club's history, he's also somebody who, at this point in his career, seems incapable of getting his squad up for big games, be they against the Chelseas and Manchester Citys of the world or the Wigans and Birmingham Citys. Even when he comes close (against Bayern in Champions League), Arsenal's left with little more than moral victories. When we see Chelsea in the Champions League semifinals, we're reminded: Wenger's rivals wouldn't settle for so little.
With Arsenal outside the top our, struggling with a paved road to the FA Cup, it's easier to convince Stan Kroenke the Gunners need to move on. The unsigned contract extension, the one Ivan Gazidis said was a done deal, may yet disappear. Whether it's through Wenger leaving or the club making the call, an Arsène-less Arsenal becomes easier to imagine with each passing result.
6. Relegation battle: Progress for Fulham, Cardiff City
Whereas last week's win left Fulham treading water, there was no mistaking the progress in this weekend's result. Faced with a must-win against visiting Norwich City, Felix Magath's team delivered, its 1-0 victory pulling it within two points of the 17th place Canaries. A horrible goal difference means the Cottagers need three points to reach safety, but having won three of five, those results are no longer mere hopes. Where we've been waiting for months for a relegation battler to go on a run, Fulham has finally delivered.
(MORE, Fulham 1-0 Norwich City: Great escape is on for the Cottagers (video))
After Cardiff's Saturday upset at Southampton, though, the Bluebirds aren't far behind, their 29 points leaving them four points from safety. And with teams like Aston Villa and Swansea City (both losers this weekend) volunteering to join the relegation battle, the league's bottom three have more targets than just Norwich and West Brom. Instead of needing one of two teams to stumble, Fulham and Cardiff have four candidates to potentially take their places.
(MORE, Southampton 0-1 Cardiff City: Cala's the man as Bluebirds bag huge win)
With Fulham involved, the term "Great Escape" is being thrown around, but there's nothing remarkable about it. Under Magath, the Cottagers now look like a decent team. The same can't be said for Norwich, Swansea, or Aston Villa, right now.