Major League Soccer's worst kept secret was its interest in Atlanta. As Don Garber's reflex response goes, the league has been interested in the city for over a decade. Not only does it give MLS a coveted spot in the abandoned Southeast, but it represents a location that hasn't failed before. Going into Florida? There's a history there. In Atlanta, MLS can write its own.
Miami may be the capital of Latin America, but Atlanta is the center of the South. If MLS is going to go challenge the notion that professional soccer can't gain a foothold in the region, it has to succeed in 'The ATL' – a focal point that can promote the sector's link to the rest of the country. Without it, the two Florida franchises (Orlando and David Beckham's eventual team in Miami) are left on an island, one that could sink once more.
It's an endeavor that stares skeptics' two main assumptions in the face – notions that also apply to the potential Miami franchise: First, that the cities are not a "good sports towns"; and second, MLS's history says it can not succeed in the Southeast.
The funny part about the first it that there's no clear standard for evaluating what is and is not a good sports town. And whatever standards you do hear? They're probably completely inapplicable to Major League Soccer.
Critics will point out there's a lack of excitement for the Dolphins and Marlins in Miami, the Hawks and Braves in Atlanta, but it's not as if those teams are going out of business. Even the Marlins, at this point, are a well-established part of their city's landscape. By Major League Soccer standards, those franchises are outrageous successes. If Miami and Atlanta are bad sports towns, it's only relative to a lofty, irrelevant standard that shouldn't apply to MLS.
Plus, as Blank alluded to in today's press conference, the extent to which you can look at a football, basketball, or baseball franchise and see MLS's future is a dubious one. According to the new MLS owner (citing information relayed to him by Seattle's ownership), only three percent of Sounders season ticket holders do the same with the Seahawks. If you're looking to NFL-ledd MLS teams as a means of evaluating Atlanta's potential, here's actually very little overlap between NFL customers and potential soccer supporters. As we've known for some time, soccer fans are a distinct type of customer, one that's more likely to be reached with a distinct approach.
Perhaps paradoxically, that's where Blank's NFL organization can help. As those around Seattle recently noted as the Sounders severed business ties with the Seahawks, being linked to a huge, established organization likely helped the Sounders' unprecedented growth. It gave the franchise a large machine capable of leveraging its experience in a way that took advantage of any opportunity for growth. Given the Falcons' presence in Atlanta, Blank may be able to do the same.
Does that make Atlanta a good sport market? No, but it's also unclear what a good sports market is. If having franchises like the Braves and Dolphins mean a city doest care about sports, maybe we're too idealistic about what represents success in this realm. And if the doubters' argument is that places like Salt Lake, Columbus, Santa Clara, Portland — small cities where MLS is already successful — represent better opportunities than the city with the 15th largest economy in the world, the standard is broken. MLS doesn't need to win over the whole town. A small slice of the pie will work.
Critics, however, are also skeptical of MLS's ability to penetrate the market, usually citing the region's sports culture and MLS's previous failures as reason to believe another Southeast excursion will fail. But if there's one thing we know about Major League Soccer, it's that the league is nothing like it was in 2001. Pointing to anything the league did at age six as an example of what it's capable of at age 19 ignores the league's trajectory.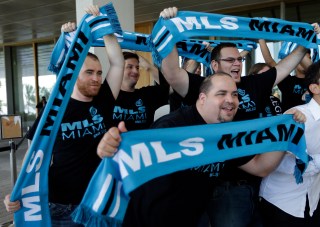 By now, MLS is a totally different organism. It's bigger and far more stable that it was in 2001, when a small group of owners were faced with the task to keeping the two Florida franchises afloat. MLS, struggling for its mere survival, didn't have the resources back then. Overly reliant on Phil Anschutz and Lamar Hunt, the league couldn't wait out teams' slow starts.
But now, with the resources people like Blank, Beckham, and Manchester City's ownership can throw behind new franchises, there's no reason to expect those slow starts. Instead, these teams will try to hit the ground running, if not on the field than off. If they hit speed bumps, a large group of diverse owners can leverage to decades of lessons to promote the teams' survival.
That's not to say Atlanta, Miami, Orlando … New York or franchise no. 24 will succeed. Instead, it's important to realize the league's 1996-2001 track record is irrelevant. Different owners with different goals had different tools, none of which will be used in the MLS's latest attempt to tackle the Southeast. Instead, a sport that's made significant gains in national relevance over the last 13 years will take another shot, with new minds and new capabilities leading the charge.
If soccer in the Southeast fails, it won't be for the same reasons Tampa Bay and Miami. And it probably won't be because Atlanta and the Magic City aren't Good Sports Towns. Major League Soccer doesn't necessarily need GSTs to succeed.
It needs good owners. It needs people who have ideas that can help franchises identify that sliver of local support that will sustain the team. It needs a growing game and a vibrant league to give the teams a bigger, more relevant context. Right now, it just needs 20,000-or-so people to want to come to games.
It doesn't need to make people forget the Mutiny and Fusion, and it doesn't need to prove Atlanta and Miami are GSTs. All MLS needs to capture each city's underserved soccer market. Even if that doesn't push the Heat or Falcons on the back burner, it will be enough to allow address those doubts.