It's not a universally held opinion, but I've made no secret about my evaluation: There is an unfair imbalance in MLS, one which gives the top Eastern Conference teams an unfair advantage. Over the past few seasons, the West has been a much tougher, much deeper conference. Combined with the unbalanced schedule, that means the Supporters' Shield and home field advantage are more likely to end up with the East's leaders, a team likely to have played a weaker schedule.
If that's the situation now, imagine what happens if Houston moves back to the Western Conference. Or if, in 2017, Sporting Kansas City follows. That's the future the latest round of expansion offers.
The conferences are currently uneven, with an extra team residing in the 10-club Eastern Conference. When New York City FC joins the league, it's assumed Houston will move West, but what happens when Atlanta, Miami, and Orlando all come in? At least one other team will have to move West, leaving 12 teams in the East. That team will likely be Kansas City.
If that happens, every team that's appeared in the last five MLS Cup finals will be in the West, and while you could argue these things run in cycles, the success of Real Salt Lake suggests otherwise. Seattle has never had a bad season. The LA Galaxy has been a rock since Bruce Arena came to town, while Houston and Sporting have been consistently good under their current management teams. Time will catch up to each of those squads, but when you look at the rebuild the Dynamo undertook four years ago and the reshuffle RSL engineered last season, it's worth wondering whether, at this point in MLS history, good management can transcend traditional sports cycles.
If you were to make a list of the best front offices in Major League Soccer, Real Salt Lake, Sporting, Seattle and LA would probably be near the top, as would Houston's. Each organization, over a prolonged period of time, has shown the ability to address problems, usually without a debilitating impact on the field. In a few years, all of those groups will be competing against each other in the West, further compounding the league's imbalance.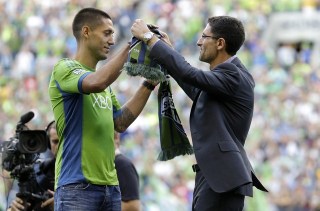 Once they're there, trying to beat each other to playoff spots, the problem will only get worse. Already strong front offices will be forced to find new, more efficient ways to beat heighten competition. The result will be better teams, better organizations, all in one conference.
Unfortunately, there's no obvious solution. For competition's sake, MLS needs to stop the unfair practice of giving home field for MLS Cup  to the team with the better regular season record, instead alternating between Eastern and Western Conference venues. But the league can't forego realignment. If you are going to have conferences (and MLS seems destined to have conferences), you have to break it up by region.
Eastern Conference teams need to improve. Organizations like Toronto and Columbus appear to be going so. With potentially ambitions teams like Atlanta, Miami, New York City, and Orlando joining the fold, maybe new blood will change the culture. Maybe that influx of competition will force teams to step up. Regardless, the imbalance won't last forever.
In the interim, the West will remain the tougher group, with the competition set to get brutal once Houston and Sporting move over. Maybe that strength will cycle out, or maybe the league's best planners will end up grouped together, forced to fight through a stacked conference until the league finds its balance.