MANCHESTER — This season a not so subtle power shift has occurred between two giants of English soccer. Both are from Manchester, one is blue, one is red.
Manchester United and Manchester City are heading in totally different directions.
That mammoth swing of the soccer pendulum in Manchester has been hard to take for most of United's fans, as the bragging rights are well and truly with the blue half of Manchester. City has won both of the Manchester derbies this season and is in the hunt to win their second PL title in three years. United are languishing in seventh and are set to record their lowest-ever finish in the PL. Like I said, the status quo has been altered significantly in England's northern heart.
With all this happening, I went to Manchester to see what the city is about, what makes the people tick and how intense this rivalry between two of English soccer's biggest clubs is. This is the tale of two giants battling for supremacy in Lancashire.
This is the tale of Mancunians. Red and Blue.
Premier League Regional Stories
THE CITY OF MANCHESTER: SOCCER, INDUSTRY, REJUVENATION

Manchester's industrial past helped shape the industrial revolution in England, as the workshop of the British Empire emanated in the North West. Yet art, culture and design are a huge part of the city's fabric. Strolling around the center of downtown, I walked past huge libraries, art galleries, museums and theaters, all of which have either been renovated or are under construction. They lie at the center of Manchester, and give a clue into the rich history which lies within the city's boundaries. In recent times non-soccer heroes have emerged from this sprawling Northern city: Oasis, Morrissey, The Stone Roses, Ricky Hatton and many more superstars call Manchester home.
Upon arrival, I wandered through the archways and the famous Manchester Ship canals and got a sense of the old slotting in with the new. Here I was strolling along a Victorian canal; there were swanky wine bars on my right, a train rattling overhead on my left and then a skyscraper known as Beetham tower piercing the clear early morning sky. Manchester is working tirelessly to rejuvenate itself. It's working.
Both United and City fans work, live and socialize with one another on a daily basis. For the most part, they live in harmony. In most sports shops you see City and United jerseys and memorabilia sold side by side, yet when derby day rolls around, things are far from friendly.
"We are living in a city where we all know each other," Tony McAllister, who runs United's supports group for East Manchester. "I work with and go out with City fans and we get on. We don't get on during derby day. There's that undercurrent of, 'We are United' or 'We are City'."
Sunday, April 13, 9 a.m.: I find myself in Bredbury, near Stockport which is South of Manchester, in a pub packed with City fans that is already buzzing ahead of an away game against Liverpool. Three buses are lined up outside, and I was about to get on one of them.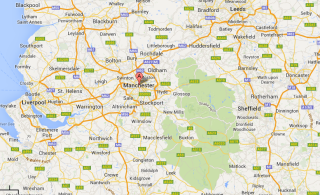 I'd been told to speak to "Arnie," otherwise known as Ian Arnfield, who is the founder of the Bredbury and South Manchester Blues, Man City's largest traveling supporters group. Outside the pub and unable to get in touch with Arnie on the phone, I asked a City fan already four pints deep where Arnie was. "He's in there somewhere mate, he is the big lad with the hairdo like Fellaini."
What a mental image that was before I walked into the pub. What had I let myself in for? Strolling into the fray, I needn't have worried.
There Arnie was, in all his glory, as the big man with a stunning bob of black curls greeted me with a warm handshake and introduced me to his inner circle at the bar. I leant back on the pool table, trying to take it all in, people were everywhere, all dressed in sky blue and singing songs in thick northern accents. In the sleepy suburbs of South Manchester, City's fans were ready for their potential title-decider against Liverpool. They were well-oiled and in full voice as we pulled out of the pub and towards the 'halfway house' in the sleepy town of Newton, where more alcohol would be consumed. I was on one of those buses. I was loving it.
Standing at the front of the bus, Arnie was in his element. Barking orders at the younger members, cracking jokes and just generally having a laugh, he was clearly respected by all of the members of the Bredbury Blues. You could tell that from the amount of times he was asked 'have you got a drink mate?' in the pub. He will never have to pay for a pint again. Back on the bus, Arnie got on the mic and what he said next had everyone in stitches.
"Right, listen up you lot. We will be at the halfway house in about half hour. A pint of Carlsberg is £2," Arnie said, as a massive roar went up from the 'lads'. Then he brought the house down. "And a pint of Manchester United… otherwise known as Bitter, is £2.50."
Cue laughter and delight from the City fans. That jovial mood only improved throughout the journey, and bear in mind this was at 10 a.m. on a Sunday morning heading towards Merseyside from Manchester.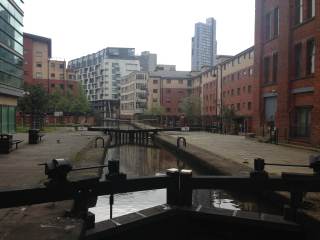 Looking back at the city's past, L.S. Lowry's famous paintings depicted England's industrial North as a harsh, cold place, where factories ruled and towns and cities were developed in order for industries to thrive. What's telling about most of his famous paintings is that soccer references pop up in an overwhelming majority. My personal favorite is his painting entitled "Going to the Match" while "The Football Ground" sold for $8.4 million at auction back in 2011. During my years as an undergraduate in the American university system, I took a class called "19th century British history". I was inspired by the North West's industrial past and wrote a thesis around how soccer and heavy industry shaped the region. Although that looked back at the early 20th century, much of the same still applies today.
In amongst the new skyscrapers popping up, old chimneys and factories remain either derelict or reassigned as office spaces. The same underbelly that made Manchester into an industrial powerhouse is still there, but diversification has been kind to England's second largest urban area.
In the recently released documentary 'Class of '92,' which focused on United's famous academy products David Beckham, Paul Scholes, Ryan Giggs, Gary Neville, Phill Neville and Nicky Butt who came through the ranks together, they recall how growing up in Manchester in the 90s was special. The rave scene in famous clubs such as the Hacienda, bands such as Oasis and the Stone Roses taking UK by storm and many other factors made Manchester the place to be. Hollywood film director Danny Boyle, who directed Slumdog Millionaire amongst many other films, gives his take on how important soccer is to the city.
"Manchester reinvented itself, it didn't wait for a leader to do that for it," Boyle said. "It took the disinterest shown to it by Margaret Thatcher's premiership, and took that as a signal to do it itself. No matter how bad it gets, the city has regenerated itself and the football teams are a huge part of that."
When you look on a map of the North West, you can see that the provincial towns on the outskirts of Manchester merge together to create a metropolis. The Pennines (a mountain range which separates Lancashire from Yorkshire) acts as a buffer to cut Manchester off to the East of England. There is a plethora of other professional clubs such as Wigan Athletic, Bolton Wanderers, Stockport, Bury, Oldham, Rochdale and even further afield clubs like Burnley, Blackburn and Stoke City are all considered to be in the Greater Manchester region. Walking around the streets of Manchester on a Saturday morning, I spotted people wearing Wigan, Bolton and Stoke shirts, as the unique blend of teams from around this region help to accentuate its rich and diverse soccer culture.
Without these smaller teams, United and City would have even more support. Imagine that. Two of England's biggest teams adding the fanbases of eight or nine medium- to small-sized clubs to their ranks. Soccer is the lifeblood of this city.
As you've probably already figured out, the power struggle in and around Manchester is an ongoing battle.
MANCHESTER CITY: BLUE MOON RISING
Before we dig deep into what Man City and their fans are all about, here's a taster of just how much this club means to their supporters.
"The club is a lifeblood to a lot of people. It is life. It is what they work for every week," Man City fan Mark Ford said. "They work all week and they look forward to going to watch the football and they love the club."
Over the years City's supporters have been through the wringer, there's no two ways about it. They are certainly enjoying the good times.
It's hard to imagine now, but in 1999 City were playing in England's third-tier, known as League One these days. That is when Arnie set up the branch officially, despite already organizing buses for four years on and off. City's fans traveled in numbers up and down the land to far flung towns and often outnumbered the home fans in the lower leagues. I asked many in the pub if they ever expected to be challenging for Premier League titles and playing in the UEFA Champions League, I got the same blunt answer from all of them. 'No'.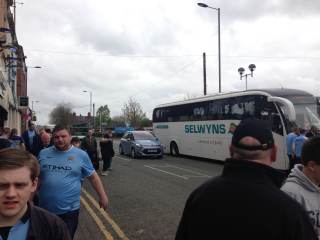 "Nah, not a chance," said Ryan McHugh, a City fan who has now become recognized across the UK after he starred in a recent ad for the Barclays Premier League. "When we came into our recent transitional period, it was only 10 years earlier that I was watching us play a third division playoff final against Gillingham at Wembley. Now we are winning titles and we are playing in the Champions League against the best teams in the world. It's the sort of stuff you dream about."
Another City fan, Charlie Williams, sat in front of me on the bus and we chatted about his journey watching City since 1974. Similar to McHugh, he remembers the low-point of relegation to the third-tier at the turn of the millennium. City have come a long way in less than 15 years.
"I remember in 1999 I was at Lincoln City. We were getting beat 1-0 and I thought, 'Is this my life with City now?' Lower divisions… getting beat by bum times," Williams said. "Yet now we are one of the biggest brands in football. Everyone is talking about us. For the likes of myself and the other older lads who have been watching City all our lives, it is great. All the young kids are getting spoilt. Now we just sit back and enjoy it, win, lose or draw. I never thought we'd be this good."
The rags to riches story City have embarked on, and are now benefiting from, is quite the tale. Speaking with City's fan in the halfway house in Newton, I dissected their recent history with club chairman Colin Hulme who spoke about the U.S. tour in 2012 (when bus loads of City fans went up Fifth Avenue to Yankee Stadium) and how far the team have come. Books have been written about City's wealthy owners who came and went, the perilous financial situations the Citizens found themselves in and then how their savior from Abu Dhabi arrived: Sheikh Mansour bin Zayed Al Nahyan.
(ALL THE LATEST MANCHESTER CITY NEWS, RIGHT HERE)
After one signature in his checkbook, City were transformed from a decent mid-table PL team to a side capable of challenging for soccer's biggest trophies. Overnight they became known as United's 'noisy neighbors' as Sir Alex Ferguson failed to accept Man United's biggest rivals were now in their own backyard. Oil-rich Sheikh Mansour has his own song, City's fans have dressed up in Arabic clothing on many occasions and they have embraced it all. With his money has come a large amount of success and that shows no sign of stopping.
On the bus, the banter started to flow as Arnie was sent back to his seat by chanting supporters and songs about Pablo Zabaleta and Sheikh Mansour began to get more vociferous as we approached Liverpool. There were no visible signs of tension amongst City's fans, even though they were a few hours away from the biggest game of the season.
"Sheikh Mansour went to Spain, in his Lamborghini. He brought us back a manager, Manuel Pellegrini."
That was followed by the club anthem, 'Blue Moon' being belted out as I stepped off the bus and towards the press box at Anfield. I left City's fans in full voice. They're enjoying their climb towards the top.
City is following in the footsteps of United's global brand. With the recent acquisition of New York City FC, in partnership with the New York Yankees, they are now bringing their brand to the U.S. market in a big way by purchasing a Major League Soccer franchise. Expect to see plenty more Sky Blue shirts popping up in soccer bars across North America in years to come. Both clubs will be touring the U.S. this summer, as they go head-to-head in the battle to promote themselves as the best club in Manchester across the world.
"If you look at clubs like Liverpool and United, their fans are from all over the world," McHugh said. "As City fans, we see it as fans who aren't real fans. But to become a real brand or football club, you have to have those sort of fans. It comes with being successful. No we have overseas fans, City are known as a worldwide brand instead of just living in United's shadow. We are up there with United now."
Going back to why City fans love their club so much, the gregarious and enthusiastic Arnfield sums it up perfectly. This is what City is all about.
"We are a hardcore club. The bulk of the fans come from hardcore times when things were tough, that is out tradition," Arnfield said, putting his beer down on the bar and looking me square in the face. "United are a manufactured and cosmetic club. But this club has got a real heart of hardcore local people supporting it. You can hear the atmosphere, it is special this club. When you get bitten by this club, you are there for life."
MANCHESTER UNITED: STILL A POWERHOUSE?

Anyone who has been paying attention to the Premier League this season will notice something peculiar has been going on. That illustrious club that has always been towards the top, that side that is known the world over as England's greatest team, that sporting institution which oozes class and has a song about 'glory'… that's the team that isn't anywhere near the top of the standings.
Manchester United has had an Annus horribilis.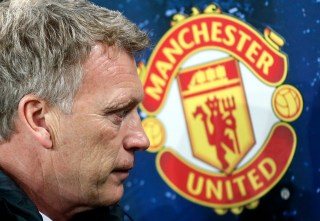 For the first time in the Premier League, United are dead certs to not finish in the top four. In David Moyes' first season in charge after Sir Alex Ferguson stepped down from the helm at Old Trafford, the Red Devils have been woeful. Their fans know it, but they're not quite sure how to handle.
"Everywhere I go I get great support from Manchester United supporters," Moyes said recently at the height of the unrest. "I was at a dinner last night for Darren Fletcher and there were Manchester United supporters who came up to me and said: 'Come on, keep going, we understand exactly the situation the club is in and team is in.' They were really supportive and every time I have been to Old Trafford they have been great. I am seeing a lot different from what a lot of people are saying but I understand that results matter."
(ALL THE LATEST MANCHESTER UNITED NEWS, RIGHT HERE)
Yet the vast majority of United fans have only known success. Defeat is something they are struggling to come to terms with, although they believe City's fans have always envied the Red Devils' illustrious past.
"There's always been a resentment with City fans. I know some City fans that when they come away from the stadium after they've been beaten they will say, 'Oh well, at least United got beat,'" McAllister said. "With United fans it's more of having a chuckle if they get beat but we don't care as long as United win or play well. That's the main difference between us. Even now, of course we don't want City to win the league, but we want United to win or play well. That is more important to us."
The City fans I spoke to disagree, strongly, with that view.
"Let me tell you now, they are more bitter than we are," Arnfield said. "When we were crap and they were winning, we weren't acting as bad as they are now. We lived with mediocrity and being crap for years. They can't. It's their turn and they can't hack it. They absolutely can't hack it. They haven't got the nuts to sit there and go through what we've been through. They can't handle the fact that they're not the best team anymore, and they're certainly not the best team in Manchester. They don't matter, they are insignificant. I'm happy their time has come and they're struggling."
For United, this season of struggle has brought their fans across the globe crashing back down to earth. For so many years they've been at the pinnacle of the English game, but now, they are human again. With the new manager getting plenty of abuse from sections of the home fans, who even arranged to send a plane overhead with the message "WRONG ONE – MOYES OUT" trailing from it during a recent home game, unrest is in the air in the red half of Manchester. What is the overall mood like amongst United fans?
"The general feeling is… we just don't know. That is the honest truth," McAllister said. "I speak to people who are for Moyes and against Moyes. The general feeling is, we don't know. If David Moyes isn't good enough, then we will find out. What will get him plenty of praise is if we play what's called the 'United way'. It lived in the 70s and 80s. People think we have only been successful, yes we have won a lot of things, but there's a generation that only know United winning. Some of us are older and it's not like that. You get a cup every now and then, if you're lucky! It really is a case of wait and see at the moment. We don't want to rush into anything, we want to do what's best for the club. We are not here for a season, we are here forever."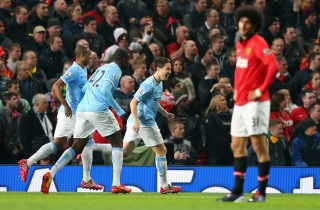 United's struggles have been well documented and as their fans suffer, City's supporters are having a field day.
"It has been very enjoyable to watch," Williams smiled. "When we were bad, and we were bad in the third division, they rammed it down our throats every single week. Now, they're bad. So let's see how loyal they stay. We followed City through it all. We'll see next year when United aren't in the Champions League and people can't be bothered watching them."
Around Manchester, the number of City and United shirts being worn on the streets is almost identical. In most of England's big cities, one club dominates, but that isn't the case in Manchester. Spending time with both sets of fans, chatting with locals, seeing how the city is going from strength to strength commercially, this is a special place to be right now.
City's time to rule has finally arrived, and they are ready for it. Manchester is now blue, but for how long?
"The thing with City, it is the people's club. You get caught up with City, I think we are the roots of Manchester," McHugh said. "Your everyday fan in Manchester supports City. It is a passion and you honestly get what you're given. Over the years there have been ups and downs… but City is Manchester."