Week seven of Major League Soccer's season begins on Saturday at 4:00 p.m. Eastern in Chicago and Philadelphia, with Saturday's nine-match slate also featuring a battle of early season upstarts at Toyota Stadium in Frisco, Tex. Here is our quick look at the coming weekend of MLS action.
Note: All rankings reflect PST's weekly MLS Power Rankings.
NBCSN's GAME OF THE WEEK
#14 Chicago Fire vs. #11 New England Revolution (Saturday, 4:00 p.m. Eastern, NBCSN/NBC Live Extra)
Last week: Chicago drew in Montréal, 1-1; New England beat visiting Houston, 2-0
I don't know if the Chicago Fire are better than last year, but through six weeks of the season (five of which have ended in draws), they've been more interesting to watch. Quincy Amarikwa's brought some energy to the striker position, rookie Harry Shipp has added skill to the midfield, while a new central defense of Jhon Kennedy Hurtado (pictured) and Bakary Soumaré are good for some fun, random mistakes. They seem to be driving drive Frank Yallop nuts, but the miscues also make for some really competitive matches.
Against a struggling Teal Bunbury, the Fire defenders are less likely to get burned, and with 2013 Defender of the Year José Gonçalves potentially sidelined, the Revolution may have trouble keeping track of the hyperactive Amarikwa. Players like Diego Fagundez, Lee Nguyen, and Saer Sene would still test the Chicago defense, but the Fire are favorites. It's just a matter of converting their underlying play into three points instead of one.
---
THE OTHER GAME YOU JUST CAN'T MISS
#7 FC Dallas vs. #3 Toronto FC (Saturday, 8:30 p.m. Eastern)
Last week: Dallas suffered its first loss of the season, 3-2 to Seattle; Toronto lost to Colorado, 1-0
I've been cautious about hopping on the Dallas bandwagon (hence that number seven ranking), but the idea of Steven Caldwell and Bradley Orr being turned, left to chase Je-Vaughn Watson and Fabian Castillo as they run onto Mauro Díaz through balls, should give Ryan Nelsen nightmares. Then again, he just looks at the team's payroll, sees "BRADLEY – $6,500,000," and says "That's why we give Mikey that money."
Bradley's health still makes him iffy for Saturday's game, but it seems like Nelsen's being coy in describing him as a doubt. He also seems lest optimistic about Jermain Defoe, who's missed two in a row.
Regardless, let's get tactical: If the Reds have to ask Bradley to watch Díaz, are without Defoe up top, and have to get fullbacks Justin Morrow and Mark Bloom to be more conscious of helping with Dallas's quick wingers? It could be "stay back and pray," particularly with Dallas's two defensive midfielders (Hendry Thomas; Michel) helping destroy Toronto's counters.
---
TOO SOON FOR SEQUELS: THIS WEEKEND'S EARLY-SEASON REMATCHES
#10 Vancouver Whitecaps vs. #6 LA Galaxy (Saturday, 7:00 p.m. Eastern)
Last week: Vancouver lost in Los Angeles, 1-0, while LA defeated the visiting Whitecaps, 1-0.
For the second time this season, LA has a home-and-home, with the four-time champions having opened the season with two games against Real Salt Lake. Last week's first leg broke their way, with Robbie Keane's early second half opener holding up, but the Galaxy are unlikely to see such a conservative Vancouver. In Carson, Calif., the Whitecaps sat deep and compact, trying to beat LA on the counter. On the faster track at BC Place, the Whitecaps may try to outrun one of the league's slower squads.
#4 Columbus Crew vs. #17 D.C. United (Saturday, 7:30 p.m. Eastern)
Last week: Columbus drew in San Jose, 1-1; D.C. United defeated New York, 1-0
If Columbus doesn't get cocky and read too much into its 3-0, opening day win at RFK, this will be the team's easiest game since. D.C. United may be on a two-game winning streak, but they those games were at home against New England and New York. Columbus is on a whole different level. Unless we see a new D.C. United, this one should go the way of the Crew.
---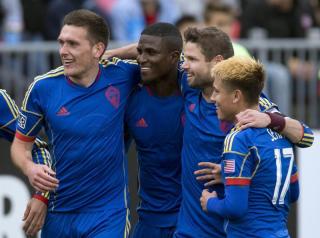 BE AN MLS ULTZY, EMBRACE …
#8 Colorado Rapids vs. #13 San Jose Earthquakes (Saturday, 6:00 p.m. Eastern)
Last week: Colorado won in Toronto, 1-0; San Jose drew with the Crew, 1-1
Two decent teams — two teams that should compete at the edge of the Western Conference playoffs — have gotten off to divergent starts. Colorado rides a two-match win streak into their home return, while San Jose is one of the league's four remaining winless teams.
Despite those records, this should be a relatively even matchup, though the Rapids' Saturday win gives us a hint as to how things could go down. Toronto and San Jose set up nearly identically, though the styles of the teams' forward tandems are different. If Shane O'Neill (if he gets another start in the middle) and Drew Moor can handle Alan Gordon and Chris Wondolowski, the Earthquakes will likely remain winless.
---
THE MAURO ROSALES CUP …
#15 Chivas USA vs. #5 Seattle Sounders (Saturday, 10:30 p.m. Eastern)
Last week: Chivas USA drew at Portland, 1-1; Seattle won in Dallas, 3-2
Rosales's three-year run in the Emerald City made him a huge fan favorite, but as Seattle reconfigured its team in the wake of last fall's disappointment, the Argentine winger was forced to move on. He's quickly found a home in Carson, where his leadership and constant effort have instilled a belief in the previously wayward squad. The Goats aren't setting MLS on fire, but as last week's result at Providence Park showed, they're far more capable this year under Wilmer Cabrera.
Seattle's attack, however, threatens to make this one a lopsided result. While teams like Portland and Dallas could keep up, it's unclear how Chivas USA can do so. Where the Goats have relied on Erick Torres opportunism during their 1-2-3 start, they may need their only scorer to explode if they're to keep up with Clint Dempsey and Obafemi Martins. A defense where only Carlos Bocanegra is playing his natural position will have trouble with Martins' movement.
… THE "LAST GAME DIDN'T HAPPEN" BOWL …
#9 Philadelphia Union vs. #12 Houston Dynamo (Saturday, 4:00 p.m. Eastern)
Last week: Philadelphia drew with RSL, 2-2 (but lost at New York on Wednesday); Houston lost at New England, 2-0
Ricardo Clark versus Maurice Edu in the middle? I'm in. Two strong, experienced, potentially destructive players, both of whom can cover acres in midfield? First one to five tackles wins (though Edu, at 3.3 per game, is averaging nearly double Clark's surprisingly low 1.6).
The better issue, though, is whether either team can bounce back from its last result. Houston failed to put a shot on target in its 2-0 loss in Foxborough, while Philadelphia couldn't match the Red Bulls' persistence mid-week in Harrison. Houston is 0-2-0 on the road this season.
… AND TWO GAMES THAT DON'T SEEM FAIR
#1 Sporting Kansas City vs. #18 Montréal Impact (Saturday, 8:30 p.m. Eastern)
Last week: Sporting had the week off; Montréal drew with visiting Chicago, 1-1
Ike Opara is out (for the year) and Oriol Rosell is suspended, but as long as Dom Dwyer, Graham Zusi, and Sal Zizzo are pressing up against that Montréal defense, this one's going to be tough for the Impact. Maybe Frank Klopas will drop Jack McInerney, rely on Marco Di Vaio alone up top, and add a third midfielder, hoping his team can actually hold the ball a while before punting it. Even then, this looks like reach for the Montréal.
#2 Real Salt Lake vs. #16 Portland Timbers (Saturday, 9:30 p.m. Eastern)
Last week: Salt Lake drew in Philadelphia, 2-2; Portland were held by Chivas USA, 1-1
Portland's all-time record against Real Salt Lake, having joined Major League Soccer in 2011: 1-7-3.
Games without a Timbers win vs. RSL: 10.
Caleb Porter's career record against Salt Lake: 0-4-2.
Number of videos RSL has posted flaunting its success against Portland: Unknown, but I found this one, advertised as "So intense it will make you to tears":