Player of the Week
Vicky Losada (right) is part of an emerging core of Spanish talent that's starting to make Ignacio Quereda's team relevant in Europe, but having never played outside of Spain before , the 23-year-old midfielder was a bit of an unknown to those who don't subscribe to the Women's La Liga Television Network (a channel that doesn't exist).
So credit to Aaran Lines and the Western New York staff for scouting Week One's big star. Perhaps teammate and fellow Spanish international Adriana Martín deserves some credit, too. Whatever the reason, the former Barcelona standout was more than able to make up for the loss of Abby Wambach, scoring twice and assisting on Brittany Taylor's goal in the Flash's 3-1 win in Washington.
FC Kansas City 1-1 Sky Blue FC – Amy Rodriguez 42′; Katy Freels 48′
Houston Dash 0-1 Portland Thorns – Allie Long 24′
Washington Spirit 1-3 Western New York Flash – Vicky Losada 15′, 67′; Christine Nairn 50′; Brittany Taylor 54′
Seattle Reign FC 3-0 Boston Breakers – Kim Little 49′, 54′; Megan Rapinoe 88′
Team of the Week
GK – Jill Loyden, Sky Blue FC – This is a quantity choice, with the U.S. international making seven saves in Kansas City. Coming up big on Amy Rodríguez in the second half, Lloyden helped preserve a point on the road, even if some of her first half kicks were quite … interesting?
RB – Kelley O'Hara, Sky Blue FC – There weren't any standout performances at right back, but O'Hara's forays forward — tormenting rookie Kassy Kallman — distinguished the U.S. star. Normally a left back and a converted attacker, the Stanford grad got the call behind natural right back Caitlin Foord, who was pushed into midfield. Late in the game, O'Hara slid into central defense, playing understudy for Christie Rampone and Lindsi Cutshall.
CD – Becky Sauerbrunn, FC Kansas City – Sauerbrunn's always a pleasure to watch, something you're reminding of in her moment-to-moment control at the back; comfort on the ball; sublime steps into midfield. I'd bet against her being in this team every week, but I also wouldn't be surprised if it happens.
CD – Brittany Taylor, Western New York Flash – We don't like to be too goals-centric on this list, but Taylor did score on the league's opening weekend, something that helps her edge out Sauerbrunn's partner, Nikki Phillips, for this spot.
LD – Kassy Kallman, FC Kansas City – Like right back, left back was difficult to find standouts, but Kallman's assist on Rodriguez's goal earns the former Florida State Seminole a spot.
M – Allie Long, Portland Thorns FC – Long put four shots on goal on Saturday in Houston, with her first half header allowing the defending champions to win the first NWSL game at BBVA Compass Stadium.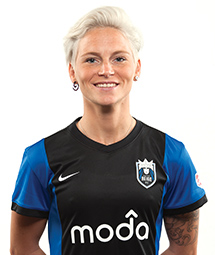 M – Jessica Fishlock, Seattle Reign FC (right) – Another great performance from the Reign's best player last season saw the Wales international complement her customary rambunctious play with two assists, helping Seattle to an overwhelming start.
AM – Vicky Losada, Western New York Flash
AM – Kim Little, Seattle Reign FC – Little is coming off a downturn in goals at Arsenal, production that is unlikely to be so muted in Seattle. With one from the spot, another from open play, Little notched two goals in her first 90 North American minutes.
AM/W – Megan Rapinoe, Seattle Reign FC – A late goal against an overwhelmed Boston gave her just rewards for a strong opening day performance.
F – Amy Rodriguez, FC Kansas City – Making her NWSL debut, Rodriguez's fine finish off Kallman's late first half pass gave FC Kansas City its first goal at Durwood Stadium. Welcome back, A-Rod.
Standings
| | | | | | | | | |
| --- | --- | --- | --- | --- | --- | --- | --- | --- |
| | Pts | GP | W | L | T | GF | GA | GD |
| Seattle Reign FC | 3 | 1 | 1 | 0 | 0 | 3 | 0 | 3 |
| Western New York Flash | 3 | 1 | 1 | 0 | 0 | 3 | 1 | 2 |
| Portland Thorns FC | 3 | 1 | 1 | 0 | 0 | 1 | 0 | 1 |
| FC Kansas City | 1 | 1 | 0 | 0 | 1 | 1 | 1 | 0 |
| Sky Blue FC | 1 | 1 | 0 | 0 | 1 | 1 | 1 | 0 |
| Chicago Red Stars | – | – | – | – | – | – | – | – |
| Houston Dash | 0 | 1 | 0 | 1 | 0 | 0 | 1 | -1 |
| Washington Spirit | 0 | 1 | 0 | 1 | 0 | 1 | 3 | -2 |
| Boston Breakers | 0 | 1 | 0 | 1 | 0 | 0 | 3 | -3 |
Quick thoughts, after week one
1. Becky Sauerbrunn and Nikki Phillips may already be the league's best central defense duo …
FC Kansas City didn't keep a clean sheet, but the goal was a bit freakish – a failed clearance that fell straight to Katy Freels. Around that, the central duo of Sauerbrunn and college teammate Nikki Phillips assuaged any fears shaking up last year's solid defense would lead to a downturn in performance. Individually, the former Cavaliers were two of the weekend's three best central defenders.
Compared to opening day last season, FCKC see only one player return to the same spot in the back four. Sauerbrunn and Leigh Ann Robinson stay the same, but Robinson (left to right back) has shifted to new roles.
Phillips's addition, however, could justify the tweaks, and while Kallman looked a little slow against Foord and O'Hara, she won't be the only left back in the league subjected to that problem.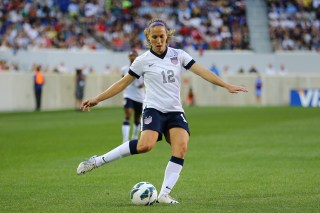 2. … but this formation change for FC Kansas City could cost us some fun.
I want to reserve judgement on Vlatko Andonovski's switch away from the 4-2-3-1. I really do. Given the trouble the Blues had converting possession into goals, it's not clear going to a second striker should be automatically criticized.
The new formation, however, doesn't have the same pure playmaker role that's present in the 4-2-3-1. Given how much enjoyment reigning MVP Lauren Holiday (pictured) produced in that spot, the fan in me wishes we could have voted on the move. Less Lauren Holiday picking apart defense – less fun for the NWSL.
3. Houston held their own with the defending champions …
With a temporarily depleted defense, the debuting Dash impressed against the Thorns, even if the result didn't come. No surprise: Randy Waldrum appears to have quickly forged a solid squad.
4. … but may also be experiencing a women's professional soccer typical problem.
Game-changing goal scorers have been so rare in Women's Professional Soccer and the NWSL, it's been hard to succeed without one. Sky Blue did to a limited extent last year, but at the end of the season, they were the team you wanted to meet in the playoffs. The rest of the postseason qualifiers had Wambach, Holiday, and Christine Sinclair, while Sydney Leroux was the only standout forward to miss the playoffs.
The thesis here is that the nature of the leagues has allowed elite goal scorers – people who can occasionally find goals of their own accord — to have a larger than expected impact. The absence of elite snipers may have doomed Washington, Seattle, and Chicago last season.
If that's the case, Houston is in trouble. They have talented forwards such as Kealia Ohai and Stephanie Ochs, but it's unclear either will be among the league's leading scorers. We know enough about Ella Masar to be confident she won't.
The Dash looked impressive on opening day, but that lack of a scoring threat could be their undoing. Maybe Ohai or Ochs will step up.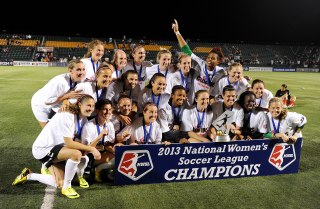 5. For all the talk, Portland doesn't look much different.
The team with as much talent as anybody had trouble controlling the game yet still managed a narrow victory. Give Cindy Cone's hat to Paul Riley, and the Thorns would have that full 2013 feel.
It's early, and the Thorns had a number of key absences, but all the rhetoric about controlling play and providing a more entertaining product felt flat on day one. Riley got a win in his NWSL debut, but it didn't feel like the Thorns had made progress.
6. So many moves led to so little change for Washington.
It's just over one week into the season, and there are already hints of chaos in Washington, where a coach entering his first full season on the job called out his team after Sunday's performance. True, there isn't enough there to assume it's all mayhem and anarchy in the dressing room, but the early tension between staff and squad hints at the same problems that saw Washington change coaches half-way through last season. There may be something in the water.
7. Laura Harvey's offseason
We're one step away from Power Rankings, but this should be the real order:
1. Laura Harvey's offseason
<end of list>
We talked about it on Sunday, but we can't do this Digest feature without mentioning the obvious. Harvey's winter overhaul has the potential to define this season. Even if it doesn't, 2013 should be a distant memory in Seattle.
League Leaders
Goals
RANK
PLAYER
TEAM
GP
GOALS
1
Kim Little
SEA
1
2
2
Vicky Losada
WNY
1
2
3
Amy Rodriguez
KC
1
1
4
Megan Rapinoe
SEA
1
1
5
Katy Freels
NJ
1
1
6
Brittany Taylor
WNY
1
1
7
Allie Long
POR
1
1
8
Christine Nairn
WAS
1
1

Assists
RANK
PLAYER
TEAM
GP
ASSISTS
1
Jessica McDonald
POR
1
1
2
Adriana Martin
WNY
1
1
3
Kassey Kallman
KC
1
1
4
Vicky Losada
WNY
1
1
Power Rankings
RANKING


Up/Down

1
–

Seattle Reign FC

: The attack was quick, fluid, balanced, and scary. Little and Fishlock as threats from midfield can take advantage of all the work Rapinoe, Leroux, and Beverly Goebel do up front. The only defense may be a good offense – finding a way to get at the Reign's back four. (1-0-0)

2
–


Western New York Flash:

 Last year I thought Abby Wambach's health wouldn't hold up and the Flash would crash and burn. They ended up winning the regular season. Any kind of 'wait and see' attitude I have about Aaran Lines went out the window. It looks like he's built another strong team. (1-0-0)
3
–
Portland Thorns FC: As much as this looks like last year's team, that squad won the title. Perhaps Paul Riley will need a little more time to produce the attractive product Merritt Paulson wants, but the team still got a win on the road. There's only so much nit-picking we can do over one week's result. (1-0-0)
4

–

FC Kansas City: A draw at home in week one should be slightly disappointing, but the team put eight shots on target. Hopefully, on other days, that will lead to more goals. If Jill Loyden was able to keep the Blues to one, credit the keeper without faulting the team, too much. (0-0-1)
5

–

Houston Dash: They created just enough going forward to make me believe the goal scoring situation will improve. If, however, Houston can't prove more adept at getting on the scoresheet, Saturday's result will look more plucky than dangerous. (0-1-0)

5
–
Sky Blue FC: Ranking them below a team that lost is harsh, but Sky Blue gave up too many chances and needed an unforced defensive error from Kansas City to get a point. Jim Gabarra's team proved capable as always, but if they played Houston tomorrow, I'd put my loose change on the Dash. If might also ask if I could skip the bet entirely. (0-0-1)
7
–
Boston Breakers: Given how good the Reign were, we're giving Boston a bit of a pass, particularly since they were able to get to halftime at 0-0. Where anything that happens on the field often comes down to balancing blame and credit, we're tipping the scales in Seattle favor and leaving Boston near the middle of the Power Rankings pack. (0-1-0)

8
–
Chicago Red Stars: I have no idea what to make of Chicago after Week One.  (0-0-0)
9
–

Washington Spirit:

 A year after finishing with a -23 goal difference in 22 games, the Spirit open up with a 3-1 loss to a team that was missing its best player. I know there's a lot of hype around Crystal Dunn, and players like Yael Averbuch, Veronica Perez, and Christine Nairn should prove valuable additions, but wow does this year look like last (after one week, mind you). (0-1-0)
Week Two
Saturday, April 19
Washington Spirit vs. FC Kansas City  – Talent-wise, Kansas City has a huge edge, but if Andonovski's 4-4-2 needs a breaking in period, Washington may be able to steal a point.
Chicago Red Stars vs. Western New York Flash – Chicago opens its season at Toyota Park, hoping to draw a crowd for Abby Wambach and the Flash. Whether the U.S. icon will play isn't 100 percent certain. If Chicago, returning largely the same team that closed last season so strong, can carry over momentum from 2013, the team can knock off the Flash.
Sky Blue FC vs. Portland Thorns FC – This matchup looks somewhat similar to Portland's opener, prompting the obvious question: Will the Thorns play better? Even if they do, they'll do os against a Sky Blue team that found ways to trouble them last season. So far from home, a draw would be a good result.
Sunday, April 20
Boston Breakers vs. Houston Dash – This should be a telling game for both teams. Was Boston's opener truly about a powerful Reign team opening up at home? And were the Dash fueled by the occasion more than potential?