After their massively disappointing loss midweek that left Everton once again chasing Arsenal for the final Champions League spot, Tim Howard and the Toffees are hoping to turn things around.
They'll have to do so against a resurgent Manchester United team that's won three of its last four Premier League matches.  A point behind the Gunners without their game in hand, they'll need Arsenal to drop points if Howard wishes to play in Europe's top competition next season.
Elsewhere across England's top flight, Jozy Altidore's struggles are starting to make Jurgen Klinsmann nervous, as Sunderland has to go to Stamford Bridge to take on Chelsea.
(MORE: Premier League Preview – Chelsea vs Sunderland)
Brad Guzan's Aston Villa still hasn't secured Premier League status for next season, although their poor form recently still has a long way to go to be in any serious trouble. Villa hosts Southampton who is coming off a bad loss to Cardiff City.
Stoke City, meanwhile, are flying high and Geoff Cameron continues to be at the forefront of their success. The Potters take on Cardiff tomorrow featured on NBCSN.
WATCH ALL PREMIER LEAGUE GAMES LIVE ONLINE VIA NBC SPORTS LIVE EXTRA
Americans in the Championship are dwindiling in numbers as injuries continue to pick people off one by one.  Those still standing include Danny Williams who's Reading sits just a point outside the final playoff spot.  They have three matches left to make up that deficit, but must wait until Tuesday for their first crack 12th-placed Middlesbrough.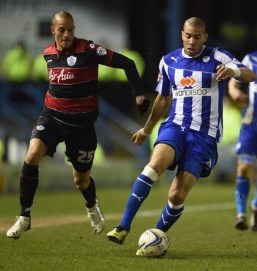 Sheffield Wednesday are safe, and that leaves Oguchi Onyewu with little to play for – at least as far as the club is concerned. But he will continue his search for a very outside shot at this year's World Cup, playing the full 90 in eight of the club's last 10 games.
However, Oguchi's defense has given up nine goals in the last three games he's started. They take on Tim Ream's Bolton Saturday, who has little to play for, mired in the middle of the Championship table.
Huddersfield are not yet mathematically safe, but with three matches to go their seven-point cushion appears fine.  They get Yeovil Town on Monday, and Duane Holmes will look for playing time, as he was an unused sub in their loss to Derby last week.
The Eredivisie is off this weekend, and as such so are Aron Johannsson and Juan Agudelo.
Sacha Kljestan waits until Monday for Anderlecht to take the pitch, on the road at Racing Genk where a win could see them pull within three of second-place Club Brugge, if they were to fall to leaders Standard Liege.  After playing nearly all Anderlecht's minutes through 2013, Kljestan's had trouble finding the pitch in 2014, playing just 225 minutes in their last 12 matches.
Nantes are not mathematically guaranteed Ligue 1 safety, but with five matches left they would need an epic collapse to find themselves relegated, especially if Ale Bedoya continues his good form. He's getting lots of minutes and scored his fourth goal of the season two matches ago. They take on relegation candidates Valenciennes on Sunday.
Down south, Puebla are desperately hoping to avoid Liga MX relegation as they take on Pachuca on Saturday with DaMarcus Beasley one of their few bright spots. They remain bottom of the Clausura table, but sit above Atlante by five points on the relegation average table.  Hercules Gomez, Edgar Castillo,and Joe Corona lead Tijuana on the road at Atlante on Sunday looking to do their Puebla buddies a favor.
Fabian Johnson travels with Hoffenheim to Werder Bremen Saturday hoping to secure their top-ten status in the Bundesliga. Johnson's played the full 90 minutes in five straight matches, in which Hoffenheim have lost exactly none of.
John Anthony Brooks made a stupid and got a massive back tattoo, keeping him out of this weekend's Hertha BSC fixture with Augsburg.  Things like that are becoming a problem, after German media told Brooks back in December he needs to "become an adult" aka grow up.