EXCLUSIVE — On Saturday the Chicago Fire welcome the New England Revolution to Toyota Park (Watch live on NBCSN, 4 p.m. ET and online via Live Extra) with the hosts still searching for their first win of the 2014 Major League Soccer season.
Yet, that doesn't tell the whole story.
After defeat on the opening day, new Chicago coach Frank Yallop's has seen his side battle to five-straight draws as the Fire have come close time and time again to recording their first 'W' of the current campaign.
Despite no win in six, encouraging signs are there for all to see as Homegrown midfielder Harrison Shipp explains.
"It has been up and down, the last couple of game especially. Our last game up at Montreal, we played our best game of the season by far," Shipp said. "It was our most complete game, we dominated possession, shots and every key stat. We played really well and probably should have been two or three up before they got their one good chance and they scored. It is all about building. It is a long season. We have a new coaching staff who are getting a hold of our strong traits are as a team and playing towards those. Even though we've had five-straight ties, the last couple of games have been really positive for us."
WATCH CHICAGO vs. NEW ENGLAND LIVE ONLINE, RIGHT HERE
Shipp, 22, hails from Lake Forest, Ill. and has been a member of the Chicago Fire youth program and the Premier Development Team whilst he played out a stellar college career at the University of Notre Dame. I first came across the diminutive attacking midfielder in 2010, during his Freshman year of college, and even then you could tell the buzz and hype about Shipp was worthy of a future MLSer.
His play has translated effortlessly from leading the Fighting Irish to their first-ever NCAA Division I soccer championship last year, to the professional scene. A real box of tricks and able to drift in between midfield and attack, Shipp's size at 5 foot 9 makes him a true playmaker able to open up the meanest of opposition defenses with a flick of his boot or swivel of the hips. Shipp explains that Chicago, and the Fire, are close to his heart.
"I have grown up here all my life" Shipp said of Chicago. "I went off to Notre Dame but that is still close enough that I would train with the team in the summer and play with the PDL team. I have been connected with the club for a long time, so it is great to reach that peak of being in the first team."
Now he is in the first team, Shipp has yet to taste defeat as a member of the Fire squad in the first five games of his MLS career… he has yet to taste victory either. That's something he and his teammates are working on ahead of their clash with New England this weekend.
"They are a good team. They have a lot of creative and technical guys in the midfield," Shipp said of New England. "They like to go forward but hopefully we can exploit that by counter-attacking and there will definitely be spaces in front of their back four and hopefully in behind their back four to let us run in on goal."
What about this Chicago team? Under new coach Yallop, plenty of youngsters like Shipp and 20-year-old Benji Joya on loan from Santos Laguna have been given the chance to start and influence games from midfield. Their style is developing and with a possession based game preferred by Yallop, you can already see a new era being ushered in on the banks of Lake Michigan.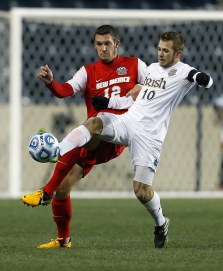 "We have guys who can pass through the midfield, guys who are willing to buy into a system, play simple and get in those good spots to find the pockets in-between midfield and defense," Shipp said. "Then we have Quincy [Amarikwa] up top who is just going to battle until he drops. We are creating a lot of chances, we haven't gone scoreless in any game this season and we had scored plenty of goals. Now we are just focusing on cleaning up some defensive things. We have given up a lot goals on set-pieces, so not giving up one in the last game at Montreal was a positive. Building off that and cleaning up those small details, we will figure out how to win some games."
As for how Shipp plans to help with that, we've already seen from early glimpses in the Fire uniform that the Homegrown star can get on the ball and get things going.
Shipp has added two assists during his five starts, against D.C. United and New York, and plans to keep laying chances on a plate for his teammates.
"My goal going into every game is to create chances," Shipp said confidently. "Whether that be in open play or from set pieces or shots I take myself, if I can create three or four good opportunities every game I am doing my job as a midfield player. Up until this point it has been pretty good, hopefully I can build on that and get some goals and more assists."
With Shipp explaining the difference between the college and pro game as the increase in speed and being "forced to think farther steps ahead before you get the ball," you sense he's relishing the challenge of stepping up to the big leagues.
Remembering how Shipp played when I saw him during his college days four years ago, I asked him if any players in particular have shaped his style. One player sprung to my mind before I asked the question, Shipp's answer reaffirmed my thought.
"My favorite player for a while has been Andres Iniesta from Barcelona," Shipp said. "I've tried to model my game to be something similar and obviously not just like him, but I admire what he does on the ball and the way he plays. So he is someone I have really looked to."
After a bright start to his career in MLS and with many keeping an eye on the hugely talented attacker rolled off the Chicago Fire production line, you'll likely be hearing Shipp's name for many years to come. With MLS veterans like Mike Magee and Jeff Larentowicz around to keep an eye on him, (Shipp praised Chicago's veteran core for helping out their younger players) Shipp is in good hands.
What about this season and Chicago's hopes of making the postseason? Shipp is optimistic the postseason can come to town during his Rookie campaign.
"I wasn't on the team last year, but they were so close to reaching the playoffs and a lot of the guys are back," Shipp said. "It is one of the things you strive for every year and I think we could have had four or five wins from our games up until this point but we feel unlucky and given up some set piece goals that shouldn't have gone in. We do think the playoffs are a realistic goal and hopefully we do achieve that."