.
MOYES HURTLING TOWARDS UNITED EXIT
On Monday, rumors, reports and the realization arrived that David Moyes' time in charge at Manchester United is coming to a premature end.
The Telegraph's Mark Ogden first broke the news as the Glazer family, who own United, have finally given up hope that Moyes is the right man to turn things around at Old Trafford. I witnessed what could well be Moyes' last game in charge of United, the abject and lackluster 2-0 defeat to his old club Everton on Sunday, and everything that has gone wrong during his time at United's helm was showcased in a truly shocking display.
A lack of passion and ingenuity from his players coupled with a shortage of tactical nous and one dimensional instructions from Moyes was, and has been, a recipe for disaster for the Red Devils. Now, as has been the suspicion for some time, Moyes seems to have lost the dressing room as his players went down with a whimper at Everton. Then Moyes said the following in his post-match presser.
"I thought we played really well in the first half but we lacked the killer ball. I agree there isn't much point having a lot of possession if you don't create chances. And we didn't do that well enough. I thought the two goals we conceded were rank, rotten."
I feel some sympathy for Moyes. We all knew that succeeding Sir Alex Ferguson was a hard act to follow, yet the way United have been playing and the way they continue to spiral out of control is alarming. Did anybody truly think that the Glazer family would hand Moyes another handsome transfer kitty of over $220 million this summer? With no guarantee of success and the only track record to go on being 11 defeats in a Premier League campaign for the first time in their history… of course not.
(More: Moyes vilified on return to Everton, as United nightmare continues)
United are out of the UEFA Champions League, unable to attract big name players and they've been forced to pay top dollar for good, not world-class, additions. Chuck in losing your entire veteran leadership group and the Empire has come crumbling down during Moyes' leadership. The Glazers want to put an end to the suffering. Whether or not Moyes deserved more time is a debate for another day but the fact of the matter is, he didn't do enough with the time he's been given to lead one of the largest global brands towards success. Everybody knew there would be a drop off from the Ferguson era, but this is a deep nosedive into a dark abyss that's threatening to derail all of the good work from the last quarter of a century.
The low points thus far: 3-0 and 4-1 defeats to Manchester City, 3-0 and 1-0 defeats to Liverpool, losses to West Brom and Newcastle at home, then to cap it off Moyes was beaten by his old side Everton home and away. Even a brief foray in the Champions League, where they were knocked out by Bayern Munich in the last eight, failed to cajole his side into action.
Sitting in the press box high up in the third-tier at Goodison on Sunday, something caught my eye, near the technical area. 'It can't be…' I thought to myself. 'It bloody well is.' How this was allowed to happen, I'm not sure, but as Moyes stood arms-crossed on the edge of his technical area, a sense of foreboding may well have taken over the Scotsman.
Behind him, a fan had dressed up in a Grim Reaper costume, complete with a black cape, haunting face mask and an inflatable scythe which he pointed towards the United manager. On three of four occasions 'The Angel of the Abyss' wandered towards Moyes (see above photo) before being asked to remove his costume after 15 minutes of the game by police officers.
That ominous feeling seemed to overtake Moyes throughout, as his side struggled to cope with Everton's counter-attacks and the Grim Reaper has lived up to his reputation once again, with Moyes hurtling towards the exit at Old Trafford.
Premier League Schedule – Week 35

MARTINEZ EMBARRASSES MOYES WITH TACTICAL NOUS
Since the 1969-70 season, Everton had not won home and away against Manchester United in the same campaign.They have now, and they thoroughly deserved it.
Moyes' replacement at Goodison Park, Roberto Martinez, has breathed new life into the Merseyside club with free-flowing soccer the aim as his players express themselves at every possible opportunity.
Overloading on the right wing, stifling the opposition's attacker, being patient and keeping the ball when needed, launching incisive and devastating counter-attacks; these are all of the tactics Everton manufactured superbly on Sunday as they defeated Manchester United 2-0 at Goodison Park.
(More: Martinez revels in Everton's humbling of Man United)
On his return to Everton, Moyes was vilified by boos from the same fans who once adored him. As he stood in his white sneakers on the sidelines, arms crossed and a sour expression spread across his face, a familiar picture unfolded before his eyes; United being outwitted.
Everton loaded the right wing with Seamus Coleman bombing on and Kevin Mirallas staying high on United's left back Alexander Buttner. It worked a treat. One small tactical maneuver from Roberto Martinez bamboozled Moyes as Everton out-thought United. Worryingly, which is one of the main reasons Moyes seems to be on the way out, Everton outworked the Red Devils. I asked Martinez after the game if their shock 3-2 defeat to Crystal Palace last Wednesday provided his side with a wake-up call to go out and beat United, as their race to finish in the top four intensifies.
"I think it was a very important defeat to digest and understand," Martinez said. "I told the players we were magnificent going forward against a Crystal Palace team who are superb defensively. The problem was we conceded three goals, and you need to control that. You need to know how to win football games. Today was the first time we had something to lose. We were in a position where we weren't trying to get something, we were trying not to lose something. I think this performance was the perfect answer. To go 2-0 up, then keep a clean sheet against the champions, it is as good as it gets."
The best is yet to come from Martinez and Everton, as many would argue he has bettered Moyes' decade of work at Everton in the space of just nine months. Martinez admitted Moyes laid the foundations for him to succeed, yet the real job was always going to be lifting Everton from a side who perennially finished in the top seven, to a team consistently challenging for the top four.
MOURINHO'S RANT
Speaking after Chelsea's shock 2-1 defeat to Sunderland on Saturday, which put a mammoth dent in Chelsea's title hopes, Jose Mourinho lost the plot in the post-match interview.
"No, [I am not shocked] I just want to say four things. I am sorry because. If you ask me more questions, I will repeat the same words. I have four things to say: Congratulations to my players because they gave what they have and what they don't have… Congratulations to Sunderland, because they won… Congratulations to Mike Dean, because he made a fantastic performance… And congratulations to Mike Riley, because of what they did during the season was fantastic for the way the Championship is going. Congratulations to all of them. I'm sorry, I have nothing more to say."
That was it. Mourinho's 77-game unbeaten run at home in the Premier League was over, and there's nothing like accepting defeat gracefully…
Mourinho was up to his old tricks again, as his thinly veiled conspiracy theory about the referees ganging up on Chelsea was a little embarrassing. Mike Riley, the head of the Professional Game Match Officials Board (PGMO) didn't escape Mourinho's wrath, as the late penalty awarded to Sunderland for a foul on USMNT forward Jozy Altidore (yes, he came off the bench) did look dubious. We've seen them given though, as Cesar Azpilicueta slid in rashly and Altidore went down leaving referee Mike Dean with no choice after his assistant referee waved his flag.
That said, Mourinho's constant need to deflect the attention away from his players and on himself is starting to wear thin across the English game. Various columns were written about the Special One being too involved in his own self-importance and unable to lose with dignity.
(More: Mourinho's sensational swipe at officials after Chelsea suffer shock defeat)
Chelsea have lost to Aston Villa, Crystal Palace and now Sunderland in recent weeks, as the Blues have come undone at the end of a largely inconsistent season. The UEFA Champions League semifinals prove the saving grace for Mourinho's men, as they face Atletico Madrid in the final four of Europe's elite club competition this week and next. Sandwiched in between that is a trip to Liverpool, in what was once billed as a title decider, now it looks like damage limitation for Mourinho's men.
He couldn't handle losing to Sunderland late on. How will Chelsea's boss react to losing the title this season?
LIVERPOOL CAN'T DEFEND… CAN'T STOP SCORING EITHER
Last week in the latest PST Extra, myself and Mike Prindiville discussed Liverpool's run in and if they are worthy title favorites. After Chelsea's defeat, they are the red-hot favorites. One reservation myself, and many others, have had about Liverpool is their tendency to leak goals like an antique sieve.
(More: Latest Premier League standings)
In their 3-2 win against Norwich on Sunday – which has put them five points clear at the top of the standings with three games to go – leaks started to appear as Simon Mignolet came for a cross when there was no needed, collided into Martin Skrtel and Gary Hooper stood bemused, then tapped the ball into an empty net. Nerves will play a part in the three games to come, as Liverpool host Chelsea and Newcastle, with a tricky trip to in-form Crystal Palace sandwiched in-between. The Red have conceded 44 goals this season, have only kept three clean sheets in their last 10 matches and have conceded 14 in the time frame.
However, here's the kicker; they've scored 33 goals in their last 10 games.
That is why Liverpool will likely win the Premier League title, baring a monumental collapse — only a defeat to Chelsea and Man City winning out may thwart Brendan Rodgers' men — as the people's favorite will prevail. If you had a show of hands amongst neutrals, journalists and fans of other PL teams, I'm 99.9 percent sure the overwhelming majority would want Liverpool to win the league, if their own team could not lift the crown.
A joy to watch, full of goals and drama, plus the true inspiration of the 25th anniversary of the Hillsborough disaster driving them on, Liverpool's will soon be the Premier League champions, in my opinion. They also be the people's champions, too.
PLAYER OF THE YEAR NOMINEES: ANALYSIS
It is awards time in the Premier League again, as spring time is here and the top six players, and young players, have been nominated by their peers for the Professional Footballer's Association (PFA) Player of the Year award.
Here's a quick rundown on the six stars in each category, as Eden Hazard and Daniel Sturridge have been nominated for both.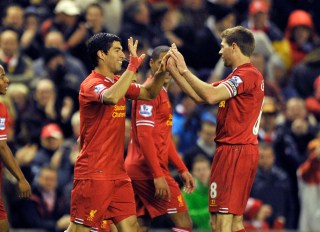 PFA Player of the Year nominees – Luis Suarez, Steven Gerrard, Daniel Sturridge, Eden Hazard, Yaya Toure, Adam Lallana
If Liverpool win the league, expect the winner of this award to come from either Suarez, Gerrard or Sturridge. I'd plump for Gerrard. Suarez and Sturridge, particularly the former, have banged in 53 goals between them but Gerrard has reinvented himself since the turn of the year and has been the heat and soul of Liverpool's sublime title charge. 11 straight wins and counting to finish the season, are you serious? Of course, Eden Hazard has been a star for Chelsea as the Belgian international winger has finally realized his promise on the big stage. Yaya Toure has been a monster in the middle for City, scoring 22 goals and generally ploughing through opposition midfielders and defenenders. Adam Lallana is the wildcard. This season he's become an England international, has captained Southampton towards what will likely be their best-ever PL campaign and has wowed neutrals with his mind-boggling skills on the ball. A real mixture of players is in the six-man shortlist, but Stevie G gets my vote for his inspirational leadership as Liverpool stroll towards the league title for the first time in 24 years.
PFA Young Player of the Year nominees – Raheem Sterling, Daniel Sturridge, Aaron Ramsey, Eden Hazard, Luke Shaw, Ross Barkley
Sturridge and Hazard both got on this list too, and it wouldn't surprise me if either won the award after stunning seasons. Raheem Sterling has had a superb start and finish to the campaign, but fizzled out in the middle. That said, the 19-year-old winger has sublime talent, pace and has shown in recent weeks that he can finish when given a chance. Aaron Ramsey would have probably won this award had injury not curtailed his season and you have to remember how well the Welshman played in the early months of the campaign. The other two players on the list have both become full England internationals this campaign. Luke Shaw has excelled all season at left back for Saints, with many top clubs sniffing around him as the Saints starlet is set for a bright future. Barkley is a real talent in the middle, where he glides effortlessly into attack and plays as though he has years of PL experience under his belt. Two-footed, an eye for a pass and able to score spectacular goals, what more do you want from a young player?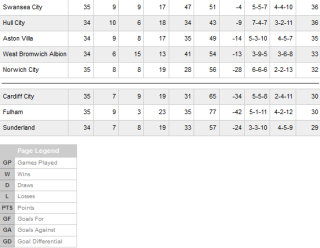 PLOT THICKENS AT THE BOTTOM
Last week it was Cardiff and Fulham… this week it was Sunderland and Swansea who gave themselves a shot in the arm against relegation. We've already discussed the Black Cats' shock win away at Chelsea, as Gus Poyet's side are now just three points from safety with a game in hand over all the teams around them.
(More: Relegation Watch – Sunderland gain ground in tight table)
As for Swansea, Garry Monk's boys beat Newcastle 2-1, with a Wilfried Bony double (including a last minute PK winner) edging the Swans towards safety. As we've seen too often this season, you can't say they're totally out of danger. Almost, though. Fulham went down bravely to Tottenham, after dominating large spells of the first half and looking like a team full of confidence as they fight for their lives, As for Cardiff, they hardly battered Stoke, and could've easily lost the game late on but held onto a 1-1 draw which they really doesn't help them.
With three games to go for most of the teams down the bottom, Norwich seem to be the team everyone thinks will slip into the bottom three. With Manchester United, Arsenal and Chelsea still to play, the Canaries certainly have a tough task on their hands.
It is a case of three from five to be relegated, but who those three teams will be, it's anybody guess at this late stage of the campaign.
Premier League Playback takes an alternative look at all the weekend's action from the PL, it comes out every week.