Particularly compared to Wednesday's UEFA Champions League semifinal, there's a temptation to see Atlético Madrid and Chelsea as a pair of blunt objects – two teams who put on more pragmatic faces than Bayern Munich and Real Madrid. Given the two sides'  talents, the temptation makes for a convenient but misleading contrast, even if the teams' primary creators, Eden Hazard (Chelsea) and Arda Turan (Atlético Madrid), could both miss out. The Blues, one of the world's most expensive teams, will still have the likes of Willian, Oscar, and André Schürrle at their disposal, while Atleti have skilled talents like David Villa, Diego, and José Sosa to augment Spain's second-leading scorer: Diego Costa.
At least, that's the generous way to look at it. As Atlético head coach Diego Simeone pointed out in Monday's pre-match press conference, the broader, reductive perception carries a kernel of truth. When Chelsea visits the Spanish leaders on Tuesday, two similar sides will begin vying for a place in next month's Champions League final.
"We have the best defensive records in our respective leagues," the Argentine boss explained. "We both have good defenses and play a direct attacking game. We're both also good at set pieces. These characteristics have led to us each fighting for titles."
After this weekend, one team's fight is more vibrant than the others. With a 2-0 win over visiting Elche, Atlético remains on track for its first league title in 18 years. In England, however, Chelsea again slipped against one of the teams in the Premier League's bottom half, its 2-1 loss to Sunderland taking the team's title destiny out of its hands.
It was a performance that feeds into a quiet theory about the Blues, one that, if true, does not bode will for Chelsea's chances against Atlético. Chelsea, the thinking goes, is most effective against teams that are willing to try to play through them, an approach that opens opponents up to a practically patented Mourinho counter. Against teams the Blues have to break down, however, a defense that is by far the best in England gets exposed, leading to upsets like the ones they've endured against Sunderland, Crystal Palace, Aston Villa, and Newcastle.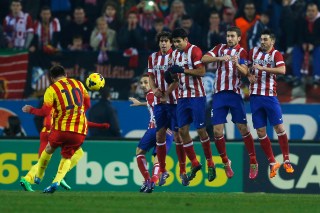 It's a weakness that would play into Atleti's hands, if Chelsea had to pursue them. But unlike league play, where the Blues need to collect full points from the circuit's weaker sides, Chelsea doesn't have to chase Atlético, particularly in Tuesday's road leg. Instead, the former champions can be patient, force Atlético to try to break them down, and hope for their own opportunities to counter.
"No team arrives in a UEFA Champions League semifinal without being a very good team, and they are no exceptions," Chelsea boss José Mourinho said on Monday. "To be here they have to be a very good team … (we) have studied and analysed them."
If Atlético tries to press them, as they do all each opponent, Chelsea can just kick the ball away. We're fine playing without possession. When Atlético retrieves it, the Blues can sit deep and be patient. If you're not going to take chances, we'll wait you out. If Atlético can't create something independent of Chelsea mistakes, this matchup could be decided by set pieces. Or penalty kicks.
"This is a semifinal, and as such it will be a very tight match," Simeone said. "It is a game that will be decided by very small details. Teamwork will be all-important in helping to bring out the individual qualities that can decide games. Whoever can do that best will be closer to winning the first leg."
Maybe Costa, able to score when opponents aren't gifting goals, can make Chelsea pay for that approach, but as the Blues showed while claiming Europe's crown two years ago, 90 minutes of mistake-free soccer is not beyond their talents. And as Atleti showed through February's slump, they're not above making mistakes of their own.
Particularly in leg one, when Chelsea may look to limit damage on the road, the matchup's main question will be laid center stage: Can Atlético break down Chelsea before Chelsea breaks on Atlético?
Subplots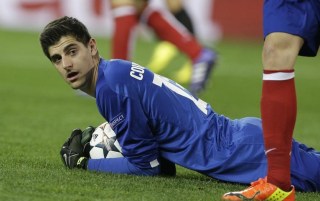 1. Thibault Courtois will play for Atlético – Under contract to Chelsea, Courtois has spent the better part of two seasons with Atlético, where his loan stints have established the Belgian international as one of the best goalkeepers in the world. By the terms of the teams' loan agreement, the 21-year-old shouldn't be able to play, but after the teams were drawn against each other just over a week ago, UEFA quickly said it considered such a clause unenforceable.
Quietly, the Blues have agreed to let their goalkeeper play against them, and while Chelsea fans would rightly see that as unconscionable, the decision reveals a previously unspoken reality. After two years in Madrid, Courtois is more Atleti than Chelsea. His true employer seems more of a technicality than a reflection of his spirit. On Tuesday, Atlético's keeper's unlikely to play with mixed emotions.
2. Fernando Torres faces his original club – Even though his role with Chelsea continues to wane,  Torres matching up against his former team is important in the same way Didier Drogba facing his former club had meaning in the Round of 16.
Torres is a legitimate legend at Atlético, having come through the club's youth ranks before spending parts of seven seasons with the first team. Even if he's with the opposition, that he's present while the club plays in its first semifinal in 40 years has emotional value. It will be strange to see him play against Atlético in such an important match at the Calderón.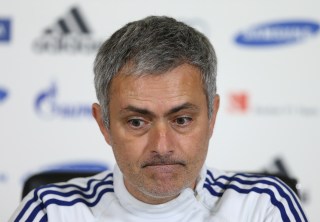 3. José back against Atlético – The last time Mourinho faced the Colchoneros was last year's Copa del Rey final, with Atlético's upset of Mourinho's Real Madrid confirming a rare trophy-less season for the coach. Mourinho would go on to call 2012-13 the worst year of his career.
One year later, Atlético have another chance to leave Mourinho without silverware. Unless Chelsea can win at Anfield, they'll be out of the Premier League title race, with next week's second leg in London set to decide whether the Blues also bow out of Europe.
4. An unwilling semifinal specialist – Mourinho has made two Champions League finals, winning them both (2003-04 with Porto; 2009-10 with Inter Milan). Those triumphs have been the exceptions in Mourinho's seven previous semifinal appearances, with the 51-year-old unable a final with either Chelsea or Real Madrid.
On Tuesday, Mourinho sets the record for most semifinal appearances by a manager: eight. If he can't get past Atlético, however, six exits at the penultimate step start to look look like a stumbling block. Even if there's a good reason for the exits — even if Mourinho may be getting quarterfinal-quality teams one found too far — he be seen as a kind of inverse specialist – somebody who hasn't entirely solved the semifinals.