David Moyes is out at Manchester United after less than a year. How did we get here?
There were plenty of off-field issues, as the Red Devils brass absolutely bungled the summer transfer window in landing just Marouane Fellaini before striking a strong note in January with Juan Mata. United looked dreadful in defense all year, a mix of subpar players and men unfit to contend with top attacks.
And the injuries were plentiful! Many wondered how Sir Alex Ferguson was able to win the league with essentially the same roster, but a simple look at the Premier League statistics says a lot about the why and how. From weeks 17-22, United was missing Robin van Persie, Nani and Fellaini. For two of those matches, they didn't have Wayne Rooney either.
Plus:
Robin van Persie — 38 games last season, 18 this season
Michael Carrick — 36 games last season, 25 this season
But how about the matches themselves? Here are our top five contests that turned #MoyesOut from a hashtag to a happening:
Sep. 22 – @Manchester City 4, Manchester United 1 — Yes, the Citizens were humming early, but on the heels of a 1-0 loss to Liverpool and 0-0 draw with Chelsea, this is the one that started to turn the doubters into haters. It was United's worst defeat at the Etihad Stadium in nearly a decade, and Rooney only rescued a goal with mere minutes to spare. They were outplayed dramatically, and the city was blue.
RELATED: Candidates you need to know as Manchester United looks for a new manager

Sep. 28 – West Bromwich Albion 2, @Manchester United 1 — This one took Moyes believers and gave them serious doubts. The Baggies posted their first win at Old Trafford since 1978 in a match that foreshadowed several other historical happenings at home… and not the good kind.
Dec. 4 – Everton 1, @Manchester United 0
Dec. 7 – Newcastle United 1, @Manchester United 0
Twice blanked at home by clubs that had known Old Trafford as a house of horrors. The fortress walls were down, and Everton burst through for the first time since 1992 behind Bryan Oviedo's 86th minute tally. Making it worse was knowing that Moyes had left this Everton team to come to Manchester, while his replacement cued the dismissal of the ghosts. A few days later, it was Yohan Cabaye's turn to run roughshod over the Red Devils. Newcastle carried possession and the day as it ended a 41-year wait for a win at Old Trafford. Forty-one years. No joke.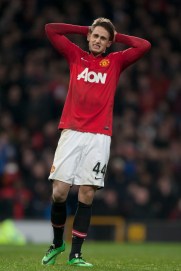 Jan. 22 – @Manchester United 2, Sunderland 1 (3-3 on aggregate; Sunderland advances on penalties, 2-1)
Again at Old Trafford, but this time it was an embarrassing exit from the League Cup semifinals with a simply brutal bout of penalties. Three days after a loss at Chelsea, Moyes' charges could not redeem themselves to set up an all-Manchester Cup final. Phil Bardsley had looked to have sprung a 119th-minute trap for United, but Chicharito came to the rescue in ultra "Fergie Time" fashion… only for Moyes! The Mexican striker scored at 120+1′ to move the event to kicks, where the Red Devils and Black Cats both looked like they were penning a childrens book entitled "Our First Penalties." Darren Fletcher was the only Manchester United player to convert as Danny Welbeck, Adnan Januzaj, Phil Jones (!!) and Rafael all missed.
Worth noting: this was in the stretch where the club was missing Rooney, van Persie, Fellaini and Nani.
VIDEO: Where David Moyes went wrong at Manchester United
March 16 – Liverpool 3, @Manchester United 0
March 25 – Manchester City 3, @Manchester United 0
Losing at home is one thing. Getting absolutely hammered by your biggest rivals during a crucial time for European qualification is another. The wheels were off, and it couldn't get worse.
Only it did.
April 20 – @Everton 2, Manchester United 0 — Moyes had 11 days to prepare his charges for their first game since being run out of Europe by Bayern Munich, and there was nothing there. The Red Devils hierarchy could only watch and listen as the Goodison Park faithful booed their former boss while cheering his replacement to a resounding victory. One fan seated behind the dugout took a turn as the Grim Reaper in a monumentally-brutal form of former team torture. The writing was on the wall, sheets, banners and sky: Moyes' time was running out.
And Tuesday morning, it was gone.