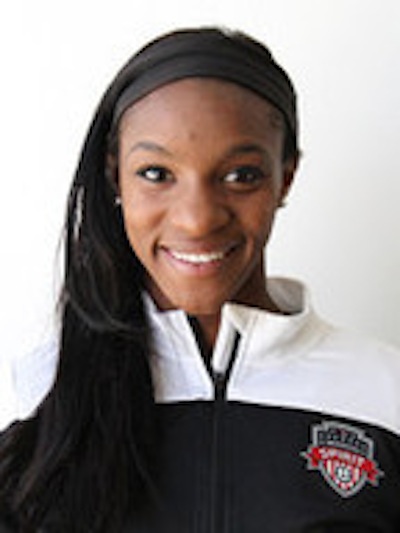 Player of the Week
Let the Crystal Dunn era begin, but pray for the league's defenders, because if Saturday was any indication of what's to come, Washington has a player that can turn its club around – a player capable of living up to all the lofty expectations that accompanied her out of North Carolina this offseason.With her two assists proving the key part of both Spirit open play goals, Dunn led her new team to a 3-1 win over visiting FC Kansas City, helping the team quickly move beyond a disappointing opening day loss.
In that loss, a 3-1 defeat to the Western New York Flash, Dunn was often forgotten along Washington's left. Switched to the right on Saturday, the U.S. international was the game's most important player, her first major contribution coming in the fourth minute. Coming in to win a ball in front of FCKC's Nikki Phillips, Dunn attacked the Kansas City goal before eventually laying off for Diana Matheson, creating an easy finish just nine yards out.
In the 38th minute, Dunn was on the left, taking advantage of a Kansas City defense that allowed her to cut back across the field. Laying off for Matheson at the edge of the penalty area, Dunn collected her second assist of the night as the Canadian international blasted home the game-winning goal.
Goals are worth more than assists, a truism that gives Matheson a claim for this honor. Dunn, however, made those goals. How many players in the league finish those two chances? Because it's probably fewer than the number of people who could have created them.
Crystal Dunn: Congratulations on your first of many Player of the Week honors.
Results
(a.k.a., What actually happened)
Washington Spirit 3, FC Kansas City 1 – The Spirit responded to Mark Parsons' challenge by giving the best performance in the team's short history. The Dunn and Matheson combination look maniacal. (Matheson 4′, 38′; Rodríguez 28′; Christine Nairn 45′)
Sky Blue FC 1, Portland Thorns FC – A late penalty converted by Allie Long allowed the Thorns to stay undefeated, but we're still very much in 2013 Thorns mode. U.S. captain Christie Rampone scored her first  goal in … forever? (NWSL, WPS, WUSA). (Rampone 25′; Allie Long 75′)
Chicago Red Stars 1, Western New York Flash 0 – An Abby Wambach-less Flash ran into a Red Stars team that was able to carry over it momentum from the end of the 2013 season. Take a decent team, add Julie Johnston and Vanessa DiBernardo, and profit? On the field, at least, that could work. (Johnston 59′)
Boston Breakers 2, Houston Dash 3 – A painful game became dramatic at the end when substitute Teresa Noyola scored twice (once from the spot) in her 10 minutes, giving the Dash its first win in franchise history. (O'Reilly 1′; Masar 50′; Lohman 70′; Noyola 81′, 85′)
Team of the Week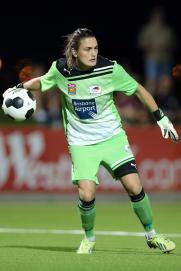 GK – Nadine Angerer, Portland Thorns (right, playing in Australia) – Two saves on three shots were complemented by some strong reads coming off her line. Given there were no standout goalkeeping performances this week, any two or three other keepers could have claimed this spot. We choose to think Angerer willed Kelley O'Hara's late penalty kick wide of the post.
RB – Ari Romero, Houston Dynamo
LB – Rachel Quon, Chicago Red Stars – In a week were fullbacks failed to standout, the "most solid" performances get rewarded – something that goes beyond merely putting in a good shift defensively. Romero and Quon were both able to contribute in all phases of their teams' games, and while neither made a huge impact, both were valuable parts of their clubs" first wins of the season.
CB – Brittany Taylor, Western New York – I have no problem putting Taylor and FC Kansas City's Becky Saurbrunn here ever week, if need be. Given Sauerbrunn's team allowed three goals this weekend, I found an excuse to exclude her. Taylor, however, gave Aaran Lines' another strong defensive performance. If nobody else is going to rise to her and Sauerbrunn's level, this could become a weekly thing.
CB – Julie Johnston, Chicago Red Stars – Speaking of Sauerbrunn, Johnston gave a "Broon"-esque presence for the Red Stars, controlling play from the back while providing a solid defensive contribution. Making her professional debut, the former Santa Clara standout also scored the game-winning goal, beating Katherine Reynolds to the second half winner in Chicago's defeat of Western New York.
AM – Crystal Dunn, Washington Spirit – Apparently, an above average soccer balling person.
AM – Diana Matheson, Washington Spirit – Dunn did much of the work, but Matheson had to finish. With two goals, the Canadian international is now tied for the league lead, a stature that should remind those with short memories of her great season 2013 season. Coming off an eight-goal season, Matheson showed her partnership with Dunn could result in an even more productive 2014.
AM – Heather O'Reilly, Boston Breakers – "Run past everybody and Lisa (De Vanna) will roll a long one for you" seemed to be the plan in the first minute against Houston. O'Reilly converted. In the second half, taking advantage of a zoned out Nikki Washington, O'Reilly provided the cross for Joanna Lohman's go-ahead goal.
DM – Joanna Lohman, Boston Breakers – Hey, look who's here. It's Joanna Lohman, of Heather O'Reilly section fame. Houston may have scored three goals on Sunday, but none were her doing, with the Dash spending most of the day unable to exact much influence on the midfield. In the second half, a run to the middle of the Houston area caught Boston's guests unaware, allowing the Breakers to temporarily reclaim the lead.
M – Teresa Noyola, Houston Dash – Came off the bench and scored twice as the Dash claimed the franchises's first NWSL win. The former Stanford star was also voted NWSL Player of the Week.
F – Amy Rodriguez, FC Kansas City – Another goal, another nice of splay of intelligent play along the opponents' line, and another place in our Team of the Week for the U.S. international. Again, welcome back, Amy Rodriguez.
Standings
Pts
GP
W
L
T
GF
GA
GD
1.
Portland Thorns FC
4
2
1
0
1
2
1
1
2.
Seattle Reign FC
3
1
1
0
0
3
0
3
3.
Western New York Flash
3
2
1
1
0
3
2
1
4.
Chicago Red Stars
3
1
1
0
0
1
0
1
5.
Washington Spirit
3
2
1
1
0
4
4
0
6.
Houston Dash
3
2
1
1
0
3
3
0
7.
Sky Blue FC
2
2
0
0
2
2
2
0
8.
FC Kansas City
1
2
0
1
1
2
4
-2
9.
Boston Breakers
0
2
0
2
0
2
6
-4
Quick thoughts, after week two
1. Figure out how to stop Crystal Dunn and Diana Matheson …
… and let me know, because between their speed, skill, intelligence, and versatility, I'm not sure what teams can do against Mark Parson's attacking midfield duo. On Saturday, the Washington head coach put Dunn on the right and took advantage of Erika Tmyrak's tendency to come in from her left midfielder position. The result was Washington having a huge numerical edge in the middle and Dunn closer to the ball.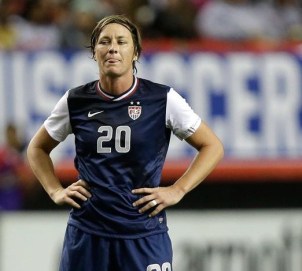 2. Where is Abby Wambach?
People are starting to talk about this. Wambach, for the second week in a row, is out – not even in Aaran Lines's 18. A fractured orbital bone is supposed to be the reason, but with Carli Lloyd running around with a face mask for the Flash, it's natural to ask: Why isn't Abby playing?
We saw Wambach go head-to-head with a Chinese defender two weeks ago. We know there was reason to suspect a head injury (namely, the huge welt above her eye after the contact). She finished that game, but Wambach hasn't played since. What's going on here?
If there was ever a situation a team should be as transparent as possible to avoid any concern this is concussion-related, this is it. Granted, regarding health issues, that's easier said than done, but the impression we've been given is that this is only an orbital fracture – something that was originally described as day-to-day.
Now we're left wondering, for the second year in a row, whether a Wambach head injury is either being misdiagnosed, un-diagnosed, or under-reported. Or not present, at all.
3. Speaking of Carli Lloyd:
What the …
That was only a yellow card? Yeesh. DiBernardo got hit. In the face! Welcome to the league, Vanessa. Don't even think of challenging for Carli's spot on the national team.
Lloyd should be suspended for this one. Don't hold your breath, though.
4. FC Kansas City really misses Desiree Scott
Last week we talked about FCKC's unconvincing switch to a 4-4-2 formation, but with Canadian international Desiree Scott having bolted to Notts County, Vlatko Andonovski's hand might be forced. That lack of a second defensive midfielder, however, hurt Kansas City on Saturday. Crystal Dunn came in and won a ball in front of the defense for the opening goal, while the Spirit midfielder was allowed to cut back at the top of the box to set up the second. If you have a second person in defensive midfield, each play is far less likely to happen.
After playing 4-2-3-1 last year, Kansas City just needs to get used to its new system, but right now, it doesn't look good. Lauren Holiday is trying to maintain the same influence she had last season, which often leads Jen Buczkowski isolated in front of the defense. When Erika Tymrak drifts inside to help, a player like Dunn is given license to roam.
5. Rookies shining, but wait until they get Press
Julie Johnston was great, as was Vanessa DiBernardo, who shook off the forearm shiver from Carli Lloyd to have a strong debut, as well. This is the future Chicago was playing for last year. With two new aspiring internationals in tow, Rory Dames can challenge for a playoff spot.
And to think: This the Red Stars are going to get Christen Press in a couple of months. And Canadian international Melissa Tancredi. I wonder if they'll be able to help?
6. How much do we worry about Boston?
The Breakers haven't been good through two weeks, but they're probably not as bad as their -4 goal difference (with six goals allowed) hint. Between Lianne Sanderson, Heather O'Reilly, and Lisa Da Vanna, they have a means to beat people. Kristie Mewis will eventually be back, too. The pieces just need to be sorted.
Unfortunately, there are no pieces in defense, part of the reason they're conceded so many goals. Particularly in the middle, where Courtney Jones has gone from reserve forward with Kansas City to starting center back in Boston, the team needs help.
It'd be nice of the Breakers had somebody like Mariah Nogueira to stick in front of the defense, allowing two defensive midfielders to protect Jones and Cat Whitehill. Too bad they gave her away this winter.
Combined with Kia McNeill going back to school, this team desperately needs options.
League Leaders
Goals
RANK
PLAYER
TEAM
GP
GOALS
1
Diana Matheson
WAS
2
2
2
Amy Rodriguez
KC
2
2
3
Kim Little
SEA
1
2
4
Allie Long
POR
2
2
5
Teresa Noyola
HOU
2
2
6
Vicky Losada
WNY
2
2

Assists
RANK
PLAYER
TEAM
GP
ASSISTS
1
Crystal Dunn
WAS
2
2
2
Jessica McDonald
POR
2
1
3
Heather O'Reilly
BOS
2
1
4
Jessica Fishlock
SEA
1
1
5
Adriana Martin
WNY
2
1
6
Vanessa DiBernardo
CHI
1
1
7
Rafaelle Souza
HOU
1
1
8
Kassey Kallman
KC
2
1
9
Vicky Losada
WNY
2
1
Power Rankings
RANKING


Up/Down

1
–

Seattle Reign FC

: After a bye this weekend, Seattle will play twice in the next five days, though their time on the sidelines has only made us appreciate them more. There isn't much doubt which team deserves to be top of this list, right now. (1-0-0)

2
–


Western New York Flash:

 They lost by one, on the road, to a decent team, while missing their best player. I'm not dropping the Flash for that. If anything, the Spirit's impressive win over FC Kansas City made Western New York's opening day look even stronger. (1-1-0)

3
UP 5
Chicago Red Stars: Don't pay attention to the Up/Down column. I ranked them low last week because they haven't played. After one week of action, though, Rory Dames' team has a very impressive (if small) résumé. They've beaten the number two team on our list.  (1-0-0)
4
UP 5

Washington Spirit:

 "[W]ow does this year look like last year," I wrote in this space last week. Thankfully, I was wrong. Oh so wrong. Mark Parsons pressed all the right buttons, made the right changes on the field, and produced what could prove a huge result. For this first time in over a year, the Spirit have a reason to be confident, though the loss of Tiffany Weimer to a season-ending ACL injury all of a sudden makes Lori Lindsey important again. (1-1-0)
5
DOWN 2
Portland Thorns FC: The defending champions are one of three undefeated teams in the league, but if Kelley O'Hara doesn't gift them with that late hand ball (and en even later missed penalty kick), this team falls to a Sky Blue. Credit to Paul Riley's team – it has four points without playing a minute at home — but this team knows is can (and, is expected to) play better. (1-0-1)
6

DOWN 2

FC Kansas City: Long goals from Diana Matheson and Christine Nairn made the scoreline a bit aberrational, but the result quiets any notion the Blues can tap into what they had last year. This team needs a new idea, and it's unclear the new formation is it.   (0-1-1)

7
DOWN 2
Sky Blue FC: Their two-spot slip is less about their quality than teams like Chicago and Washington passing them. It doesn't help that, against two unimpressive teams, Sky Blue hasn't shown much, either. Players like Cami Levin and Nanase Kiryu have proved interesting additions, but the team still lacks a consistent threat going forward. (0-0-2)
8

DOWN 3

Houston Dash: Congratulations to the Dash on the first win in franchise history, but the team will need to play much better to be competitive this season. Neither Houston nor Boston acquitted themselves well, and while somebody has to take points from these matches, neither team can look fondly on that 90 minutes (burn that tape!). Houston may have gotten more points than it did against Portland, but the team played worse.  (1-1-0)
9
DOWN 2
Boston Breakers: Boston just has to do better. They can't let a team like Houston come to town, play below its own expectations, hang around for 80 minutes and then steal it late. The execution the Breakers showed on their first minute goal has to be threatened (if not replicated) throughout the game. Without that intensity, the Breakers allowed the league's expansion franchise to claim full points. (0-2-0)
Week Three
Wednesday, April 23
(Wait! That's in a few hours. Oh, man …)
Seattle Reign FC vs. Washington Spirit – This will be an interesting test of Seattle's new downtown venue. Will people stick around for the game instead of heading home to the suburbs? If they go, they could see a shootout complement some of the league's biggest stars, from Hope Solo and Sydney Leroux to less-known treasures like Dunn and Kim Little.
Saturday, April 26
Chicago Red Stars vs. Washington Spirit – Washington on short rest, on the road, against a Chicago team that looks like a quality squad? It's going to be hard for them to get up for the match at Benedictine.
Portland Thorns FC vs. FC Kansas City – Portland's first home game gives the defending champions a chance to leave its irregular form on the road. With Amy Rodriguez, Lauren Cheney, and Erika Tymrak, however, the Thorns defense will face its greatest challenge of the season. Visitors always get up for games in Portland.
Sunday, April 27
Boston Breakers vs. Sky Blue FC – Here's Boston's chance to rebound. Player-for-player, Boston can compete with this team, and getting Sky Blue at Harvard Stadium, the Breakers should be expected to produce a result. If the can't improve on Sunday's performance, however, it won't be difficult for Jim Gabarra's team to get three points from this one.
Seattle Reign FC vs. Houston Dash – Houston's defense proved problematic in Boston, no surprise given the likes of Whitney Engen and Meghan Kilngenberg are missing. Against the league's deepest attack — on the road, on the fast pitch at Memorial Stadium — this could prove a learning experience.