The financial collapse of former Swedish champions Tyresö FF has been one of women's soccer's most depressing stories, but as the team that has Marta, Christen Press, and Verónica Boquete on its books inches closer to next month's UEFA Champions League final, new angles on the team's demise continue to surface. Today comes word that the team, currently tied 0-0 with Birmingham City after one leg of the Champions League semifinals, may not be able to distribute full player bonuses should they claim Europe's crown. Currently in administration, the Swedish tax authorities will get first crack at any prize UEFA hands back to the club, should the club exist at all.
The story is a common one in modern soccer, outlining the ironic downside to unrestrained ambition. Particularly over the past year, Tyresö has spend itself into the ground, climbing Europe's women's soccer ladder while doing to.
It's a process that's not only brought five-time FIFA World Player of the Year Marta to southeast Sweden but also lured a slew of U.S. international stars. At one point this winter, the then-Damallsvenskan leaders and defending champions had five prominent Americans on its roster, adding defender Whitney Engen, right back Ali Kreiger, and goalkeeper Ashlyn Harris to a team that already had attacker Christen Press and defender/midfielder Meghan Klingenberg.
They also had Women's Professional Soccer Most Valuable Player Verónica Boquete. And Swedish stars like Caroline Seger and Lisa Dahlkvist, Tyresö build a team that was primed to transcend the Swedish league and its limited history to become a true European power.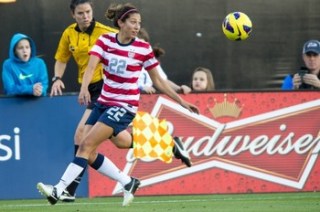 It's ambition that's put the team within one win of the Champions League final, though those positive results stand in stark contrast to everything else that's happened at the club. Almost immediately after the team's winter influx, the club stumbled domestically, losing its undefeated record and eventually finishing seven points behind league champion Rosengard. This season, the team has lost its first two league games, a plight that pales in comparison to its financial troubles. With Swedish tax authorities managing the club, there's a chance the team's doors could eventually close, potentially preventing them from taking part in the Champions League final.
At least, that's what Sweden's Radiosporten is reporting, a fate that would prevent the team from cashing in a lucrative payday. If the team wins next month's final, UEFA's prize will be just under $3.2 million (€2.3 million). If it loses, the club will still be in line for near-$2.5 million, provided it can first get past Birmingham City in Sunday's second leg (and not be closed down by administrators in the process).
With the club struggling both on and off the field, there's no guarantee that will happen. Even if it does, the rewards will be greatly diminished. Though the squad will still have the glory of its accomplishment, player bonuses for winning Europe (reportedly as high as $1.4 million for Marta) will be severely cut. Where playing for pride has become a sports cliché, Tyresö's talented squad may have no other reward.
This is Leeds, Málaga, Anzhi, and the myriad of other more broadly told stories of teams trying to spend their way to history. It's also a story of a club that could be done before the next Champions League season starts.  If it goes out of business, the memories of Tyresö's accomplishments will be tied to an ambition that destroyed the club.