When watching soccer on TV, have you ever sat there and wondered what the man behind the microphone really thinks?
Maybe this will go someway to helping with that.
In the latest edition of "View from the Booth" we chat with NBC Sports' lead soccer announcer Arlo White about Liverpool vs. Chelsea at Anfield, Jose Mourinho's latest antics, David Moyes reign at Old Trafford and much more.
(MORE: VIEW FROM THE BOOTH ARCHIVE)
You can hear Arlo calling live games every weekend on NBC Sports Network and NBC, and watch every single game available live online via NBC Sports Live Extra,
So, let's get to it.
The big game of the weekend sees Liverpool hosting Chelsea at Anfield. Can the home side hold their nerve?
This 11-game winning run has been a thrilling high-wire act and the Reds only have a few more steps to reach the other side. It hasn't been all straightforward for them but they are reaping the rewards from adopting the only approach that could possibly win them the title: a positive, high-pressure, explosive brand of attacking football. They have thrashed some teams on this run, Arsenal, Everton, Spurs and Cardiff have been put to the sword but they've also snatched the odd goal in dramatic high-scoring affairs against Swansea, Manchester City and Norwich. They've wobbled but they haven't toppled. They've bent but they have not broken. I'm sure that Jose Mourinho will devise a game plan to create anxiety at Anfield but with Brendan Rodgers in charge of Liverpool I think they have sufficient nerve in reserve throughout the rest of this title chase.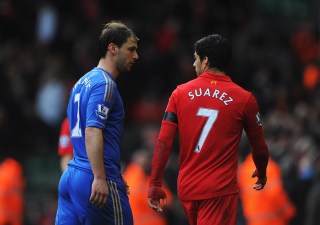 Jose Mourinho has already started the mind games by saying he'll play what is in essence his 'B' team. What do you make of all this?
Chelsea face the first leg of an FA Youth Cup semifinal on Monday, so I would be surprised if he uses many "kids" at Anfield. We know he is without Terry, Cech and Ramires but Lampard and Mikel are suspended for the second leg vs. Atletico so are therefore available, Salah and Matic are ineligible, therefore available, and Ashley Cole could get another start like he did in Madrid. For me, the options are one wide midfielder and the two center backs, does he want to risk one of Cahill and Luiz or both of them and a striker. After Sunday, he may feel as if he's out of the title race so it just depends on what agenda he believes he is serving. Jose is in quite a dark mood at the moment. Does he want to hand Manchester City fresh impetus to win the title by beating Liverpool? Questionable. Does he want to make a point about having to play all of these Champions League ties and not being given time off or having games rearranged by the Premier League? That's possible. Is he unhappy at FA charges against him? That's possible as well.
Can you see Mourinho going to a place like Anfield and being able to suffer a defeat? I just don't buy it. He'd love to win, I don't think he'd be desperately unhappy with a draw. I certainly don't think he wants to lose at a ground where he already has some very bad memories.
Manchester United finally fired David Moyes after just 10 months in charge at Old Trafford. Was his appointment a mistake and what were the major issues?
It is easy with hindsight to say that it was a mistake. It was always going to be a huge challenge. The timing worked against David Moyes and against Manchester United. Once Sir Alex Ferguson had retired there was now way that Manchester City and Chelsea were going to give United the same pass they did last season when the Red Devils deservedly won the title by 11 points. We've seen the emergence of Liverpool, Moyes leaving Everton opened up the hotseat for Roberto Martinez to revolutionize things and they've challenged for the top four. Moyes wasn't helped by David Gill's departure from the Chief Executive role either. Gill and Sir Alex leaving at the same time, you have to ask the club why that was allowed to happen because it created a vacuum of knowledge and experience at the very summit of a hugely successful football club.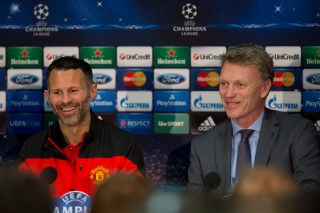 That said. United's decline has been pretty shocking and Moyes is culpable if not solely responsible. If you're a Manchester United manager and you start painting your team as an underdog or aspiring to be like your neighbors, I think you're in trouble. United are all about aggression, being on the front foot, not sitting back, not containing. That was the style Moyes had at Everton and that was always going to be the style he brought to Manchester United. You could question the wisdom of originally appointing him. I always felt that the crucial issue was going to be, would they hand him the pot of $200-250 million for transfers and I always felt they'd be reluctant to do that. David has moved on, Ryan Giggs has come in and the first words he has used are passion, speed, tempo, bravery and imagination. Let's read between the lines and surmise that Ryan Giggs feels that all those elements have been missing from Manchester United this season.
The relegation battle has really tightened up. Will Norwich and West Brom go down? Do you think Fulham, Cardiff and Sunderland have a chance?
Of course I am completely neutral but I do feel a bit sorry for Norwich. They have been handed a hellish last four games of the season and they battled really well against Liverpool last week. They must have looked at Manchester United and seen them so deflated after defeat at Everton and thought, we might have a chance here to go and do something at Old Trafford. Then David Moyes is fired and one of the all-time legends and greats of United history has taken over, you would expect that with only Rafael and RVP unfit to play, that United will come out and show the fans what they think of Ryan Giggs and they want to make a statement in a game that is on national TV. Poor old Norwich might  be on the end of a torrid evening this Saturday.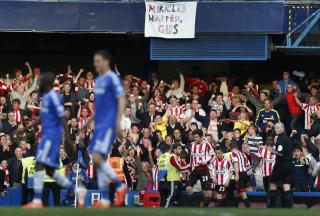 Cardiff, Fulham and Sunderland must be thinking to themselves that if we can get to 33 points, we've got a chance because Norwich might just drop into that bottom three with the severity of their run in.
Cardiff vs. Sunderland is clearly a massive game on Sunday, Sunderland will go into that with huge confidence. I saw them at Stamford Bridge beating Chelsea, they got four points against Manchester City and Chelsea, both away from home last week. Connor Wickham has started scoring goals at a vital time of the season and Jozy Altidore had a key moment after winning the winning penalty at Stamford Bridge. Maybe Sunderland feel, particularly with a game in hand, that they can put a run together and get out of it. Having said that, we've been looking for all these teams at the bottom to put runs together and very few of them have apart from Crystal Palace. Making predictions at this time of the season is a mugs game.
Finally, what else are you looking forward to?
There is one for the purists, Southampton vs. Everton. The Toffees have an opportunity to maintain the pressure on Arsenal by playing in the early kick off on Saturday. Then, let's see how the result of Liverpool vs. Chelsea affects Manchester City's approach at Crystal Palace. That has developed into one of the toughest games in the Premier League. Tony Pulis has done such a magnificent job that if Liverpool do slip up against Chelsea, then there's no guarantee City go to Palace and win easily particularly with some of the injuries they've got.
Once again, there is plenty of intrigue and things to look forward to. Enjoy the weekend.