Thank Philadelphia, thank Zac MacMath, or just thank probability and time. Maybe even give Felipe Martins and the defense some credit, too. Whatever the reason, the Impact no longer have to count themselves among Major League Soccer's winless. With a first half goal from Felipe, Frank Klops's team claimed a 1-0 win over Philadelphia at Stade Saputo, ending the seven-match winless run that had relegated the team to the bottom of the Eastern Conference.
With the win, however, Montréal temporarily climbs to ninth, passing Chicago thanks to some help from MacMath. On a long shot from midfielder Patrice Bernier in the 14th minute, the Philadelphia keeper failed to either catch the ball or push it beyond his left post. Giving up a rebound in the six-yard box, MacMath set up Felipe's easy put back, giving Montréal an early game-winner.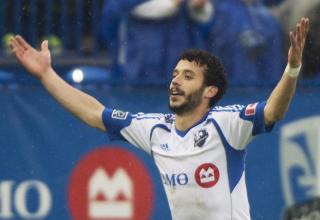 From there, a match of fews scoring chances gave Philadelphia little opportunity to even the score. While the Union held 61 percent of the ball and put five shots on target, Montréal had four shots on goal of their own. Even though Andrew Wenger had two early chances to pull his new team even, the Union continued to have trouble converting control into goals.
In that sense, today's performance was more of the same from the 2014 Union, albeit with a worse result. Even during a strong, mildly eye-opening start to the season, the team's quality in midfield couldn't overcome Jack McInerney's lack of influence near goal. Though McInerney's since been flipped for Wenger, the team's problems remain. There's no deterrent to letting John Hackworth's team keep the ball.
It made for a somewhat predictable second half, even if McInerney had a chance to double Montréal's lead shortly after half time. After MacMath denied his former teammate, Philadelphia was allowed to play out a controlling if inept final half. Over the match's final hour, the Union failed to put a shot on goal from within Montréal's penalty area.
Now nine matches into the season, it's time for Philadelphia to be concerned. Whereas in March you could argue the Union goals would come,  three open play in two months form a bigger, more convincing picture. Though Hackworth is tinkering — dropping Sebastien Le Toux and Cristian Maidana today — he'll soon run out of buttons to push.
As for Montréal, the win will lift spirits, but it shouldn't change the team's outlook. Like the goal itself, this victory was more a result of Philadelphia's failings than the Impact's success. Credit Klopas's team for taking advantage of its opportunities, but it's unclear the team's actually playing better than it was while winless.