With Liverpool's crushing loss to Chelsea at Anfield, a door opened for Manchester City, and they took it in convincing action.
Three points for City at Selhurst Park with a comprehensive 2-0 win over in-form Crystal Palace sees Manuel Pellegrini and company move to within three points of Liverpool with a game in hand.
Word of the Anfield result reached Manchester City just before coming out of the tunnel, and it clearly gave them a boost as Edin Dzeko put them up in just the fourth minute, and they never looked back.
The early goal actually wasn't the first clear chance for Manchester City. Just minutes into the game, James Milner found an overlapping Pablo Zabaleta, but the wing-back's cross into the box didn't find any black shirts in a good area.
But just two minutes later, Dzeko found his header, off a cross from Yaya Toure, and Manchester City were well and truly into the lead.  It was Dzeko's 22nd goal of the season, and the City attack looked like they wouldn't at all miss the injured David Silva and Jesus Navas.
City looked for more, but they would get fewer and fewer chances as Tony Pulis instilled a very physical presence into the midfield.  Damien Delaney earned himself a booking for a hard foul, and more Palace players caught the ire of referee Howard Webb.
Palace used that play to get themselves back into the game, and while there weren't any clear chances on goal, they built themselves up some confidence and possession.
Manchester City came very close to a second with 10 minutes to go before halftime, but Zabaleta's pass into the box for a wide-open Yaya Toure was too slow, and the opportunity closed before it ever reached the Ivorian.
Frustration began to brew for the visitors, and Zabaleta himself earned a yellow card for a frustration foul on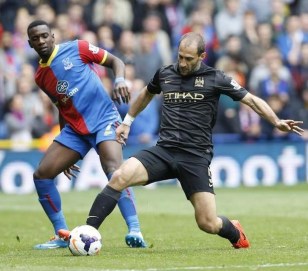 With the aforementioned Navas and Silva out, City received a potentially big blow before the break, as Samir Nasri went down under a heavy challenge and limped his way off the pitch, but managed to come back on.
With Nasri back on the pitch, City would double their lead before halftime, this time on the break. Nasri played a one-two with a streaking Yaya Toure down the right flank.
With the sprinting giant usually known for his entrenching midfield passes and exquisite distance shots, his massive strides moving his body quickly down the touchline was quite a sight to see. Toure was dispossed in the box by Delaney, but the ball came back to him, and the midfielder slotted through for City's second.
The second half featured more of a midfield battle with few chances, but Crystal Palace had precious few chances in the final third, and struggled to get past a physical City midfield while their passing was less than accurate.
James Puncheon, who had been brilliant through Palace's five-match winning streak, was stuck on the right touchline with little freedom, and his passing was a poor 19/26 (73%), 8/14 in the final third.
The visitors looked and searched for a third, nearly finding it with 15 minutes to play but Alekander Kolarov's low cross went untouched in the box, evading a pair of Manchester City attackers.
For Manchester City, they now have the same maximum possible points as Liverpool, with an eight-goal advantage on differential.  The Citizens control their own destiny, although they still have to face Everton, Aston Villa, and West Ham.
The home side sees their five-match winning streak come to an end, but they are still firmly entrenched in their Premier League future, in 11th position and holding.
LINEUPS:
Crystal Palace – Speroni; Mariappa, Dann, Delaney, Ward; Jedinak, Ledley, Bolasie (Ince 74′), Puncheon; Chamakh (Gayle 69′), Jerome (Murray 69′).
Manchester City – Hart; Zabaleta, Kompany, Demichelis, Kolarov; Milner, Garcia, Toure (Fernandinho 66′), Nasri; Dzeko (Negredo 88′), Aguero (Jovetic 78′).
Goals: Dzeko 4′, Toure 43′