The quarterfinals were a reminder about the importance of home field. All of Atlético Madrid, Bayern Munich, Chelsea, and Real Madrid performed dramatically better in their own friendly confines, so much so that a 1-0 loss on the road in UEFA Champions League's semifinals wouldn't have held up after leg one. Having learned nothing from the last round, we've come to see Real Madrid's one-goal win in leg one of the team's semifinal with Bayern as reason to doubt the holders. In reality, a one-goal deficit may still leave Bayern in pole position.
Chelsea turned around a 3-1 deficit against Paris Saint-Germain to reach the semifinals. Atlético were held at the Nou Camp before winning leg two against Barça. Bayern were held at Old Trafford before, after a scare, knocking off Manchester United at the Allianz. Real Madrid built up enough of a lead on Borussia Dortmund to withstand the Germans' assault in Westphalia. All four quarterfinalists met some level of resistance on the road. All four overcame it to win their quarterfinals.
Why should these semifinals be any different? In theory, as the tournament moves on, teams paired against each other should be more evenly matched, making dramatic swings in either direction less likely. In practice, home field advantage has made a difference; at least of late. Over the last two years — four semifinals — teams returning home for their second legs have improved on their leg one performances Even Barcelona, last year, "improved" on a 4-0 loss at Bayern Munich with a 3-0 defeat at home.
Those results aren't enough to say Bayern Munich will turn around the 1-0 deficit they were handed at the Santiago Bernabéu, but it's a note of caution. While Real Madrid looked strong in their home leg — earning an early one-goal lead over the Champions League holders before conceding two good chances late — it would be foolish to think El Real's success necessarily translates onto its second leg. Their semifinal match in Munich could be completely different.
"We are playing against a great team with a small advantage, so we are not that stupid as to think we have already qualified," Real Madrid head coach Carlo Ancelotti said. "It's going to be really hard."
If the teams' 2013-14 performance is any indication, there may be something to the home field advantage angle. Though in league (where the sample sizes are much greater), Bayern has shown little difference between home and road performances, Real Madrid has been noticeably worse away from the Bernabéau. Whereas the Merengues have gone 15-0-2 (W-D-L) at home, los Blancos have posted a 14-4-2 record on the road. Their goal difference is +44 on home soil; +22 abroad.
Overall, it hints that Bayern's dogmatic, imposing style came be imposed onto any environment, something that makes sense given the extreme, outlying nature of their approach. When you employ a system that's so obsessed with ball retention, it should mitigate some of the differences in performance away from home. There are no adjustments to be made.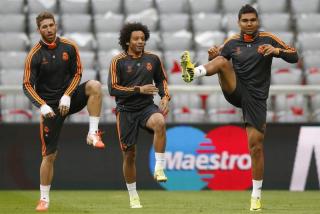 For a team like Real Madrid, however, there may not be enough stylistic differentiation to make them immune to home-road splits. Though they are obviously better and more talented than your typical European team, their style may not be so different that we have reason to think they can overcome the broader statistical evidence. They may be worse away from home.
On Tuesday, Ancelotti's task is to transcend that. He'll have a fully healthy Cristiano Ronaldo at his disposal; a fully healthy Gareth Bale. For the first time since Ronaldo was injured in early April, the Real Madrid head coach will have his full team at his disposal. Whereas in leg one Bale was restricted to a substitute's role, Tuesday will see Real Madrid at full pomp.
Whether that matters, however, may be less up to Real Madrid than its hosts. Also having all its main weapons at its disposal, Bayern Munich will be facing the same question it's been asked all season: If we don't care about scoring, can you break us down? 
For most of the year, it's a question that's been asked by inferior opposition ready to settle of a draw. On Tuesday, it's one of the most talented sides in the world ready to settle for a draw.
"They will seek to defend their advantage for 90 minutes," Guardiola said, "but I'm not sure how. We were desperate to score an away goal. Now we have to attack even more – we have no other option. I'm convinced they'll want to play as well."
If Bayern can't break through, it will be less about Real Madrid than themselves. The team's had eight months to prepare for this moment: a team willing to forgo everything to keep them off the scoresheet. If Pep Guardiola's team can't overcome that approach, it will speak volumes about Ancelotti's Champions League's prowess as well as Bayern's lack of progress since the former Barça boss took over.
"We cannot do it by ourselves tomorrow …," Guardiola said. "The team want it, I want it, the fans want it, and together we can achieve it."