TITLE RACE BLOWN WIDE OPEN
We thought it was all over… it isn't now!
Last week Liverpool seemed to have one hand on the Premier League title. All they had to do was grind out a draw with Jose Mourinho's Chelsea at Anfield on Sunday. Instead, the Reds lost for the first time in seventeen PL matches, as a masterfully manufactured, and utterly Mourinho-esque, display gave Chelsea a stunning 2-0 win to turn the title race on its head.
With just three games to go Manchester City now have a slender advantage in the quest for the PL crown, as City, Liverpool and, to a lesser extent Chelsea, battle it out for the famous trophy.
(LATEST PREMIER LEAGUE STANDINGS)
Liverpool is still top of the standings, as they sit on 80 points with two games to go. Chelsea sit in second on 78 points with two games to go, while Manchester City are on 77 points but crucially they have three games left to play. The Citizens are in the driving seat, because if they win out, their goal difference is plus-8 over Liverpool. That means baring two mammoth wins for Brendan Rodgers' side in their final two games, their destiny is no longer in their own hands.
The pressure is now all on City, will they crumble? Not according to Manuel Pellegrini.
"We always trust we can do it," Pellegrini said. "After we lost to Liverpool I said we had to play three or four games more, each team, and in football all things can happen. We just had to win our games. We'll see if we cope [with the pressure]. We must win the three games. I repeat: I've always said that all big teams must be under pressure to win the title."
Pressure is building at the top and it is still building at the bottom too as Sunderland, Cardiff, Fulham, Norwich, West Brom and Aston Villa battle it out against the drop. More on that below, but ask yourself this question: is this the best Premier League season in history?
Premier League Schedule – Week 36

In what other campaign has the title race come down to goal difference, no team has been relegated with just two games to go and the battle for the top four is still, mathematically, open?
I'd argue we are witnessing the best ever season in the PL. Let's enjoy the climax which is sure to be just as dramatic as the previous 36 weeks of action. This grueling slog which started last August could come down to one final kick in the final second of the final match of the season to decide the champion and who is relegated. That's drama. That's pressure. That's the Premier League.
CHELSEA'S MASTERCLASS: HOW MOURINHO DID IT
If we call Liverpool's tactics naïve. Chelsea's were sublime. Time and time again the Blues cut their cloth accordingly and don't mind digging in and grinding out results when they know that is the best thing to do. That is smart coaching.
For those of you out their screaming 'anti-football, anti-football' at the top of your lungs, you're wrong. To do what Chelsea did on Sunday away at Anfield against a team going for 12-straight wins it extremely difficult and not many other sides can do it in world soccer. The shape, the organization, the discipline, for me it was almost as impressive as watching a team scoring six goals and tearing an opponent apart with scintillating attacking interplay. I say almost because we all love to watch goals hit the back of the onion bag. Yet this was a defensive masterclass, our analysts break it down in the video below.
Chuck in the factor that this mammoth game was sandwiched in-between two UEFA Champions League semifinals against Atletico Madrid and it's even more impressive. Are you not impressed? Okay, how about this. 20-year-old center back Tomas Kalas was making his full debut at the heart of Chelsea's defense, regular right back Bransilav Ivanovic slotted into the center, Ashley Cole came in from the cold again to play at left back and Cesar Azpilicueta swapped left back for right back in a totally new back four which looked as if it had played together for years.
In a recent interview with a Czech newspaper, Kalas said the following: "I am a player for training sessions. If they need a cone they put me there instead." Afterwards I asked Mourinho about Kalas' superb display at the heart of the Blues' defense and the Chelsea boss was full of praise for the youngster thrown in at the deep end for just his third Chelsea appearance. The other two were as 89th minute substitutes, by the way.
"Beautiful. Beautiful," Mourinho said. "Before the match we were laughing about it because big guys like Frank Lampard and Ashley Cole they had their debuts in the Premier League against small teams. And then this kid, Liverpool, Anfield, it is beautiful for him. He will not forget it."
I was at Anfield on Sunday to watch Mourinho's men undertake a grueling task. They time-wasted, they antagonized the home crowd and they got under the skins of Liverpool's players and coaching staff. That was the plan. It worked perfect for Chelsea.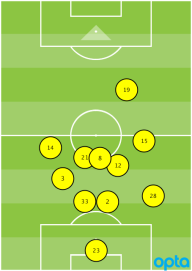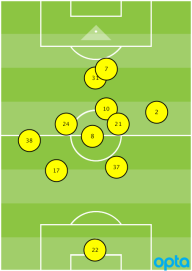 When Liverpool's right back Glen Johnson made a raking crossfield pass in the second half, it illustrated Chelsea's compactness perfectly. The back four of Azpilicueta, Ivanovic, Kalas and Cole slid over seamlessly. In front of them the impressive Nemanja Matic and John Obi Mikel (more on their heroics in "three things we learned" right here) sat to clog up spaces for through balls and Chelsea's wingers, Mohamed Salah on the right and Andre Schurrle on the left, tucked in as full backs. If you look at the picture on the left, you can see the average positions of Chelsea's players against Liverpool.
You can see that Cole is tucked in almost in line with the left post, while Azpilicueta isn't hugging the line at all. They entire back four sat on the edge of their penalty box, with Mikel, Matic and even Frank Lampard stationed in front of them.
The shape was sublime and completely nullified the threat of Liverpool's attackers. In recent weeks both Raheem Sterling and Philippe Coutinho have tucked inside and tried to play in behind Luis Suarez, they did that again on Sunday as you can see on the right from their average positions. Why did Rodgers not ask his men to go wide? They simply gave up.
Mourinho sacrificed the space on the flanks to let Liverpool whip crosses into the box. In open play, Liverpool haven't got players who can rise high and head home. Sure, they are a threat from set pieces with their center backs going up for corners and free kicks. Yet time and time again they got the ball wide and floated balls in that either Ivanovic or Kalas cleared, or the hugely experienced goalkeeper Mark Schwarzer claimed with ease. It frustrated Liverpool's lively wingers and they drifted inside to get on the ball. That's exactly what Mourinho wanted.
When Chelsea broke and scored the second goal to wrap up the victory late on, take a look at Mourinho's celebration in the video below, right in front of the home fans, as the Blues boss overcame the jibes about his tactical approach and his illness which had kept him away from the team leading up to the game, to put a huge dent in Liverpool's title ambitions.
STEVEN GERRARD'S SLIP, LIVERPOOL's NAIVETY
As captain fantastic Steven Gerrard slipped and stumbled before losing the ball as the last man just before half time at Anfield on Sunday, the home crowd held their breath as Demba Ba homed in on Liverpool's goal. Chelsea towering striker then coolly slotted the ball past the onrushing Simon Mignolet and then… silence. Apart from the dull cheers of Chelsea traveling contingent in the far corner of the ground, the majority of the 44,000 plus fans inside Anfield were stunned.
If any other player other than Steven Gerrard had made that mistake, at that crucial point of a game that was so pivotal in the title race, they would've be hung, drawn and quartered by the Liverpool faithful. Gerrard is more than just a player, he is the club's inspirational leader who embodies the ethos and identity of Liverpool Football Club. Instead, as Anfield awoke from its stunned silence, the Kop began to chant Gerrard's name. "Steve Gerrard, Gerrard," as the England captain proved his immortality with Liverpool's fans.
He made a mistake, but he's made several high profile errors before. most notably two eerily similar back passes which were intercepted by first Thierry Henry in England's opening group game of Euro 2004 and then when Liverpool were leading Arsenal late on in 2005 at Highbury. That's right, we remember those two instances because they were so rare. They stick out like a sore thumb because 999 times out of 1,000 Gerrard makes the right decision, the right pass and the right move.
Whatever way you slice it up, Gerrard's slip let Manchester City back into the title race. Liverpool's manager still didn't blame his skipper afterwards.
"This was a boy who has picked up this club time and time again," Liverpool manager Brendan Rodgers said. "It was unfortunate. There is certainly no blame. We are in the position we are in because of him, he has been instrumental for us this season. It is just unfortunate he slipped over, it could've happened to anyone."
Then Rodgers went on a rampage against Mourinho and Chelsea's defensive tactics. We all know Rodgers loves to play attacking soccer, but what he said about his former employers was just plain wrong. Criticizing Chelsea's style and saying "it is not difficult to coach" was a mistake from Rodgers. He set up his side naively on Sunday, as Liverpool went for the win when all they really needed was a draw. Rodgers' flamboyant nature to persist with a swashbuckling style when Liverpool only needed to pick up a point was naïve. He should have resisted the urge to play Coutinho and Sterling from the start and tried to have coaxed Chelsea out of their ultra-defensive setup by keeping the ball at the back. The apprentice failed to handle the master's tactics, as Liverpool must now rely on others slipping up if they're going to win the title.
"You saw it today, there was probably two buses parked today instead of one," Rodgers said. "It is a style of football. It is totally the opposite of what we want and our offensive mentality and direction. Give credit to them they won the game with bodies back in but it is not difficult to coach… 10 players on the edge of their penalty box. I was disappointed, with it. They got booked for time-wasting in the 93nd minute. Everyone could see from the start that was the plan, to frustrate."
RELEGATION: SUNDERLAND & WEST BROM SURGE, FULHAM COLLAPSE
It was a big weekend for the bottom clubs in the PL last weekend, as Sunderland and West Brom have themselves every chance of getting out of trouble. As for Norwich, Fulham and Cardiff, only two games separate them from the dreaded drop.
Sunderland are in sensational form, as the Black Cats looked dead certs to stay up after a mammoth week for Gus Poyet's men. Two weeks ago, it wasn't looking so pretty for the Mackems as following their 5-1 defeat to Tottenham Hotspur I was in Poyet's press conference where he said it would take a "miracle" and something "unique" for Sunderland to stay up. Well Gus, you have your miracle. Almost. Look at the image above and you can see how tight this race against relegation is. Wowza.
The Black Cats have drawn away at Man City, beat Chelsea away and then smashed sorry Cardiff 4-0 at home on Sunday. Sunderland are out of the relegation for the first time since February 10, as Connor Wickham has emerged as an unlikely hero with five goals in his last three games. As for the Baggies, they ground out a crucial win over West Ham thanks to Saido Berahino's early goal. That 1-0 win lifts Pepe Mel's side four points above the bottom three with a game in hand. They should, should being the operative word, be safe. As for Norwich, they slip into the drop zone on goal difference after losing to Manchester United and the Canaries' final two games are against Chelsea and Arsenal. Villa are only two points above Norwich, as Paul Lambert's side haven't won in six and were hammered 4-1 away at Swansea as their woeful end to the campaign continues.
Then we come to Fulham. Felix Magath's side blew their chance to get out of the bottom three on Saturday, big time. Leading 2-0 with 15 minutes to play against Hull City, the Cottagers hit the self-destruct button as calamitous defending saw them drop deeper and deeper, as the Tigers pounced twice late on to bag a 2-2 draw and deal Magath's men a hammer blow.
Rebecca and the boys analyze the relegation run-in above, as this crazy PL season keeps twisting and turning right until the very end.
Premier League Playback takes an alternative look at all the weekend's action from the PL, it comes out every week.