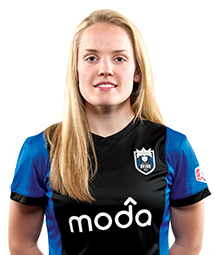 Player of the Week
With apologies to Boston's Lianne Sanderson, whose two goals and one assist gave her the league's honor, Kim Little was our clear winner this week. Not only did the Scottish import (by way of Arsenal) score twice in Seattle's 2-0 win over Houston, but she was the team's most important player without the ball. The pressure she put on the Dash midfield created an endless string of turnovers that left the Reign defense largely untested. Becky Edwards hasn't had to deal with that kind of nuisance since Lori Chalupny drove her crazy last year in Portland.
Was that enough to overcome Sanderson, particularly since one of Little's goals was from the spot? Perhaps not, but if we're going to start qualifying production, Sanderson's assist was really more of a shot that found a teammate than the product of sublime creativity.
The debate can be boiled down to this: Was a one-goal performance with high defensive value in midfield more valuable than a two-goal showing with a far less-valuable defensive contribution? A lot of smart people went with Sanderson. One stubborn one is sticking with Little.
Results
(a.k.a., What actually happened, though note: two Wednesday games are about to start as this post is being written)
Seattle Reign 3, Washington Spirit 1 – The Spirit sat back in an effort to contain Laura Harvey's high-powered team only to see set pieces be their undoing. (Kendall Fletcher 3′, Keelin Winters 48′, Diana Matheson 72′, Jessica Fishlock 80;)
Chicago Red Stars 0, Washington Spirit 1- Three days after losing in Seattle, Mark Parsons' team bounced back after a second half goal from Tori Huster was controversially allowed. Washington forward Renae Cuellar appeared to commit a foul during the game's only  goal. (Tori Huster 50′)
Portland Thorns 3, FC Kansas City 1 – Two evenly matched teams saw their scales tipped in the last six minutes when Alex Morgan fill-in Jessica McDonald scored her first two goals of the season. (Allie Long 44;, Lauren Cheney 86′, Jessica McDonald 84′, 88′)
Boston Breakers 3, Sky Blue 2 – A big game from Sanderson pushed the Breakers to their first points for the season, allowing them to climb out of the league's cellar.  (Julie King 14′, Monica Ocampo 30′, Lianne Sanderson 42′, 60′, Ashley Nick 90′)
Seattle Reign 2, Houston Dash 0 – A brace from Little ran her season's goal total to four while keeping Seattle perfect on the season. Had it not been for a shocking late miss from Sydney Leroux, the final score would have been worse. (Kim Little 19′, 38′)
Team of the Week

GK – Nadine Angerer, Portland Thorns – Angerer's huge presence in her penalty area kept Portland in the game in Saturday's first half, paving the Thorns' late surge. Right now, the reigning FIFA Player of the Year is the league's best keeper, by a mile.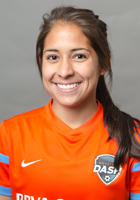 RB – Ari Romero, Houston Dynamo – For the second week, Romero stood out to us, with the young Mexican international's performance against Seattle's Bev Goebel neutralizing one of the Reign's weapons.
CB – Kendall Fletcher, Seattle Reign 
CB – Tori Huster, Washington Spirit – Something that I'm loathe to do — pick defenders based on goals — ends up being a tiebreaker this week amid a collection of possible options. With Becky Sauerbrunn having a down week and Brittany Taylor off, the race was wide open. Fletcher and Huster's goals pushed them in front.
LB – Stephanie Cox, Seattle Reign – Two more sold games highlighted by a near-assist on Sunday continue to make the veteran's claim that she's the best left back in the U.S.'s pool. Rachel Quon also could have snared this spot again, but playing two games in four days, Cox got our nod.
AM – Kim Little, Seattle Reign FC – Possibly the league's best player, right now.
AM – Lianne Sanderson, Boston Breakers – A worthy NWSL Player of the Week.
M – Jessica Fishlock, Seattle Reign FC – Twice gave typical, disruptive Fishlock performances. The Welsh international scored the final goal Wednesday against Washington.
DM – Keelin Winters, Seattle Reign FC – It's disappointing to see the national team continue to overlook Winters, as she's performing extremely well in a role the U.S. needs. Her goal on Wednesday proved the game-winner.
AM/W – Monica Ocampo, Sky Blue FC – Sky Blue's strong first half in Boston saw Ocampo at the end of a number of threats. The Mexican international ended with seven shots, three on target, scoring once.
F – Jessica McDonald, Portland Thorns – You can struggle for 80 minutes, but if you score twice in the last 10, you're a Team of the Week candidate. Ah, the forward position.
Standings
Pts
GP
W
L
T
GF
GA
GD
1.
Seattle Reign FC
9
3
3
0
0
8
1
7
2.
Portland Thorns FC
7
3
2
0
1
5
2
3
3.
Washington Spirit
6
4
2
2
0
6
7
-1
4.
Chicago Red Stars
3
2
1
1
0
1
1
0
5.
Houston Dash
3
3
1
2
0
3
5
-2
6.
Western New York Flash
3
2
1
1
0
3
2
1
7.
Boston Breakers
3
3
1
2
0
5
8
-3
8.
Sky Blue FC
2
3
0
1
2
4
5
-1
9.
FC Kansas City
1
3
0
2
1
3
7
-4
Quick thoughts, after week three
1. Seattle needs to be tested before we say they're too good – This is the best a team's played in NWSL, which isn't saying too much considering the league is only 14 months old. If we broaden our perspective, this team has the talent and feel of the 2010 FC Gold Pride team that ran away with that year's Women's Professional Soccer season. Before we embrace that comparison, though, a.) let's get more than three weeks into the season, b.) let's see how Seattle does in Portland two weeks from now.
2. Paul Riley's got the Thorns surviving – Saturday's game at Providence Park was far more evenly matched than the 3-1 result hints, something that should give the Thorns confidence considering who they're missing. With seven points in three games, Portland's surviving the absences of Alex Morgan, Tobin Heath, Veronica Boquete, Rachel Van Hollebeke, and Stephanie Catley. The Thorns aren't alone, as teams like Chicago and Houston are also missing stars, but it's a reminder: It will be a while before we have any clue what the defending champions can be. Riley's doing a good job getting results in the interim.
3. As Abby returns, Lloyd will sit out – Western New York announced Abby Wambach should be available for this weekend's home opener, and although this space had started asking questions about the nature of her injury, there's been no mention the Flash number nine suffered anything other than a broken orbital. Unfortunately, as Wambach returns, Carli Lloyd is set to sit two games. The U.S. star apologized for last week's punch on Vanessa DiBernardo, a blow that earned the suspension.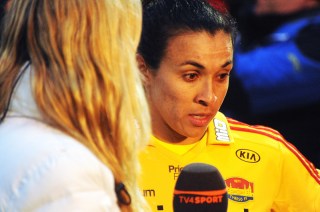 4. Tyresö coming, but who exactly will arrive – Amid financial problems that have the club on the brink of losing its place in the Swedish league, Tyresö moved past Birmingham City and into UEFA Champions League's final on Sunday. They'll face defending champions Wolfsburg next month. In the interim, a series of WPS-bound talents will stay in Sweden, with Christen Press (Chicago), Whitney Engan, Meghan Klingenberg (Houston), and Veronica Boquete (Portland) destined to join their clubs next month.
Another player looking increasingly likely to come: five-time FIFA Player of the Year Marta. The former Flash striker is being linked with a return to Western New York once Tyresö's Champions League commitments are done.
Western New York has no free international spots, nor does the league have a structure that can support Marta's normal wages (she's reportedly making just under $350,000 per season in Sweden, more than any NWSL team pays its entire squad). NWSL, however, found a way to make Nadine Angerer work. Particularly if Marta's just coming for the summer, while she transitions between European clubs, the scenario's more unlikely than impossible.
5. Kaylyn Kyle and Canadian frustrations with the NWSL – Kaylyn Kyle didn't want to play defense in Boston, so she was traded to Houston for Nikki Washington. At least, that's the story that's started to emerge after this week's trade.
While she started the Breakers' first two games of the season, the Canadian international was missing for the last two, apparently unwilling to drop back and help a desperate Boston defense. After playing so well as a center back for Seattle last year, the move was a no go this time around.
If that story's true, fans are going to paint Kyle as unwilling to help the team. The picture's more complicated than that, though. Like most players in the league, Kyle's top priority is probably her national team, and for Canada, she's a midfielder. With the  increasing feeling among Canadian players that the NWSL isn't serving their needs as well as it could, Kyle may have had to take a stand. From her point of view, why play out of position and do something that won't help her or Canada come 2015?
That also may be an oversimplification, but the picture surrounding the Canadian internationals is a murky one. Like their U.S. and Mexican counterparts, they're wearing two hats, Unfortunately, the NWSL's fit hasn't been a great one, thus far.
6. FC Kansas City's not as bad as their record, but need to improve – Vlatko Andonovski switched back to the 4-2-3-1 this week. That may have been about matching up with Portland's midfield diamond, but it may have also been about the team's first two results. Playing in a 4-4-2 over the season's first two weeks, FC Kansas City looked nothing like their former selves.
Andonovski wouldn't commit to the 4-2-3-1 when I talked to him on Saturday, specifically noting Amy Rodriguez is probably a better fit in a two-front. Regardless, FC Kansas City gave its best performance of the season in Portland while playing in its previous formation. Given it's the setup  that best fits Lauren Holiday's skills, it will be interesting to see how long a 4-4-2 stays part of the FCKC conversation.
League Leaders
Goals

RANK
PLAYER
TEAM
GP
GOALS
1
Kim Little
SEA
3
4
2
Diana Matheson
WAS
4
3
3
Allie Long
POR
3
3
4
Amy Rodriguez
KC
3
2
5
Jessica McDonald
POR
3
2
6
Lianne Sanderson
BOS
3
2
7
Teresa Noyola
HOU
3
2
8
Vicky Losada
WNY
2
2

Assists

RANK
PLAYER
TEAM
GP
ASSISTS
1
Crystal Dunn
WAS
4
2
2
Jessica Fishlock
SEA
3
2
Power Rankings
RANKING


Up/Down

1
–

Seattle Reign FC

: If there was a number lower than one, we'd put the Reign there. Laura Harvey has the best team in the NWSL, and it's not particularly close. (3-0-0)

2
–


Western New York Flash:

 Last year's finalists return of the field this weekend when Portland comes to town, giving Aaran Lines' team a chance to redeem last year's championship game loss. Even without Lloyd, we like their chances to hold on to this spot. (1-1-0)
3
UP 2
Portland Thorns FC: We're starting to believe, mostly because Saturday's was the type of game Portland rarely ended up winning last season. Instead of being held at home, however, they found two late goals. The mentality (confidence) appears to have improved.  (2-0-1)
4
–

Washington Spirit:

 Washington's only two losses have been to this list's top ranked teams. The record might not be impressive, but the opening schedule has been somewhat difficult, with the Spirit having yet to face any of Boston, Sky Blue, or Houston. (2-2-0)

5
DOWN 2
Chicago Red Stars: Saturday's game was a tossup that didn't go their way. This two-spot drop is less a reflection of our waning faith and more a function of Portland's rise. Washington stays ahead the Red Stars because of the road result.  (1-1-0)
6

–

FC Kansas City: Bottom of the league, sixth in our rankings: What gives? What gives is our implicit rule when making this list: Who would win a neutral site game tomorrow? Even though the results haven't been there, I'd take FCKC over any of the three below them, but one what I've seen so far. (0-2-1)
7
UP 2
Boston Breakers: If Lianne Sanderson, Heather O'Reilly, and Lisa Da Vanna click, Boston can be decent. Unfortunately, because of weaknesses elsewhere, they'll still be susceptible to giving up goals. Sunday's win represents a type of best case scenario. (1-2-0)

8
DOWN 1
Sky Blue FC: Each of their games have been close, but Jim Gabarra's crew has yet to break through. Perhaps a healthy Christie Rampone will help, but a year without a reliable goal scorer looks frightening. Maybe Gabarra has something up his sleeve. (0-1-2)
9

DOWN 1

Houston Dash: Opposing coaches have been impressed with what Randy Waldrum's getting out of his team, but three unfortunate realities remain: There's no consistent goal scoring; The midfield is Becky Edwards and some pieces they've yet to make fit; the defense won't be in place for another month. There's room for improvement here, though. (1-2-0)
Week Three
Wednesday, April 30
(Doh!)
Sky Blue FC vs. Seattle Reign FC
FC Kansas City vs. Chicago Red Stars – The UEFA Champions League semifinals meant this piece got up late; thankfully, that's the last of that tournament's midweek action, with the reprieve allowing us to get this post up before the Wednesday games start. We may eventually move this post to Tuesday, just in case. (Also note: Everything in this post was written before Wednesday's kickoffs … for better or worse.)
Saturday, May 3
Washington Spirit vs. Seattle Reign FC – The Spirit's tough opening schedule continues with their season's second meeting with Seattle, a match that should see Mark Parsons take a different approach. After last Wednesday's 3-1 loss at Memorial, Washington needs to try play its own game. If that means a another loss to Seattle, they'll be in good company. Most teams in this league are going to find themselves on the wrong end of a Reign result.
Western New York vs. Portland Thorns FC – Lloyd's out, but Wambach's back to test what's still a slightly makeshift Thorns defense. Given the quality in Western New York's midfield, there shouldn't be a problem getting her the ball. Coming off a bye week, Western New York should be fully prepared to avenge last year's title game loss. If Portland can get a result, it will be a testament to Paul Riley's influence.
Sky Blue FC vs. Boston Breakers – In a nine-team league, you'll get a few of these back-to-backs, giving us a chance to ask why this weekend should be any different. Exchanging Harvard's turf for Yurcak's grass could help, but if Sky Blue can't beat Boston at home, they're in trouble.
Houston Dash vs. FC Kansas City – If Becky Sauerbrunn and Nikki Phillips are their typical selves in FCKC's central defense, this should play out like Portland's visit to BBVA two weeks ago. The Dash will compete with the Blues, giving them occasional troubles while looking like the better team, in spurts. But Kansas City should be able to get a result.