As we continue our weekly (at least) update on Major League Soccer's still long off postseason awards, the Defensive Player of the Year discussion promises to be the murkiest. We're just not used to talking about defenders like this. They don't score much, don't snare many Player of the Week honors, so there's little to distinguish them in the discourse on a week-to-week basis.
Come All-Star time, people think about it, pick their mid-season best, then put the defender discussion on the shelf until award season. Whereas MVP talk is almost constant and things like goals and assist subtly inform other debates, Defender of the Year doesn't get tracked. At the end of the year come get together, debate a little, then cast votes for players who we feel have been the best, usually without diving into their week-to-week performances.
There's already an early example of this process: FC Dallas's Matt Hedges. The guy looks great, so much so that he's started being mentioned as an emerging talent – a potential U.S. defender next World Cup cycle. By the end of the season, he could very well earn a place in this discussion. But if you go game-by-game, scoring opportunity by scoring opportunity, the Dallas defender has been involved in a lot of meaningful goals this season: Chivas USA's Erick Torres beating him to the near post; Clint Dempsey drawing him out during Seattle's visit; being the closest man on Aurélien Collin's goal in Kansas City; his own goal against Portland. Those are a lot of question marks for a player who's 2014 is starting to generate some buzz.
The process also helps a player like Matt Besler, who has been far less mistake prone. He also has not had that many stand-out performances. If we only talk about Defender of the Year twice a year, it's easy to recall our general image of Matt Besler and say, "Yeah, he's been good." But if you're tracking it week-to-week or month-to-month, you notice he isn't part of many Teams of the Week hasn't had the kind of stand-out performances we've seen occasionally from Michael Parkhurst or Chad Marshall. The award should be who performed the best of the season, not who you would pick if you were starting a team tomorrow.
So Besler isn't on the list, this time. Nor is Matt Hedges, but don't be surprised of both make their way onto this countdown over the next couple of months. At this point in the season, only a couple of performances separate number one from the also rans.
For now, here's this week's MLS5 – Defensive Player of the Year: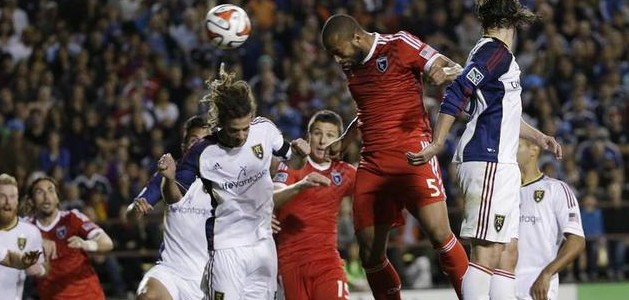 5. Víctor Bernárdez, San Jose Earthquakes – Bernández's defending got off to a shaky start with some errors in the Earthquakes' 3-3 draw with Real Salt Lake, mistakes he made up for with two goals, an assist, and our Player of the Week honor. Since, Bernárdez has been very good at the back, and while he may not be rating out quite as high as his partner, Clarence Goodson, on a game-by-game basis, he's been healthy all year. Goodson missed the first part of the season.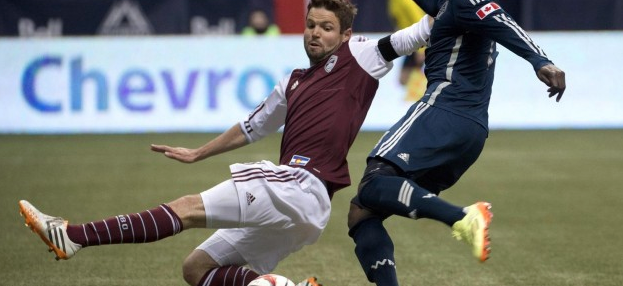 4. Drew Moor, Colorado Rapids – The veteran defender has been overlooked since moving to Colorado in 2009, his play usually more solid than spectacular. But this year, having to work with two different partners in the middle (and two different keepers behind him), that solidity has been particularly valuable, with Colorado allowing only five goals in its first six games. The Rapids were exploited on Saturday, allowing four in Seattle, but even while his team was blown out, we saw glimpses of Moor's value. He's the only player in Colorado's back five to start every game in the same spot, and only restored partner Shane O'Neill has joined him in every starting XI.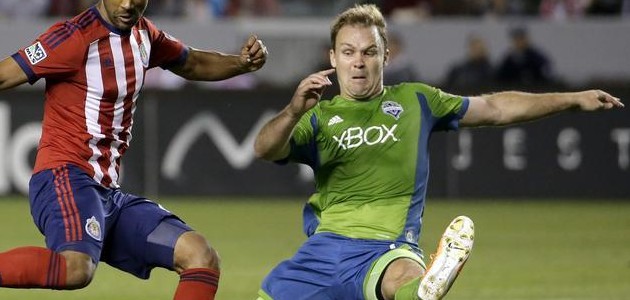 3. Chad Marshall, Seattle Sounders – Picking up on a theme mentioned in Moor's blurb, Marshall was overlooked last season because he wasn't in a prominent, adored market, and while he has been slightly better this season, this is the player Sigi Schmid expected when Seattle acquired him this offseason. Particularly in Seattle's visit to Montréal, the former Defensive Player of the Year has proven occasionally dominant. The few mistakes he's made have been shared with his teammates, not function of his failings alone. Without Marshall, Seattle's defense would be in big trouble.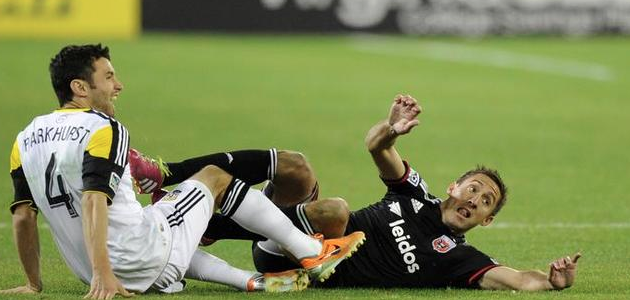 2. Michael Parkhurst, Columbus Crew – Parkhurst has been a perfect fit for Gregg Berhalter's approach, having already given the team two extremely good performances (particularly the hour in Seattle before Djimi Traoré's sending off). The partnership between him and  Giancarlo Gonzalez has come together immediately, but whereas Costa Rican's low points are more frequent and dramatic, Parkhurst's relative slips only serve to highlight the former Defensive Player of the Year's steadiness. If Columbus was going to give up Chad Marshall, they needed to get somebody like Parkhurst.
1. Nat Borchers, Real Salt Lake – It's been difficult for Borchers to distinguish himself from partner Chris Schuler, but the young U.S. hopeful may be pushing his veteran partner to slightly higher levels. Perhaps Borchers has also freed up to be more aggressive, because the number of big clearances, tackles, and aerial challenges the RSL stalwart is winning is taking him from appreciated veteran to Best XI contender (again). As Schuler puts his early season injuries further in the past, he'll join his partner at the top of this list, but helping his team to a 1.00 goals against average through eight games, Borchers has our top spot. For now.
Others considered: Matt Besler (Sporting Kansas City); Carlos Bocanegra (Chivas USA); Clarence Goodson (San Jose Earthquakes); David Horst (Houston Dynamo); Jámison Olave (New York Red Bulls); Chris Schuler (Real Salt Lake)