Week nine of Major League Soccer's season begins on Saturday in Toronto and extends through NBCSN's Game of the Week, a Sunday clash of Eastern Conference pacesetters at Sporting Park. Here is our quick look at the coming weekend of MLS action.
Note: All rankings reflect PST's weekly MLS Power Rankings.
NBCSN's GAME OF THE WEEK
#2 Sporting Kansas City vs. #8 Columbus Crew (Sunday, 4:00 p.m. Eastern, NBCSN/NBC Live Extra)
Last week: Sporting Kansas City lost in New England, 2-0; Columbus was drawn at home by New York, 1-1
Eight weeks into the season, Columbus has started to wane from its 3-0-0 start, though this week should provide some clue as to the Crew's staying power. Head coach Gregg Berhalter's system — releasing fullbacks early, paying more than lip service to dropping a midfielder into a back three — goes up against a three-forward setup that prides itself on pressing, then disrupting. If Dom Dwyer, Sal Zizzo, and Graham Zusi can't force Michael Parkhurst, Giancarlo Gonzalez, and Will Trapp to give up the ball, Oriol Rosell and Paulo Nagamura will cut any Columbus player that dreams of making Sporting's pressure pay. Columbus doesn't rely on its play in transition, so it may not mind the fouls, but dealing with that high pressure is going to be a problem.
So what does Berhalter do? Does he ask fullbacks Waylon Francis and Josh Williams to wait before releasing? Does Tony Tchani or Federico Higuaín come back to help? Or does the Crew coach use this game to test how effective his approach can be?
One loss in a 34-game season can be a learning experience. It doesn't have to be a problem.
---
TESTS FOR OUR TOP FOUR
#13 Chicago Fire vs. #3 Real Salt Lake (Saturday, 8:30 p.m. Eastern)
Last week: Chicago had the week off; Real Salt Lake were drawn by Vancouver, 2-2
What's wrong with RSL? If anything, it's a lack of focus. Saturday's letdown highlight RSL's inability to close out games, with the defending Western Conference champions having already dropped eight points from winning positions. This week, Jeff Cassar's team visits a Fire squad that's had two weeks to consider its winless but draw-ridden start (1-0-6).
While that seems like a recipe for a stalemate, an undefeated RSL seems primed to prove a point. If playing out a full 90 is the problem, a motivated but limited Chicago may not be able to keep the Claret and Cobalt from a solution.
#10 Colorado Rapids vs. #4 LA Galaxy (Saturday, 9:00 p.m. Eastern)
Last week: Colorado lost in Seattle, 4-1; LA had another week off.
The glass half-full look at the Rapids: Their only two losses have come to our Power Rankings' top two teams. The half-empty view: The Rapids haven't looked that great, regardless: A win in Vancouver against the 10-man Whitecaps; Beating a Michael Bradley-less Toronto; Needing penalty kicks to beat New York and Portland. Pablo Mastroeni has introduced a solidity to this team, but in the process, he may have sacrificed what make last year's team so potent.
If that's the case, this test looks similar to what LA faced in Vancouver two weeks ago. This is another team that should compete for the last Western Conference playoff spot, but the Galaxy seem themselves as better than that. Another road draw would be fine, but they need to avoid the mistakes they committed in Vancouver.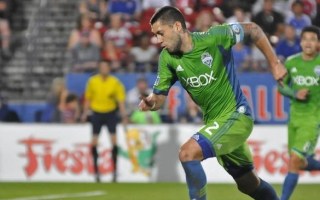 #1 Seattle Sounders vs. #17 Philadelphia Union (Saturday, 10:00 p.m. Eastern)
Last week: Seattle beat Colorado, 4-1; Philadelphia lost at Montréal, 1-0
Philadelphia goes from playing the league's worst team its best. Given the Union lost last week at Stade Saputo, that's a a path to a blowout, particularly given Seattle's coming of a rout of Colorado. If Drew Moor and Shane O'Neill couldn't handle the Clint Dempsey-Obafemi Martins duo, what makes us think Amobi Okugo and Aaron Wheeler will?
Usually when I write a paragraph like that, I'll immediately offer a contradiction. This time, there's no turn. Philadelphia's current form makes it one of the worst teams in Major League Soccer, while Seattle has the league's best record. While the Maurice Edu-Brian Carroll shield might limit the damage, the Union are big underdogs. If there's an upset to be had, it's going to be huge one.
---
BE AN MLS ULTZY, EMBRACE …
#9 Vancouver Whitecaps vs. #12 San Jose Earthquakes (Saturday, 7:00 p.m. Eastern)
Last week: Vancouver came back to draw at RSL, 2-2; San Jose won its first of the season, 1-0 over Chivas USA
San Jose is the four-piece tribute band playing metal in your neighbor's garage. They're disruptive, playing music you don't want to hear, and they come together way too late at night.
Vancouver, on the other hand, is that jam band down the street that playing something they call "hip-hop/funk" on Saturday afternoons. You don't know how many people there are, and you're not even sure if you like it, but your Saturdays are a little better for it.
Just like with music, there's no right answer with these teams' approaches. Vancouver has huge depth in both attack in midfield, with Darren Mattocks leading the slew of talented attackers that have produced back-to-back comebacks against Los Angeles and Salt Lake. San Jose, on the other hand, is starting to become unduly demonized for a blunt, pragmatic, yet generally effective approach.
It's a stylistic clash that embodies an evolving league. On BC Place's pool table, however, Vancouver's depth may run San Jose into the ground.
---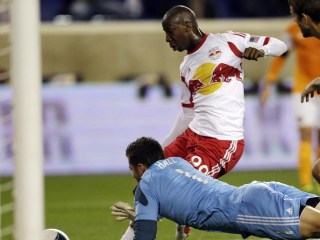 SURGE PROTECTION REQUIRED
#14 Portland Timbers vs. #15 D.C. United (Saturday, 10:30 p.m. Eastern)
Last week: Portland drew in Houston, 1-1; D.C. United defeated FC Dallas, 4-1
#5 FC Dallas vs. #8 New York Red Bulls (Sunday, 3:00 p.m. Eastern)
Last week: Dallas lost in D.C., 4-1; New York beat Houston, 4-0, before drawing in Columbus, 1-1
At the bottom of the East four weeks ago, D.C. and New York are now surging, both sitting one point behind Columbus in the East. Though each team has taken a recent 1-1 result out of Columbus, they've gone about the rest of their rises in different ways. D.C. has used a freakish Jose Gonçalves own goal, a home field smash and grab against bad New York, and an early Dallas red card to claim its three victories. New York has a convincing win over Philadelphia and an even strength rout of Houston.
Fortune should move away from D.C. this weekend, who face a terrible match for its personnel in Portland. The Timbers are winless this season but have generally looked good, if mistake-prone. They'll have to commit more mistakes than usual to extend D.C.'s unbeaten run.
As for the Red Bulls, they're catching Dallas at the right time. Mauro Díaz's injury sidelines FCD's playmaker. Zach Loyd is suspended and Kelyn Acosta is out for six weeks, leaving the team without a right back. Michel, after his late red card in D.C., is also out. It's not too much for Óscar Pareja to overcome, but it may be enough to allow New York to stay hot.
---
STOP THE SLIDE
#6 Toronto FC vs. #12 New England Revolution (Saturday, 1:00 p.m. Eastern)
Last week: Toronto had the week off; New England defeated Sporting Kansas City, 2-0
#18 Chivas USA vs. 16 Houston Dynamo (Saturday, 10:30 p.m. Eastern)
Last week: Chivas USA lost in San Jose, 1-0; Houston lost at New York, 4-0, before drawing with Portland, 1-1
Toronto went into their bye week with its first losing streak of the season, with loses to Colorado and Dallas leaving Ryan Nelsen's team in desperate need of some renewed health. After two weeks on the sidelines, that need's set to be fulfilled. Jermain Defoe is back, Michael Bradley's had his troublesome foot treated, and Jonathan Osario has returned to training. If they're anything close to the team that beat Seattle and Columbus, the Reds will halt New England's three-match unbeaten run.
For Chivas USA and Houston, the droughts are much more severe. Houston hasn't won since the season's second week, while Chivas hasn't claimed three points since opening day. Unfortunately, the way the teams matchup up, those winless runs are likely to continue.
Between Erick Torres and Brad Davis's return, both sides have a route to a goal, but if recent results are any indication, both teams will have trouble scoring two.