Incredible scenes in London.
What began as a 3-0 charge to reclaim goal differential from Manchester City ended with Liverpool perhaps choking away the Premier League title with a 3-3 draw Crystal Palace at Selhurst Park on Monday.
Damien Delaney's deflected shot in the 80th minute looked like just a bit of damage to Liverpool's goal differential hopes, but Dwight Gayle scored a minute later to put the three points back into discussion. Gayle added another in the 88th to seal a point.
Joe Allen, Daniel Sturridge and Luis Suarez scored for the Reds, who are back into first place for perhaps the last time this year. Manchester City plays Wednesday and now has a 9-goal lead in goal differential with a match-in-hand. Liverpool finishes the year against Newcastle on Championship Sunday.
Palace, once left for dead, can now remarkably finish no worse than 11th place.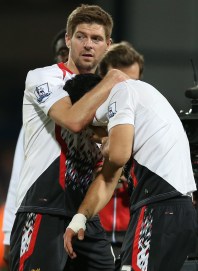 Liverpool players were left to choke back tears. Suarez collapsed, covering his eyes with his jersey and heaving forth sobs. An emotional Gerrard had to lead him off.
Brendan Rodgers' pre-match quotes implied that even Liverpool's fiery attacking would be ratcheted up a notch as the Reds attempted to chase down Manchester City's goal differential, and a boisterous Selhurst Park added to the atmosphere. Both Crystal Palace and Liverpool came hard charging out of the gates in an attempt to match the crowd's energy.
As the game hit 10 minutes, however, Tony Pulis' Eagles began to sink into familiar defense-first form. Liverpool's Glen Johnson made a darting run to latch onto a free kick, heading over on a point blank chance in the 15th minute in just once instance of the Reds' desire to beat the back line.
Daniel Sturridge provided plenty of danger early, but seemed intent on taking an extra touch in several situations where a first touch strike looked deadly.
Welsh midfielder Joe Allen got the match's first goal — and his first in 50 games with Liverpool — when he lost Joe Ledley on a Steven Gerrard corner kick and received a free header from the back post. He made no doubt about it, and it was 1-0 in the 18th minute.
Luis Suarez tried a daring, curling free kick just inside of a half-hour but missed the upper right corner by a yard as the ball dipped high and wide of the frame.
Palace's Jason Puncheon put a scare into Liverpool in the 33rd minute when his drive deflected off Sakho, forcing Simon Mignolet to push the ball out for a corner (which came to nothing).
And Mile Jedinak continued his sterling season with a strong rip on goal that Mignolet had to tip over the bar. The ensuing corner was punched free by Mignolet. Jedinak may be the most overlooked, under-appreciated midfielder in the Premier League.
Liverpool attacked hard at the break. Speroni was forced to make a big save in the 50th minute, but Suarez sent an easy-enough rebound well over the frame.
Sturridge found the second goal in the 54th minute when he put a deflected shot past Speroni. He briefly celebrated before realizing how many goals Liverpool wanted to score, and pushing his teammates back for the kickoff.
And just one minute later, it was the other half of SAS who buried a goal, slotting home with his left foot just outside of the six-yard box. It was 3-0, goal differential was down to six and Liverpool had its 99th goal of the season.
Glen Johnson dribbled to the middle of the field and struck a hard ball toward goal that Speroni pushed over in the 67th minute.
But Delaney's shot in the 79th minute took a left turn off Johnson and beat Mignolet to dent Liverpool's hopes of catching City's differential. And then Gayle collected a Yannick Bolasie pass in the 18 and scored just two minutes later.
From then on, Liverpool were either gassed, confounded or both Crystal Palace carried the play and the Reds were just holding on for the three points.
They couldn't. Gayle ran down the middle of the pitch to hammer home and equalizer. Incredible! How??!
LINEUPS
Crystal Palace: Speroni, Mariappa, Dann, Delaney, Ward, Dikgacoi (Ince, 85′), Jedinak, Ledley, Bolasie, Puncheon (Gayle, 65′), Chamakh (Murray, 71′).
Goals: Delaney (79′), Gayle (81′, 88′)
Liverpool: Mignolet, Johnson, Flanagan, Skrtel, Sakho, Gerrard, Allen, Lucas, Sterling (Coutinho, 78′), Sturridge (Moses, 86′), Suarez
Goals: Allen (18′), Sturridge (54′), Suarez (55′)