With his 93rd minute goal at Toyota Park, Real Salt Lake's João Plata put his stamp on the league award. Not only did the Ecuadorian attacker complete his team's remarkable comeback — a rally that saw Jeff Cassar's team score three in the match's final 22 minutes to overturn a 2-0 deficit — he also capped a two-goal, Player of the Week-worthy performance. Justifiably, Plata won the league's honor.
Until late last night, I was going to go in the same direction, but I kept coming back to the same question: What does a player have to do defensively to make up for one goal? If a player with a one-goal game gave a dominant defensive performance, how dominant would that performance have to be to make up for Plata's two-goal performance?
I never came up with an answer. In truth, I didn't try that hard. Too much of those evaluations come down to how individuals see the game. It's why some coaches are more successful than others. It's why honors like these often benefit from being decided by crowds. Quickly, I reframed the question: How much does a player have to do defensively to convince me he's made up for a goal?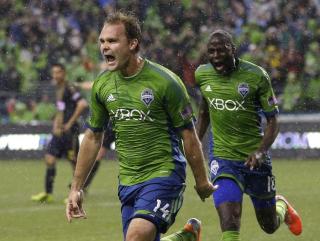 My instinct, after a night's study: Seattle's Chad Marshall did enough. Like Plata, Marshall scored a late game winner, heading home a 84th minute corner in Seattle's 2-1 win over Philadelphia. Though the timing of Plata's goal made his more dramatic, it was no more valuable. It probably wasn't as difficult to pull off. Regardless, the players' game-winners were a bit of a wash.
But Plata had that 72nd goal, hit from just inside the penalty area, inside Sean Johnson's right post; hence; our one-goal dilemma. Did Marshall do enough to make up for that?
If Marshall's defense on Saturday can't make up for an attacker's one-goal edge, what can? Can defense never be worth a goal? Because if Marshall's performance didn't make up the difference, almost no defensive performance could.
Can a defender only win Player of the Week if he goes Víctor Bernárdez, registers two goals and an assist, and claims a point in stoppage time (as the San Jose defender did in Week Two against RSL). That's an unreasonably high bar, one I can't imagine many coaches agreeing with if asked about the value of star defenders.
After his Week Nine performance, Marshall may be the brightest of those defending stars; at least, if the Defender of the Year race is any indication. Last week, we published our current top five for the year-end honor, a list that had the new Sounder third. But after a weekend in which Nat Borchers and Michael Parkhurst each made major errors (Borchers on Mike Magee's second half chance; Parkhurst on Claudio Bieler's game-sealing goal), Marshall's stock would rise, if we republished our ranking today. Through two-plus months, he's been the league's best defender, in addition to being our Week Nine Player of the Week.
PST Award
MLS Award
Week 1
Will Bruin, Houston Dynamo
2g, 1a vs. New England
Nick Rimando, Real Salt Lake
8 saves, PK save at LA
Week 2
Víctor Bernárdez, San Jose Earthquakes
2g, 1a vs. Real Salt Lake
Jermain Defoe, Toronto FC
2 goals at Seattle
Week 3
Fabian Castillo, FC Dallas
1 goal vs. Chivas USA
Bernardo Añor, Columbus
2 goals vs. Philadelphia
Week 4
Álvaro Saborío, Real Salt Lake
2 goals vs. Toronto FC
Graham Zusi, Sporting Kansas City
1 goal, 2 assists at Colorado
March Player of the Month
Michael Bradley, Toronto FC
3 games, 0 goals, 0 assists
Mauro Díaz, FC Dallas
4 games, 2 goals, 0 assists
Week 5
Diego Chara, Portland Timbers
2 goals vs. Seattle
Clint Dempsey, Seattle Sounders
3 goals at Portland
Week 6
Clint Dempsey, Seattle Sounders
2 goals at Dallas
Clint Dempsey, Seattle Sounders
2 goals at Dallas
Week 7
Nick Rimando, Real Salt Lake
4 saves vs. Portland
Nick Rimando, Real Salt Lake
4 saves vs. Portland
Week 8
Bradley Wright-Phillips, New York Red Bulls
4 goals vs. Houston, at Columbus
Bradley Wright-Phillips, New York Red Bulls
4 goals vs. Houston, at Columbus
April Player of the Month
Clint Dempsey, Seattle Sounders
4 games, 7 goals, 2 assists
Clint Dempsey, Seattle Sounders
4 games, 7 goals, 2 assists
Week 9
Chad Marshall, Seattle Sounders
1 goal vs. Philadelphia
João Plata, Real Salt Lake
2 goals at Chicago