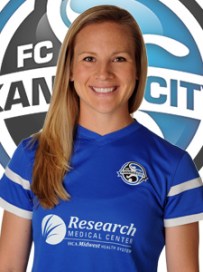 Player of the Week
When Amy Rodriguez was traded to FC Kansas City this offseason, most NWSL devotees took a wait-and-see approach to a player who missed the 2013 season. Five games into the new campaign, that caution has turned to more grandiose questions: Is there a better forward in the NWSL, right now, than Amy Rodriguez?
Small sample sizes are mana for the grandiose, but after a two-goal week, Rodriguez's claim continues to grow. Last Wednesday, Rodriguez's early goal against Chicago proved the game-winner in Kansas City's first victory of the season. On Saturday in Houston, Rodriguez scored her team's second goal, part of a 4-0 rout of the expansion Dash.
For Rodriguez, the goals only tell part of the story. At a position where it's so taxing to give 90 high-intensity minutes, Rodriguez is one of the hardest working forwards in the league, giving Vlatko Andonovski the industry to justify switching back to a one-striker formation. With the league's best distributor (Lauren Holiday) behind her, Rodriguez's intelligence has begun to make the most of the myriad passes her number 10's able to spray behind the defense.
It's turned into the feel good story of the season. After missing the NWSL's inaugural campaign to have her first child, "A-Rod" has come back as strong as she ever was in Women's Professional Soccer. She's not only solved FC Kansas City's forward problem, she's reminded us of the international-caliber talent she can be is. After a two-goal week, Rodriguez is tied atop the league's scoring chart.
Results
Wednesday, April 30
Sky Blue 0, Seattle Reign 2 – After the cliche "driving rain storm" came to life in New Jersey , Seattle extended it's season-opening winning streak to four thanks to some help from Sky Blue goalkeeper Jill Loyden:
As if the Reign needed more help. Naho Kawasumi (above) and Beverly Goebel scored their first NWSL goals as the Reign started to forge room at the top of the standings.
FC Kansas City 1, Chicago Red Stars 0 – A ball across the area from Jen Buczkowski to Rodriguez produced the match's only goal, with the defensive problems the Blues experienced in the Pacific Northwest disappearing on their return home. Nicole Barnhart was limited to three saves as the Bluse held their lead for 81 minutes, earning their first win of the season.
Saturday, May 3
Washington Spirit 1, Seattle Reign 2 – Ali Krieger's early second half goal gave Seattle its first deficit of the year, but a quick response from Jessica Fishlock and a 76th winner from Sydney Leroux allowed the Reign to finish the weekend seven points clear of second place Portland.
Western New York 1, Portland Thorns 1 – A 2013 title game rematch broken up by a 43-minute weather delay saw Jessica McDonald respond to Sonia Bermudez's 39th minute opener (below), allowing the Thorns to stay undefeated through four games. While Western New York was the more dangerous team in the first half, Portland was able to capitalize on a Lydia Williams bobble just before intermission to salvage a point from Sahlen's Stadium.
Sky Blue 1, Boston Breakers 0 – Avenging last week's loss in Boston, Sky Blue saw Kelley O'Hara and Monica Ocampo combine for the Mexican international's second goal in three games, giving Jim Gabarra's team its first victory of the season. In for Loyden, Brittany Cameron was able to keep a clean sheet, while Christie Rampone, dealing with an injured foot, went 90 minutes for the second game in a row.
Houston Dash 0, FC Kansas City 4 – Changes along the back and in midfield failed to pay off for Randy Waldrum, who saw Oshinachi Ohale's early second half red card doom his hopes for a first win at home. Liz Bogus, Erika Tymrak, and Frances Silva scored their first goals of the season.
Team of the Week

GK – Brittany Cameron, Sky Blue FC – Where Washington's Ashlyn Harris and Portland's Nadine Angerer also have claims to this spot, the clean sheet Cameron kept against Boston ends up being the tiebreaker. It wasn't a perfect performance, with a bobble in the box forcing her defense into unexpected action at one point, but two big saves on Heather O'Reilly justified her place in Sky Blue's starting XI.
RB – Katherine Reynolds, Western New York – Ali Krieger had Washington's goal, but Seattle also found a lot of success going left in Saturday's second half, part of the reason we're going with Reynolds. Though we could have also tabbed Julie King, who has put together a string of strong performances for Boston, Reynolds' consistently good service, particularly in Saturday's first half, earns a nod that would go a number of different directions.
CB – Becky Sauerbrunn, FC Kansas City – The Becky Sauerbrunn that struggled in Portland was gone. The player who provides a greater presence in front of her line than any other central defender was back. Along with partner Nikki Phillips, "Broon" helped Nicole Barnhart to two relatively easy shutouts.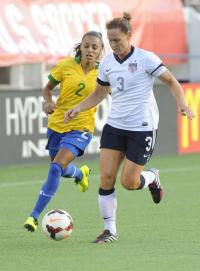 CB – Christie Rampone, Sky Blue FC (right, with the U.S. national team) – In addition to solid play in her first back-to-back starts of the season, Rampone's influence was evident along a back line that was far more organized than in previous weeks. It's times like these that make you believe she can take the U.S. defense through the end of this World Cup/Olympics cycle.
LB – Kelley O'Hara, Sky Blue FC – What's this? The pre-injury Kelley O'Hara? Almost, and almost is good enough to take this week's left back spot. The U.S. international was crucial to allowing Taylor Lytle to cut in (and, have a very good night) against Boston. Her early first half cross found an open Monica Ocampo in front of the Breaker line for the game's only goal.
DM – Becky Edwards, Houston Dash – This feels like the elitist soccer snob in me coming out, because there were a number of good performances (Lytle's, for instance) that didn't come in a 4-0 loss. And part of me is asking "how can Lauren Holiday and Becky Edwards both make this team, since they were up against each other on Saturday."
Ultimately, like one of our famous former presidents, I'm going with my gut, a feeling augmented by a page of notes documenting the slew of good the Dash destroyer did against Kansas City. She had some misplaced passes, and she gave away one dangerous first half foul, but around that she was her typical hard-tackling, smart-distributing self. If Houston had some better finishers, we'd probably be talking about one or two of the chances Edwards helped create.
DM – Jen Buczkowski, FC Kansas City – With Jenna Richmond in the lineup, Buczkowski is no longer anchored to that area in front of the defense, allowing her to get forward and enforce in the area behind Lauren Holiday. It's a role that forced a number of turnovers in Houston while earning the midfielder an assist against Chicago. In the ninth minute last Wednesday, Buczkowski set up her team's game-winning goal.
M – Sonia Bermudez, Western New York – Bermudez's debut helped create a number of first half chances for Western New York, though the big payoff came after a Nikki Marshall foul in the first half:
So Western New York has added Bermudez and Vicky Losada in the same season? Well done, Pedro Losa.
M – Jessica Fishlock, Seattle Reign FC – Fishlock was her normal disruptively ranging self on Wednesday, but on Saturday, with her team down a goal early in the second half, the Welsh international seemed to be everywhere: scoring the team's equalizer; coming up with turnovers in midfield; often racing ahead of attacking midfielder Kim Little while getting forward. For 40 minutes, it was Full Fishlock, but if you missed it, don't worry. We're going to see it again this Saturday in Portland.
M – Lauren Cheney, FC Kansas City – The 31 minutes rest Andonovski got her on Wednesday paid off on Saturday. In Houston, Cheney showed why most consider her the league's best playmaker, even if her contribution didn't come off on the scoresheet. Moving all over the park to pick up the ball, Cheney spent the match spraying passes through Houston's defense. Back as the playmaker in a 4-2-3-1, Cheney is also back to her 2013 self.
F – Amy Rodriguez, FC Kansas City 
Standings
| | | | | | | | | |
| --- | --- | --- | --- | --- | --- | --- | --- | --- |
| | Pts | GP | W | L | T | GF | GA | GD |
| Seattle Reign FC | 15 | 5 | 5 | 0 | 0 | 12 | 2 | 10 |
| Portland Thorns FC | 8 | 4 | 2 | 0 | 2 | 6 | 3 | 3 |
| FC Kansas City | 7 | 5 | 2 | 2 | 1 | 8 | 7 | 1 |
| Washington Spirit | 6 | 5 | 2 | 3 | 0 | 7 | 9 | -2 |
| Sky Blue FC | 5 | 5 | 1 | 2 | 2 | 5 | 7 | -2 |
| Western New York Flash | 4 | 3 | 1 | 1 | 1 | 4 | 3 | 1 |
| Chicago Red Stars | 3 | 3 | 1 | 2 | 0 | 1 | 2 | -1 |
| Boston Breakers | 3 | 4 | 1 | 3 | 0 | 5 | 9 | -4 |
| Houston Dash | 3 | 4 | 1 | 3 | 0 | 3 | 9 | -6 |
Quick thoughts, after week four
1. 4-2-3-1 – FCKC finally clicking – When Kansas City switched away from the 4-4-2 in Portland, Andonovski hinted a two-font may still be in the cards. To date, it hasn't returned. The Blues have played their best games of the season using last year's setup.
1b. Remember … FC Kansas City gave up Kristie Mewis for Rodriguez. The current Breaker may go on to a successful professional career, but from Kansas City's perspective, the trade looks like a steal.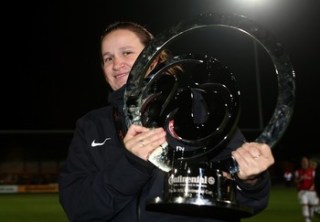 2. Harvey, Little have been here before – How long can Seattle do undefeated? If the histories of Laura Harvey and Kim Little are any indication, quite a long time. The two were part of Arsenal's undefeated title-winner in 2012, Harvey's last year in North London.
3. The Riley effect? – Last week we talked about the difficulty of Portland's task at Western New York, a difficulty that bore out over the first 45 minutes in Rochester. Whatever Paul Riley did at halftime, Portland was much better in the second half. The Thorns should have been out of the game after 40 minutes, but taking advantage of the Flash's inability to convert in the final third, Riley found a way to engineer a result.
4. Don't worry about the Spirit's loss column (or the Flash's win column) – This early in the season, strength of schedule is one of the most important aspects of evaluating a team. Take the Spirit. They're under .500, but their losses have been to Seattle (twice) and Western New York. There's no reason to worry. Once the schedule evens out, the Spirit's record should, too.
As for the Flash, they're sixth in the league, but they've played two road games against decent teams (Washington, Chicago) and were the better side in a home draw against Portland. The record says 1-1-1. The actual performance has exceeded that.
5. WANTED: Goals in Chicago – The Red Stars have moved to bolster their defense, bringing in New Zealand captain Abby Erceg. The big problem, however, is in attack. Though Jen Hoy is a willing worker, the team only has one goal. Like last year, Chicago's left awaiting their summer reinforcements (Christen Press; Melissa Tancredi a bit sooner); and like last year, the team's left wondering it it can accumulate enough points this spring to stay afloat through summer.
6. Houston has that 2013 Reign feel – They're pressing in a 4-3-3. They're earning praise from their opposition. Ultimately, like the absence-riddled Reign last year, the Dash are outgunned. Though Whitney Engen and Meghan Klingenberg will bolster the defense, is there a Megan Rapinoe on the way? Because Houston's crew of hard-working but goal-shy attackers look the Seattle team that struggled before Rapinoe's arrival.
League Leaders
Goals
RANK
PLAYER
TEAM
GP
GOALS
1
Amy Rodriguez
KC
5
4
2
Kim Little
SEA
5
4
3
Diana Matheson
WAS
5
3
4
Jessica McDonald
POR
4
3
5
Allie Long
POR
4
3
6
Lianne Sanderson
BOS
4
2
7
Monica Ocampo
NJ
5
2
8
Teresa Noyola
HOU
3
2
9
Jessica Fishlock
SEA
5
2

Assists
RANK
PLAYER
TEAM
GP
ASSISTS
1
Jessica Fishlock
SEA
5
3
2
Nahomi Kawasumi
SEA
5
2
3
Crystal Dunn
WAS
5
2
4
Lauren Holiday
KC
5
2
5
Jenna Richmond
KC
5
2
Power Rankings
RANKING


Up/Down

1
–

Seattle Reign FC

: Kawasumi, Goebel, and Leroux all scored this week. Each player in Seattle's front six now has at least one goal. (5-0-0)

2
–


Western New York Flash:

 The final score against Portland isn't what Aaran Lines would have wanted, but there were a number of positives in the team's underlying performance. They were the better team, even if they didn't get the better result. With Bermudez added to the mix, the Flash can rival the Reign's attacking talent. (1-1-1)
3
–
Portland Thorns FC: Soon Portland's going to start getting their players back, with Alex Morgan, Rachel Van Hollebeke, and Stephanie Catley all expected to return (or, join) the team this month. In the interim, Riley's doing a good job of scraping points.  (2-0-2)
4

UP 2

FC Kansas City: In five games, the team has only had one worrying performance: game two at Washington. Player-for-player, this is a team that should complete a clear top-four. We just need to see more performances like Saturday's to know the season's first wobbles were flukes. (2-2-1)
5
DOWN 1

Washington Spirit:

 More ambitious than they were in Seattle, the Spirit also gave a much-improved performance against the Reign, playing the league leaders as well as anybody has this season. They're only moving down because of Kansas City's rise. (2-3-0)

6
DOWN 1
Chicago Red Stars: Rory Dames apologized for his team's first half performance against Kansas City, but a loss in Missouri is nothing to worry about. With Press and Tancredi gone, the Red Stars' goal should be to survive until June. Games like this weekend's against the Dash are the ones Dames should really worry about.  (1-2-0)

7
UP 1
Sky Blue FC: Whether to put Boston or Sky Blue here depends on what you took out of the teams' two recent meetings (each club winning once). The thing that stands out to us: Sky Blue is better with a.) Rampone healthy, and b.) Ashley Nick in the starting lineup. Those changes have happened since Sky Blue visited Boston. With Monica Ocampo and Taylor Lytle looking more dangerous, Jim Gabarra seems to be making progress toward finding his ideal setup.  (1-2-2)
7
DOWN 1
Boston Breakers: The whole team looking unbalanced and out-of-sorts on Saturday, leaving the Breakers unable to pull back Sky Blue's early goal. The danger of players like Lianne Sanderson and Heather O'Reilly was still evident, but particularly with Lisa De Vanna gone for the Asian Cup, Tom Durkin needs to figure out the right combinations around them. (1-3-0)
9

–

Houston Dash: Randy Waldrum seems unabashed in his search for the right combinatiosn, so much so that Ella Masar spent most of her time on Saturday playing at the tip of a midfield triangle. Given the nature of his squad, you can't blame him, because if he can find a combination that works, Houston has enough pieces to be dangerous. On Saturday, however, that tinkering led to a lopsided result. (1-3-0)
Week Three
Wednesday, May 7
Western New York vs. FC Kansas City, 7:00 p.m. Eastern (stream) – With internationals away, both teams will be depleted. The Blues will be without Amy Rodriguez, Lauren Cheney, and Becky Sauerbrunn, while the Flash will also miss three potential starters: Abby Wambach, Sonia Bermudez, and Vicky Losada. (Carli Lloyd is also gone, but she would have been suspended for the Blues' visit; Sam Kerr and Lydia Williams leave for the Asian Cup after Wednesday's game.)
Sky Blue FC vs. Chicago Red Stars, 7:00 p.m. Eastern (stream) – Sky Blue will be without Christie Rampone, Kelley O'Hara, Sophie Schmidt, and Jonelle Filigno (Loyden's gone, too), giving Chicago a chance to scrounge some of those much-needed spring points. Though the Red Stars will be without Karina LeBlanc and Adriana Leon, Dames' team has the ability to weather those absences.
Saturday, May 10
Portland Thorns FC vs. Seattle Reign FC, 7:00 p.m. Eastern (stream) – If Seattle get a win at Providence Park, they go from upstart to bonafide. Portland's not at full strength, but as the Thorns' record attests, they're still capable of getting results. If the Reign can hand Paul Riley his first Portland lost, they'll confirm their status as favorites, for now.
Sunday, May 11
Western New York vs. Sky Blue FC, 3:00 p.m. Eastern (stream) – With the internationals set to return, this looks like a mismatch. Aaran Lines has assembled one of the most talented squads in the league, while Sky Blue is still in search of a recipe that works. This is the Flash's chance to join the rest of the favorites near the top of the table.
Chicago Red Stars vs. Houston Dash, 6:00 p.m. Eastern (stream) – It's too early to call anything a must win, but if Chicago can't claim three here, Rory Dames will have to consider shaking things up. The Red Stars have the ability to deal with Houston's pressure, and with Vanessa DiBernardo and Lori Chalupny in the middle, they have players who can help pick apart the Dash defense. Scoring has been a major issue, but Dames should still be able to find a way to get multiple goals at home.
FC Kansas City vs. Washington Spirit, 7:00 p.m. Eastern (stream) – Washington's success against Kansas City earlier this year highlighted the Blues' need to switch back to a 4-2-3-1. With that change made, the Spirit will face a different team on Sunday. Against three in the middle, Crystal Dunn may not be able to take this one over.