At one point this winter, Jurgen Klinsmann said he only intended to call up 23 players this spring – the team he would take to the 2014 World Cup. In time, as competition persisted for the last few spots, the need to callup a full preliminary squad became clear. Even after nearly three years of studying, testing, and expanding the player pool, some spots will depend on what happens in Palo Alto.
On Monday, U.S. Soccer will identify the 30 men who will be called to Stanford University for the team's pre-World Cup camp. As of now, we'd put 25 players in the "no way they miss it pile" (so odds are, one will). The big doubts are with the final five spots.
This is where you have to step into Klinsmann's shoes. What is his process? How does he use the 30-man roster to meet his needs? How much does current form influence what he's seen from these players first hand? In camps, games, and tournaments?
At this point, Klinsmann has a good idea of the group that's on the plane no matter what. The time before June 2 will be about competing for the roster's final spots – trying to meet a need Klinsmann feels his core does not. Midfield depth, wing options, and another attacking option in midfield could be the focus, with Klinsmann wanted to keep his options open of those final spots.
Here's who we're betting gets the call on Monday (our "definites" plus "probables" add up to 30):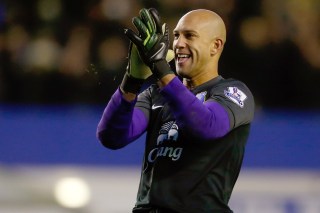 Goalkeeper
Definites (3): Tim Howard (Everton), Brad Guzan (Aston Villa),  Nick Rimando (Real Salt Lake)
Probables: None.
Possibles: None.
Others: None.
There's no drama here, and with spots in such short supply in other, more competitive places, there's little chance a fourth goalkeeper gets a courtesy call.
Defenders
Definites (7): DeMarcus Beasley (Puebla), Matt Besler (Sporting Kansas City), Geoff Cameron (Stoke City), Brad Evans (Seattle Sounders), Omar Gonzalez (LA Galaxy), Clarence Goodson (San Jose Earthquakes), Michael Parkhurst (Columbus Crew)
Possibles: John Brooks (Hertha Berlin)
Others: Edgar Castillo (Tijuana), Oguchi Onyewu (Sheffield Wednesday), Michael Orozco (Puebla), Tim Ream (Bolton), DeAndre Yedlin (Seattle Sounders)
Seven defenders looks short, particularly for a 30-man roster, but there's no competition here. Fabian Johnson (listed as a midfielder here) can also play fullback, while Maurice Edu (if he makes the team) would be a sixth player who can play central defense. The only variable John Brooks, who could be called in for depth or experience. If Klinsmann values that over adding competitors at other spots, the young German-American could get the call.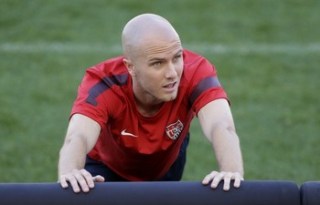 Midfielders
Definites (10): Alejandro Bedoya (Nantes), Kyle Beckerman (Real Salt Lake), Michael Bradley (Toronto FC), Brad Davis (Houston Dynamo), Mikkel Diskerud (Rosenborg), Landon Donovan (LA Galaxy), Fabian Johnson (Hoffenheim), Jermaine Jones (Besiktas), Julian Green (Bayern Munich), Graham Zusi (Sporting Kansas City)
Probables (3): Joe Corona (Tijuana), Maurice Edu (Philadelphia Union), Danny Williams (Reading)
Possibles: Sacha Kljestan (Anderlecht), Brek Shea (Stoke City)
Maurice Edu and Danny Williams are in competition to be a fourth central midfielder behind Beckerman, Bradley, and Jones. Corona, who missed out on the April callup because of Tijuana's place in CONCACAF Champions League, could get a final look, particularly if Klinsmann feels he needs somebody who can play wide. Kljestan and Shea are also possibilities, but given their performances in March and, in Shea's case, what's happened at club level, Klinsmann may not be able to justify giving them somebody else's spot.
Forwards
Definites (5): Jozy Altidore (Sunderland), Clint Dempsey (Seattle Sounders), Aron Johannsson (AZ Alkmaar), Eddie Johnson (D.C. United), Chris Wondolowski (San Jose Earthquakes)
Probables (2):  Juan Agudelo (Utrecht), Terrence Boyd (Rapid Vienna)
We've had Eddie Johnson as a lock for the 23-man roster for a while, but that's changed. At this point, there's an open competition between him, Chris Wondolowski, Juan Agudelo, and Terrence Boyd for a forward spot. If Johnson has a strong camp and shows Klinsmann his club form may have club causes, he can win back his spot, though not necessarily at the expense of one of the other forwards. Under Klinsmann, Johnson has been used as a midfielder more often than not. He could push one of the midfielders out of the final team.