33/1.
Those were the odds on Liverpool winning the Premier League title on opening day.
At the moment, nothing will soften the blow to Liverpool fans who saw their team clutch the trophy with a vicegrip only to see it slip out like a buttered up watermelon.
However, what they accomplished is by far the most surprising result of the Premier League season, at least in the top half of the table.
And while at the moment the disappointment of missing a once-in-a-career result is resounding, it would behoove fans to see how far the club has come, and how they've accomplished something far greater than winning a title.
VIDEO: Steven Gerrard reflects on Liverpool season, muses about Reds' future
Brendan Rodgers has pulled the club out of the quicksand grasp that had held the club down for so long.
Seventh. Eighth. Sixth. Seventh.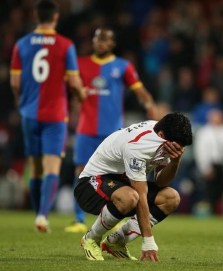 Those are Liverpool's last four table finishes in the Premier League. Reds fans can kiss those days goodbye. Rodgers has assembled himself a sustainable club that should fare just fine in its first season back into Europe's upper echelon.
The club, for one, is young. There are just three players on the entire roster over 30 years old, with one being backup goalkeeper Brad Jones and the other the timeless Steven Gerrard. Meanwhile, eight players are in the prime 24-27 range, while plenty still are even younger and still proved vital this season.
Additionally, the growth – and failure – this squad faced over the course of the season will be invaluable to their title search in future years.  Players like Joe Allen, Jordan Henderson, Simon Mignolet, Daniel Sturridge, and even Luis Suarez now know what it's like to come so close and yet not seal the deal. That kind of chip on the shoulders of these players should scare the rest of the league next season.
So fans, do your grieving, comfort the lump in your throat knowing the title was so close and yet lost forever. It's inevitable.
But remember this – the club's illustrious history aside, none of what Liverpool accomplished this season was remotely conceivable this summer. The club was mired in a four-year seemingly unbreakable slump and wrapped in player turmoil.
Now, that all seems ancient history, and it's on to bigger and better things. Congratulate Manchester City on their victory this time around, and log this time in your memory, because come next year, it's likely to be a whole different feeling.