The manager's chair is always one of the hottest seats in a Premier League venue, but this year's bosses seemed more flammable than ever before. From Jose Mourinho to Malky Mackay to three bosses at Fulham, 2013/14 was a season for the bosses.
So how did yours do? Let's take a look.
Arsenal – Arsene Wenger
Wenger's tumble in the train station symbolically illustrated Arsenal's season: It seemed like the Gunners were headed for title town only to be forced to hold onto the fourth Champions League spot for dear life. To be fair to Wenger, the club faced big injuries to some key players including missing a half-season's worth of Theo Walcott. Still, the inability to bring a forward in during the transfer window, opting instead for a last-second swoop for injured Swedish midfielder Kim Kallstrom, gives the slender Frenchman a poorer grade than the No. 4 slot would hint.
Grade: C-
Aston Villa – Paul Lambert
A 15th place finish for Villa should almost never be acceptable; This is not a club in which survival is the only goal. Lambert didn't seem to press the right buttons and even had his assistants stripped from him at the end of the year. At many times during the season, the attack seemed to center on "Let's hope Christian Benteke scores," and the team hemorrhaged goals late in the season. Throw in his criticism of the cups, and it wasn't a good year for PL or AV.
Grade: D
Cardiff City – Malky Mackay, Ole Gunnar Solskjaer
Criticize unorthodox owner Vincent Tan as much as you'd like, but Mackay did not succeed despite some decent spending in August. Plus half the battle is getting along with your owner, not getting a solid month of the season hamstrung in ornery shouting matches. Mackay did well to get the team up, for sure, and will likely do better with a fresh start somewhere. Solskjaer was allowed to spend, too, but his infusion of Manchester United castaways and Norwegian talent didn't do the trick. They went down. No one wins.
Grades: Mackay, D; Solskjaer, F
Chelsea – Jose Mourinho
The Special One had a good first year at Chelsea, although not up to his lofty expectations. He made clear the team's problems (Have you heard they need a striker?) but also made some classy buys in Nemanja Matic amongst others. There were times his verbal games seemed to backfire, like in the case of his, "Well now we won't win the league" with plenty of time remaining. But still he reached second place and the final four of the Champions League. Next year, it's hardware or bust.
Grade: B+
Crystal Palace – Ian Holloway, Tony Pulis
Credit to Holloway for getting Palace to the Premier League, but he struggled in the first throes of the season. The Pulis hire was a brilliant one, as the Eagles defended in elite fashion and pulled a number of surprising results out of the sky. And, of course, if all Crystal Palace's season served was the "Pulis laugh" after a 3-3 draw against Liverpool, then this year was a success.
Grade: Holloway, D; Pulis, A
Everton – Roberto Martinez
He walked into a club that had traditionally failed to push to the next level… and took them to the Europa League. Martinez's style may not have achieved PL success at Wigan, but he worked wonders with youngsters like Ross Barkley as well as veterans across the board. Martinez guided Tim Howard to a career-best in clean sheets, and Everton nearly made the Champions League. That'll be the measuring stick for next season.
Grade: A-
Fulham – Martin Jol, Rene Meulensteen, Felix Magath
What a mess. Jol never seemed to have the answer, and Meulensteen's first time in a Premier League first chair could was not a success. Magath did a number of good things that make you wonder what would've happened if he was appointed when Jol was fired or if the plug could've been pulled on Meulensteen a couple weeks earlier. In any event, their records reveal more about the on-field talent then the sideline sorcery.
Martin Jol: 3W-1D-9L
Rene Meulensteen: 3W-1D-9L
Felix Magath: 3W-2D-6L
Grades: Jol, F; Meulensteen, D; Magath, C
Hull City – Steve Bruce
A slow start for the Tigers was complicated by ownership's public desire to change the team name to Hull Tigers, but credit Bruce for steadying the ship. The big man also made a couple solid mid-season signings in forwards Shane Long and Nikica Jelavic, and got the club into the Europa League with a run to FA Cup Final. This grade could be higher if they trump Arsenal for silverware.
Grade: B+
Liverpool – Brendan Rodgers
Last year, with his club on a reality show, everyone wanted to pip Rodgers as out of his depth. Yet here came the man with 33:1 odds to win the title, and he came to within a Steven Gerrard slip of getting the job done. You can't blame the man for allowing a veteran to fall down. Rodgers will have to find better defending and hold onto Luis Suarez to be a true threat next year, but he also has the Champions League with which to lure players. Unquestionably, the man navigated an emotional season with a deft touch.
Grade: A-
Manchester City – Manuel Pellegrini
Talk about his board room riches? Sure, but Pellegrini lowered his public persona and worked his way through some tricky injuries and trickier road struggles. Though you could argue that City underachieved given its talents, Pellegrini pushed the right buttons and massaged egos well on the way to a title.
Grade: A
Manchester United – David Moyes, Ryan Giggs
The Moyes era was a disaster, but was Moyes himself? You could certainly argue he needed a PR-savvy team to help him talk and negotiate transfer fees, as his ludicrous offer for Leighton Baines and Marouane Fellaini set the table for a rough season. He also never seemed to sound the right note after losses. Manchester United is not considered a normal club by anyone, but Moyes often sounded as if "losses happen." They do, but Manchester United fans don't accept that. Giggs was a place-holder  who did his job of not being Moyes and being Giggs pretty well.
Grades: Moyes, D; Giggs, B+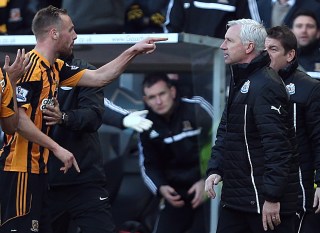 Newcastle United – Alan Pardew, John Carver
We have to include former TFC boss Carver because Pardew went and got himself suspended for headbutting an opponent during a game. Read that and guess what grade is coming. What makes it most screwy is that the club chief scout Graham Carr and Pardew assembled was talented enough to flirt with Europe for most of the early season. Then, Yohan Cabaye was allowed to leave for Paris Saint-Germain and Pardew had no answers. Not one, unless you count headbutting an opponent during a game. Carver was essentially Pardew Jr. for the suspension, and the club was simply the worst outside of Norwich over the final weeks, even months of the season. See this Tweet for more:
Pardew sits in a seedy London strip club as Carver subs Cissé off for Shola. A single tear rolls down his cheek. "That's my boy, John."

— Ali (@NotAliGrey) March 15, 2014
Grades: Pardew, D; Carver, F
Norwich City – Chris Hughton, Neil Adams
It wasn't much better for former Newcastle boss Hughton, whose club was pegged for big things after offseason signings Gary Hooper and Ricky Van Wolfswinkel. The club just wasn't humming all year. By the time Adams took over, it almost felt like the philosophy was, "Well, let's see if Neil can pull off a miracle and at least he'll get to say he was a PL boss if he doesn't."
Grades: Hughton, F; Adams, D
Southampton – Mauricio Pochettino
Really it could've gone so much worse for the Saints, with a midseason boardroom kerfuffle to go with constant rumors of nearly every player getting a big name transfer. Pochettino to me is the guy who should be getting looks from Manchester United and Tottenham Hotspur. A brilliant tactician who knows his way around the motivational circles as well, he's about as good as it gets.
Grade: A
Stoke City – Mark Hughes
It didn't start well, but boy did Hughes pull it together! Stoke leapt into the No. 9 slot in the table on the season's final day, and Hughes did it with a variety of tactics. He's earned plenty of guff for failures at other stops, but if the Britannia Stadium club backs him with a difference maker or two… well, perhaps the Potters can make the next step.
Grade: B
Sunderland – Paolo di Canio, Gus Poyet
This isn't the first time di Canio's honeymoon ended in disaster, but don't think Poyet gets a great grade just for a pair of Cup runs and rescuing the season. The boss had plenty of chances to save his team a bit of late-season drama, only to fail. That said, there's promise for Gus' guys once he gets more of his own flavor in the side.
Grade: di Canio, F; Poyet C-
Swansea City – Michael Laudrup, Garry Monk
When you have a PST writer comparing you to Don Draper, that isn't a compliment. Laudrup failed, leaving a player to step up and clean up the pieces. Monk did that after a shaky start, and earned himself a three-year extension. Training ground dustups were old hat by the end of the season, but the play improved.
Grade: Laudrup, D; Monk C+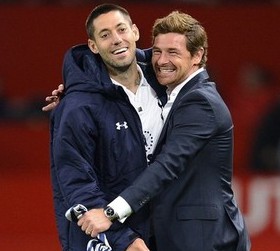 Tottenham Hotspur – Andre Villas-Boas, Tim Sherwood
It almost feels unfair to grade either of these gents considering Daniel Levy seemed intent on making sure both of their jobs were complicated. AVB claimed to have a handful of players he didn't want after Spurs spending spree, and while that's not ideal, who says that? Sherwood did the world's best job doing anything soccer-related ever, according to him.
Grade: AVB, C-; Sherwood C+; Levy, F

West Bromwich Albion – Steve Clarke, Pepe Mel
Maybe it's the concussions, but Clarke's was the only manager whose name I couldn't recall from memory. A forgettable start to the season, and Mel barely saved things — if you can even call it that — before mutually-parting ways with the club today. Bad year for the Baggies, but it obviously could've been worse. Perhaps Clarke was dealing with expectations that were too high, but still…
Grade: Clarke, D+; Mel D+
West Ham United – Sam Allardyce
Well, well, well Big Sam. The Irons had to contend with an injury to their prime signing in Andy Carroll, but really isn't that the argument against putting all your eggs in one basket? Allardyce saved his team from the drop, and how, but he also guided his team into said danger.
Grade: C-