In a Premier League season in which the title wasn't decided until the last day, there are bound to be plenty of dramatic storylines that document the rise (and fall) of certain clubs. When you add in the fact that the entire bottom half of the table was involved in a relegation fight, the drama only increases.
In other words, it was tough to pick just ten story arcs that encapsulate the 2013-2014 season. Feel free to leave a comment with your favorite storyline, or one you think has been overlooked.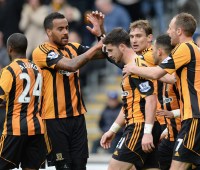 The "Hull City Tigers"
Let's start at the beginning. Hull City, freshly promoted after a three year absence, were eager to prove themselves as a legitimate Premier League team. That meant changing the club's name from "Hull City A.F.C" to "Hull Tigers LTD".
Or at least, that's what owner Assem Allam believed. He announced his intentions a week before the start of the season, saying that "Hull City" was too common and needed to be phased out. "Hull Tigers" would become the common name for the club.
Few agreed with him. Petitions were started, signed not just by Hull supporters but by sympathizers who felt this was a little…crazy. The Premier League agreed, stating that the club would continue to be referred to as "Hull City" in fixture lists, etc. It took until April, but eventually, the league rejected the proposal for "Hull Tigers LTD" outright.
Meanwhile, Hull made the most of their return. For much of the season they boasted a strong record at the KC Stadium, and fans were overjoyed by their victory over Sheffield United in the FA Cup semi-final. Although the final against Arsenal is still to come, Hull have already qualified for the Europa League, and will participate in European play for the first time in their history next season.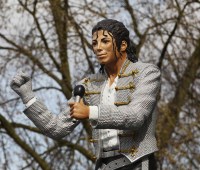 Michael Jackson's Influence over Fulham Football Club
Speaking of crazy owners, Shahid Khan certainly makes the cut. The owner of the Jacksonville Jaguars purchased Fulham in July 2013, taking over from Mohamed Al-Fayed. One of Khan's first acts as owner was to take down the statue of Michael Jackson, erected in 2011 at Craven Cottage.
That was unwise.
Fulham went on to lose their next match, at Cardiff City. Things only got worse from there. Martin Jol was sacked on December 1, after six consecutive defeats. René Meulensteen didn't last much longer, getting the boot in mid-February, with four wins from 17 games. But not even Felix Magath, who at least managed ten points from nine games, could save the side.
The Whites would eventual finish 19th, relegated in the penultimate game of the season after a 4-1 loss to Stoke City.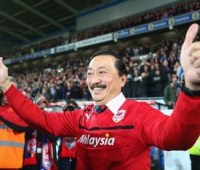 Vincent Tan and the Sad Sad Story of Cardiff
Yep, we've got one final tale of horrible mismanagement for you. Vincent Tan, who took over ownership of Cardiff back in 2010, continued to make blunder after blunder with the Bluebirds. The color change, instituted in summer of 2012, continued to outrage fans, who insisted that Cardiff would be forever blue, not red. In December, Tan sacked Malky Mackay, who'd guided the club to promotion and was publicly backed by the fans. Plus, he had a strange habit of wearing a kit over a dress shirt, tucked into slacks. No, Tan is not the most popular man in Wales.
Particularly since Cardiff's Premier League experiment lasted just one year. The squad collected just three wins under Ole Gunnar Solskjaer, going on to finishing dead last in the table.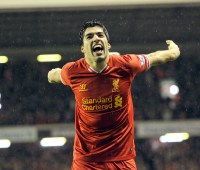 The redemption of Luis Suárez
Alright, he may not be fully redeemed in the eyes of non-Liverpool supporters. But the Uruguayan has made a fine start. Starting the season a month late, thanks to last year's bite on Chelsea's Branislav Ivanović, Suárez did his best to stay quiet off the pitch (and keep his teeth to himself while on it). Recently, he may have helped burnish his public persona by tweeting a photo of himself and Philippe Coutinho eating bananas in support of Dani Alves and efforts to stop racism.
But even a totally reformed Suárez – one who's never even criticized for diving, or for complaining to the referee – wouldn't be noteworthy unless he continued to shine on the field. This season's Luis Suárez did exactly that. In 33 games he scored 31 goals, the league's top scorer. The forward seems more precise as well, and while obviously eager to score as many as possible, still willing to tee up his teammates.
With 101 goals scored in the season, Liverpool's success did not all rest on Suárez's shoulders. His partnership with Daniel Sturridge was fruitful, with Sturridge bagging another 21 goals in his 29 appearances. But his four goals in the Reds' 5-1 thrashing of Norwich make it clear just how integral Suárez was to this season's title chase: A fantastic half-volley from 40 yards out, a close-range volley, a tricky little flick over a Canary… all finished up with a direct free kick.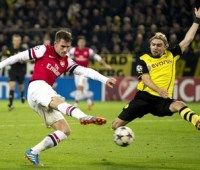 Arsenal's Collapse
Ok, this one comes to us year after year, it seems. The Gunners look like they're set to make a challenge for the top of the table, then fade away. This season, it looked like the rot had set in from the start, with an opening day loss to Aston Villa, and no one set to join up before the transfer window closed.
Then along came Mesut Özil, bringing the side a boost, though alas, still no striker. But who amongst Arsenal fans cared, when they were able to watch Aaron Ramsey week after week? He'd scored 13 in all competitions by the time Boxing Day rolled around…
And out went Ramsey with injury, not to be seen again until April. Other injuries certainly played their role as well, including Jack Wilshere's two month absence and Theo Walcott's season-season ending knee injury.
In fact, perhaps Arsenal's season is best summed up by their activity in the January transfer window. The Gunners were once again unable to tempt a striker to join them, and so brought in midfielder Kim Källström…who promptly found himself injured.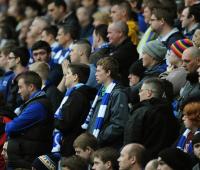 The Race for the Bottom
For any fans not supporting a top-ten side, this season resulted in plenty of nail-biting, bum-clenching and random burst of uncontrolled weeping. It seemed if you weren't in a race for a European place, you were fighting the drop. At the start of February, Aston Villa, sitting 10th, was just three points above the drop. Stoke, who ultimately finished 9th, didn't know they were safe until less than a month remained of the season.
It was madness. Eight managers from the bottom sides found themselves in the unemployment lines. Some sides, like Crystal Palace, gathered themselves together and staged great comebacks. Others, such as Norwich, simply gave up the ghost. And in the end, Norwich joined Cardiff and Fulham in dropping down to the Championship, while everyone else wiped the sweat from their brows and looked around for a cold drink.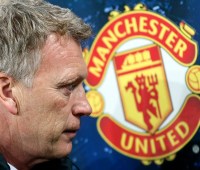 Moyes Out
The plane with the banner reading "Moyes Out" flew over Old Trafford on March 29. Manchester United beat Villa 4-1 that day, followed it up with an impressive midweek draw with Bayern Munich in the Champions League quarterfinals, and went on to thrash Newcastle 4-0.
Then came the second leg of the quarterfinals, in which United lost 3-1 in Germany to exit the tournament. Perhaps that would've been acceptable, losing to last year's champions, except it was followed by a 2-0 loss to Moyes' old club. That loss to Everton meant United were out of the running for next season's Champions League.
Moyes got the sack, and Ryan Giggs was installed as interim manager. But the damage had already been done. Sir Alex Ferguson's hand-picked successor had the club sitting 7th when he left, and that's where they ended the season. Outside the European places, putting all their hopes on a money-making preseason tour, securing a successful manager and luring in top, top players.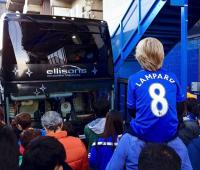 Chelsea's Bus(es)
Oh, the number of words that have already been written about the buses Chelsea parked on various pitches in England! For those who'd paid attention when José Mourinho's Inter Milan won the Champions League back in 2010, the tactician's defensive strategy came as no surprise. Particularly considering the infamous lack of production by Chelsea's strikers, who had just two goals away from Stamford Bridge by the time April rolled around. If you can't beat 'em, you gotta make them beat their heads into the ground.
And that's exactly what Mourinho did to Brendan Rodgers at Anfield. At the conclusion of Chelsea's 2-0 win, the Liverpool manager couldn't keep the bitterness from his voice, saying, "It's not difficult to coach just getting 10 players right on your 18-yard box."
The strategy backfired in Chelsea's next match, the deciding leg of the Champions League semi-final against Atlético Madrid. Once the Spanish side had scored, the Blues' plan went out the window, and with no one to score goals, they were out of the Champions League.
And the title race, with their next match a goalless draw against Norwich. Chelsea wound up third this year, with a top striker top on their list of top summer buys.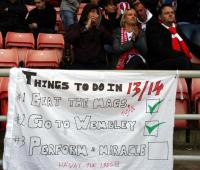 Sunderland's Miracle
It was never meant to happen. Exactly one month ago, on April 12, Sunderland were sitting dead last in the Premier League table. Their only hope lay in the fact that they had two games in hand. Yet that hope was cancelled out by the fact that they needed to visit Chelsea and both Manchester sides.
But then the Black Cats drew with Manchester City. Three days later, they went to Stamford Bridge and walked away winners. They blew Cardiff out of the water with a 4-0 win at the Stadium of Light, before going to Manchester United and collecting their first win at Old Trafford in nearly 60 years.
Ten points in four games meant that, when West Brom visited on May 7th, Sunderland could clinch safety with a win. And they did it, and they did it easily. They wound up finishing 14th, five points clear of the drop.
No one denies the Black Cats have plenty of work ahead of them to ensure their supporters won't need to take paper bags to the stadium next season. The miracle was great and all, but fans would appreciate less heart attacks next year.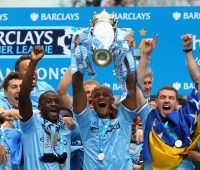 The Joy of Manchester City under Manuel Pellegrini
In a recent interview, David Silva talked about the joy and happiness felt around Manchester City with Manuel Pellegrini in charge. For neutrals, or those with no horse in the Premier League title race, we were just thrilled to finally see City's attacking talent in full flow. The conservatism of Roberto Mancini became more and more apparent as the season went on.
After all, the majority of those scoring goals were there under the former manager: Yaya Touré, Sergio Agüero, Edin Džeko. Yet compare their 102 league goals from this season to last year's measly 66. Pellegrini brought the fun to City, and he deserves any accolades that are sure to come his way.
The beauty of the Manchester City attack was in full flow by the end of September, when they beat rivals United 4-1. By January 18, they'd managed 100 goals in all competitions. And even when teams did their best to shut them down, City found a way to break through, working patiently and determinedly before unleashing a volley of goals.
Manchester City scored four or more goals in eleven games this season. Even when it was your team at the opposing end of that sort of brutality, you could only help but watch in awe, even applauding as a strike whistled past your own goalkeeper.
Plus, City's top goalscorer is a central midfielder, who collected twenty this season. Twenty! For that reason alone, no one should begrudge them the title.