Defenders get no love.
Ask any defender and that's what he'll say. And if his teammates, manager, owner and, heck, even the fans are being honest, they'll agree.
Fact is, there's little glory being a defender. Goal line clearances are clearly just that but are not afforded even near the adulation given to actually scoring a goal. To a slightly lesser extent, the same applies for interceptions and key tackles in the defensive third. Noted but never lauded.
MORE: Latest Premier League reviews
So in this column we give some much-needed love to the big men who hold down the fort while the glamor boys are out poaching goals and dancing at corner flags. But before we do, let's note a few guys who deserve recognition but didn't get the nod: Cesar Azpilicueta, Dejan Lovren, Sylvain Distin, Steven Caulker and Laurent Koscielny. All five played key roles for their clubs and, with the exception of Koscielny (who was brilliant in 2012/13), each enjoyed the best season of his career.
But it takes a little bit extra to make ProSoccerTalk's Top 10 Defenders of the 2013/14 Premier League season. So without further ado, let's get to it.
10. Per Mertesacker (Arsenal)
With Thomas Vermaelen a shell of his former self, Mertesacker and Koscielny were left to forge a brilliant partnership that resulted in only 41 goals conceded. Mobility was always an issue for the big German but this year he looked lighter on his feet and was rarely left in the dust for pace. Highly intelligent, Mertesacker possesses brilliant organizational skills and leadership qualities that keep Arsenal's back four in proper shape. Perhaps his best trait, however, is his perfectly timed lunging tackles that denied so many opponents a look on goal and rightfully earned the man who resembles Gandalf the Great a spot on the prestigious German 30-man World Cup squad.
9. Vincent Kompany (Manchester City)
Arguably the best center-back in the world, Kompany struggled at times this season. Maybe it was due to the time needed to adjust to Martin Demichelis or maybe it was the new manager but for much of the season Kompany seemed off. Missed tackles. Slip ups. Errant passes. In the end though, he remains an absolute beast of the back line and when City needed someone to step up, Kompany was there scoring the second goal of their title-clinching 2-0 win over West Ham.
8. Luke Shaw (Southampton)
Speaking of beasts, Luke Shaw is 6'1″ and 185 lbs of hulking mass with a ridiculous motor and the skills of an attacking midfielder. There's a reason Manchester United is going to pay upwards of $45 million: Because at 18-years-old he's a fully developed professional with a long and potentially very successful career ahead of him.
Commiserations, Southampton.
7. Gary Cahill (Chelsea)
A lot of pundits are sky-high on Cahill but press them as to why and they flounder. Cahill is a solid, no frills, dependable, center-back who can get forward and score goals. But he's not Vincent Kompany. He's not John Terry. And he's definitely not, at least yet, world class.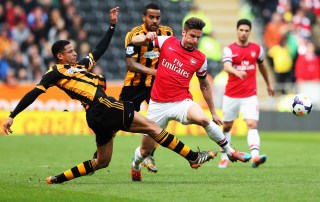 6. Curtis Davies (Hull City)
Davies flies under the radar when it comes to best center-backs in the Premier League. Without question Hull City's most important player this season, Davies is the driving force in Steve Bruce's back line. Strong enough to lead a back three and equally capable of organizing a back four, Davies is dominant in the air, has dialed-in concentration and is an exceptional tackler. At 29-years-old he's getting up there in age but could be a sneaky good buy for a top club looking to add center-back depth this summer.
5. Leighton Baines (Everton)
Brilliant move by Roberto Martinez to hang onto Baines last summer. The best left-back in England, Baines provides skill, speed and goals down the left flank while remaining a stalwart defensively. Don't be surprised if next year Bryan Oviedo's return to health sees Baines move to holding midfielder a la one of the best full-backs in the world, Philip Lahm.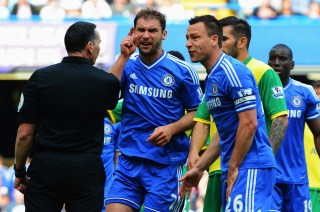 4. Branislav Ivanovic (Chelsea)
No one wants to play against Branislav Ivanovic. Defensively, he's a nightmare. A brutal tackler, Ivanovic will stop at nothing to thwart his opponent. He's dangerous going forward and equally strong at center-back as he is at right-back. Easily Chelsea's most valuable defender, although one of his peers did enjoy a better season…
3. John Terry (Cheslea) 
After barely playing last year, most thought Terry was cooked as a player. But in comes Jose Mourinho and he decides he's going to revive England's Brave and boy did he ever. Terry was fantastic in defensive and an animal going forward making him a surefire member of Best XIs all around.
2. Pablo Zabaleta (Manchester City)
Skillful, quick, calculating, tough-tackling, agile, fierce, intelligent. Zabaleta has it all and does it all every match for Manchester City. Their unsung hero by a mile.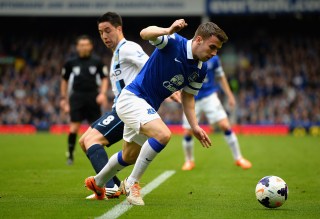 1. Seamus Coleman (Everton)
Every year since his $750,000 transfer from Sligo Rovers, Coleman has improved by leaps and bounds. Always eager to use his speed and skill going forward, this year Coleman hit pay dirt six times in the league. But more than that Coleman improved his defense, relentlessly pressuring opponents high up the pitch and refusing to get beat off the dribble. Once overshadowed by Baines, Coleman has provided a much needed balance to Everton's pitch, making them the best full-back duo in the game.