As we roll through our postseason awards, it's time to focus on the meat of every attack.
What do spectators want to see? Goals! Right?
Ok, well maybe not everyone, but there's no doubt goals are exciting, and parked buses are not. Just ask Brendan Rodgers, I bet he has some choice words on the topic.
MORE: Latest Premier League reviews
While goals are certainly what every manager looks for when they pick a striker, that's not the only way they can contribute and get themselves on this list.  Assists, work rate, and passing ability can all land a striker minutes even when he's not scoring goals.
But ultimately, the goals will be required sooner or later for a frontman.  If they dry up, often players lose their place.
Look no further than Norwich City's Ricky van Wolfswinkel.  The Dutch striker scored on his debut for the Canaries, and put in shift after shift of hard work and energy up top.  However, that debut goal would be his only in the Premier League across 25 appearances, and he'd find himself on the bench in nine of the club's final 15 matches.
The top of the list may be somewhat obvious, but the bottom half will be intriguing to see. Let's take a look at the top 10 strikers from the 2013/14 Premier League season:
10. Loic Remy – Newcastle (on loan from QPR)
Newcastle struggled mightily down the stretch thanks to turmoil in the front office, and Remy was (not coincidentally) on the sidelines for much of it with injury.  But when he saw the field, the Frenchman was a force, grabbing 14 goals on the season.
The Magpies won 15 matches in total this season – Remy scored in nine of them, including their final five.  He was a spark plug for the club, and if they can't secure him on a permanent transfer from Queens Park Rangers, Remy could be headed to other clubs like Arsenal or Atletico Madrid, to name a few that have already been thrown around.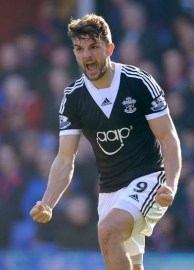 9. Jay Rodriguez – Southampton
A mentally and physically devastating injury ended his season – and World Cup hopes – prematurely, but that should not take away from what the young England international accomplished this year.  The 24-year-old academy product hit for 15 goals and three assists while playing in all 33 of his club's Premier League matches before his injury.
His form earned him his England debut along with teammate Adam Lallana, and the two shone on the international stage as well. It's a shame we won't be seeing him in Brazil this year, but Rodriguez is on the big stage to stay and his name should pop up on plenty more of these lists throughout the years if he can make a full recovery from his ACL tear.
8. Edin Dzeko – Manchester City
He remains in the shadows of Sergio Aguero and Alvaro Negredo at Manchester City, but he continues to provide goals up front. Dzeko is a striker in the true sense of the word, and doesn't have a whole lot of other strengths, but 16 goals and a championship medal to his name this year earns him a place on the top 10 list.
The Bosnian picked up some enormous goals this season for Manchester City, including a winner over Crystal Palace in December when his team was struggling, and a brace in the penultimate match against Everton to keep them on top in the title race heading into the final weekend.
7. Wilfried Bony – Swansea
A Premier League debutant, Bony was bought from Vitesse with the intention of lightening the load of last season's star Michu.  Bony did more than that, as he essentially took over for the Spaniard who struggled mightily with injuries all year.
While Michu scored just two goals in 17 matches, Bony shrugged off a slow start to the season to finish with 16 goals and earn Swansea's player of the year honors.  With a healthy Michu next season, the two should be a force if they can both be utilized in the lineup properly by Garry Monk.
6. Olivier Giroud – Arsenal
While he may have had too much to do as the only capable striker in the Arsenal ranks, Giroud is still one of the best in the league at scoring goals and playing the attractive brand Arsene Wenger asks of his players. The Frenchman struck 16 times this Premier League season and set his teammates up eight for eight more.
Giroud benefited heavily from the arrival of Mesut Ozil at the end of the summer transfer window, but the striker still remains a great litmus test for how Arsenal will finish – all but two of his goals this season came in Arsenal wins.  If he can figure out how to shorten the doldrums he sometimes seems to disappear into at times, he can be one of the best three in the league and lead Arsenal to heights of old.
5. Sergio Aguero – Manchester City
While his sole importance to the Championship-winning Manchester City attack isn't that of those below on this list thanks to a deep squad, Aguero still leads Pellegrini's squad up front.
Aguero posted 17 goals and six assists this year in a season where he only saw the pitch 23 times due to a serious battle with a hamstring and knee problems that lasted nearly five months.  Despite the lack of time, Aguero is a dangerous force when he is on the field, and he's only a bigger threat still thanks to the additions Pellegrini made this season up front.
If he can keep that pace throughout a 38-match season (which would give him about 28 goals this season), Aguero could challenge the numbers Luis Suarez put up this year and earn himself even higher individual honors.
4. Romelu Lukaku – Everton
Lukaku's loan spell at Everton did its job – it made many Chelsea fans furious with Jose Mourinho's decision to let him go in the first place. While the manager blamed Lukaku for his departure to Goodison Park, it was ultimately Chelsea's final call to send him away.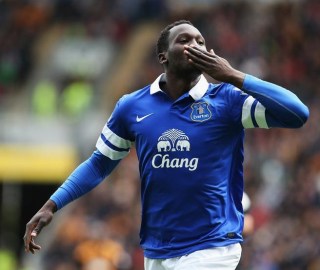 No matter who's fault it was, the decision will no doubt net Lukaku a lot of money in the future.  At only 21 years old, the towering Belgian scooped up 15 goals and six assists, including a strong finish where he scored six times in the club's last 11 matches fresh off a serious ankle injury.
The talisman of the Belgian national team's attack in Christian Benteke's absence, Lukaku has a lot on his shoulders at such a young age.  And with Diego Costa's imminent arrival at Stamford Bridge, there will be plenty of Lukaku's name sprinkled throughout the papers this summer.
3. Daniel Sturridge – Liverpool
The Robin to Suarez's Batman, the 24-year-old picked up 21 goals for himself while assisting another seven, meaning the SaS pair picked up 52 of Liverpool's 101 goals this year – over half.  Add Gerrard's 13, and the trio had a whopping 64% of Liverpool's goals this season.
Sturridge's statement came early on, when Suarez began the season on the bench, scoring in eight of Liverpool's first nine games.  Injuries slowed him down at times, or forced him out of the lineup altogether, but he still finished with three goalscoring streaks of four or more matches, including one seven-match stretch where he scored nine times.
Even with Suarez's PoY performance, the Reds wouldn't be close to what they accomplished without Sturridge's contributions.
2. Wayne Rooney – Manchester United
Despite his inferior goals tally to Sturridge, Rooney gets the nod in the second position because of how he was far and away the best player on the pitch for Manchester United all season.  Rooney bagged 17 goals and 12 assists while the Red Devils struggled under enormous media scrutiny all season.
Rooney doesn't just provide goals and assists, either. He was successful in 64% of his take-ons this season, according to Squawka statistics, and created 58 chances for teammates, tops on the team and third in the Premier League among strikers.
The English international is a leader on the field, and it's no wonder the club threw every resource they had at him to get him to sign back on for next season, despite the lack of European play.
1. Luis Suarez – Liverpool
This was a relatively obvious top choice. Having already received the PFA Player of the Year award, in addition to our very own ProSoccerTalk Player of the Year award.
Suarez matched the Premier League record for goals in a 38-match season with 31 goals, and he missed the first six matches of the season, making the feat that much more incredible.  Add to it the media and fan pressure he faced from his negative image stemming from the previous year, and the stars had to align for him to have an outstanding season – and they did.
Oh, and he also bagged 12 assists (which is an objective statistic, with transfermarkt totaling 21 assists for the Uruguayan), meaning if soccer did points like hockey or lacrosse does, Suarez would have the most in the Premier League by fourteen. Yea, this one's an easy choice.