Certain players just stick out when crafting a Best XI from the 2013/14 Premier League.
Luis Suarez, Yaya Toure, Eden Hazard — no right-minded journo would argue that these men don't deserve a place in the Best XI. This season we can even throw Southampton's talismanic captain, Adam Lallana, into that mix after the 26-year-old attacking midfielder swerved and slipped his way through nearly every defense he faced.
Yet the deeper one delves into a Best XI, the more controversial the picks become. Many would argue Steven Gerrard should be guaranteed a spot, while others will tell you that the love for Stevie G is the result of a heavy-handed media and too many conversions from the penalty spot.
Mile Jedinak in his place? Don't be ridiculous. But the fact is, Jedinak was a bull in the Crystal Palace midfield this season and arguably just as important to his team as Gerrard was to Liverpool. Plus, Jedinak didn't slip up when everything was on the line.
Too soon?
Point being, one of the best things about the beautiful game is it truly is in the eye of the beholder. Below, we the writers of ProSoccerTalk set forth our Best XI of the Premier League season.
Disagree? Consider the comments your friend space.
GOALKEEPER: DAVID MARSHALL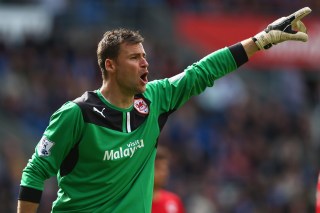 Besides the greatest villain/owner the Premier League has ever known (Vincent Tan), the best thing to come out of Cardiff City this season was undoubtedly David Marshall.
In his first Premier League season, the 29-year-old Scot wowed audiences with his plastic-like extensions and finger-tip saves, 153 of them to be exact. Proving why, despite the Bluebirds being relegated, Marshall is a prime candidate for a summer transfer back to the Premier League.
PST's Goalkeeper Nominees
Nicholas Mendola: Wojciech Szczesny
Kyle Bonn: David Marshall
Joe Prince-Wright: David Marshall
Richard Farley: David Marshal
Mike Prindiville: David Marshall
DEFENDERS: SEAMUS COLEMAN, JOHN TERRY, GARY CAHILL, LEIGHTON BAINES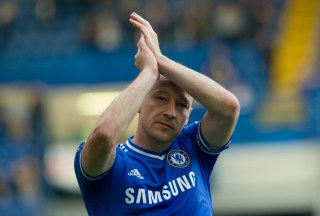 The best center-back duo joins the best full-back duo in our team of the year. It was a glorious season for the Chelsea defense, conceding a league best 27 goals, with Terry and Cahill forming a formidable partnership along the way. Both men possess the bulk, aerial and tackling ability to frustrate any striker and remain persistent threats on set pieces.
The partnership of Baines and Coleman frustrated many a side by playing more like wingers who recover defensively than full-backs who get forward. In past seasons, Everton's pitch was tilted left towards Baines but this season things evened out and perhaps even tilted in the opposite direction when the tireless Coleman bombed forward to score six goals.
PST's Defender Nominees
Nicholas Mendola: Pablo Zabaleta, Martin Skrtel, Curtis Davies, Leighton Baines
Kyle Bonn: Pablo Zabaleta, John Terry, Vincent Kompany, Leighton Baines
Joe Prince-Wright: Seamus Coleman, John Terry, Gary Cahill, Luke Shaw
Richard Farley: Seamus Coleman, Gary Cahill, John Terry, Leighton Baines
Mike Prindiville: Seamus Coleman, Branislav Ivanovic, John Terry, Leighton Baines
MIDFIELDERS: YAYA TOURE, ADAM LALLANA, EDEN HAZARD, STEVEN GERRARD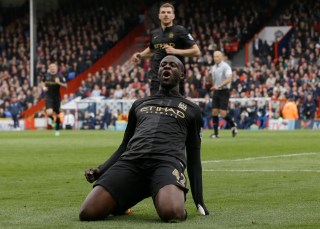 No shocks here as all four of these players enjoyed incredible seasons. At 31-years-old, Yaya Toure beasted his way towards his best season ever, scoring 20 league goals, more than double his tally from any previous season. That effort was nearly mimicked by Gerrard, who at 33-years-old ripped off 13 goals and 13 seasons in a redefining season for the Liverpool captain.
Perhaps no player busted out this season like Lallana, who notched nine goals and six assists for the Saints earning him an undisputed spot on the plane to Brazil. Joining the playmaker is Hazard, who lit up the Chelsea wing, scorching defenders for 14 goals and 7 assists all the while infuriating manager Jose Mourinho for a lack of defensive grit. Go figure.
PST's Midfielder Nominees
Nicholas Mendola: Yaya Toure, Adam Lallana, Eden Hazard, Mile Jedinak
Kyle Bonn: Yaya Toure, Adam Lallana, Eden Hazard, Steven Gerrard
Joe Prince-Wright: Yaya Toure, Adam Lallana, Eden Hazard, Steven Gerrard
Richard Farley: Yaya Toure, Adam Lallana, Eden Hazard, Fernandinho
Mike Prindiville: Yaya Toure, Adam Lallana, Eden Hazard, Ross Barkley
FORWARDS: LUIS SUAREZ, DANIEL STURRIDGE
Arguably the most competitive spot to earn a Best XI accolade was up top where, besides the Premier League record tying goals feat of Luis Suarez (31), it was a free for all.
Sergio Aguero and Edin Dzeko both enjoyed fantastic seasons, the former slightly derailed by injury and the latter by a lack of early season playing time, while Wilfried Bony (16 goals) basically put the entire Swansea City side on his back and dragged them to relegation safety.
But at the end of the day, Daniel Sturridge was fantastic putting home 21 goals and seven assists in just 29 appearances. Alongside Suarez, the duo known as SAS was the most formidable strike partnership in the world but even more impressive was the class Sturridge displayed when the Uruguayan was out – scoring worldies from all over the pitch. Late season injuries dulled him down a bit but it mattered little because in the 2013/14 season, Sturridge announced himself as one of the most dangerous strikers in the world.
PST's Forward Nominees
Nicholas Mendola: Luis Suarez, Wilfried Bony
Kyle Bonn: Luis Suarez, Wayne Rooney
Joe Prince-Wright: Luis Suarez, Sergio Aguero
Richard Farley: Luis Suarez, Daniel Sturridge
Mike Prindiville: Luis Suarez, Edin Dzeko