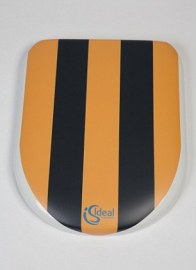 What do you get a Hull City fan who can't get enough of Steve Bruce? If your answer is "a toilet seat with the manager's face on it," your friend needs more than a new bathroom accessory. But if you want to leave this person outside the confines of permanent adult supervision, bathroom accessory manufacturer Ideal Standard has just the thing for you.
Orange and black-striped on the top with the former Manchester United defender's face underneath, the Hull City toilet seat does more than commemorate the Tigers' first FA Cup final. It's also the perfect way to tell your company "there's a reason why I live alone." Whether you're standing or sitting, the watchful eyes of a man whose taken Hull from the second division to Wembley will be able to oversee your most intimate moments, ensuring no Tigers hardcore could accuse you of "not giving a [darn]" about the team.
The Tigers face Arsenal this Saturday with the club's first major honor on the line, an event Ideal Standard couldn't let pass without commemorating the achievement. Managing director Keith Broad, from The Guardian:
"We are very proud of our hometown football team, Hull City AFC and wanted to do something to mark their achievement."
This certainly works, though Ideal's enthusiasm may have gone too far. The orange and black on the top? Tacky, but innocent enough. Bruce's face on the bottom? Even more awkward for its rosy, embarrassed hue.
Congratulations on Wembley, Steve. Welcome to my toilet.