As stars around the league leave the domestic scene to prepare for June's international stage, Major League Soccer's season forges on. With eight matches on tap for the campaign's 11th round, here's a quick look at the coming MLS weekend:
Note: All rankings reflect PST's weekly MLS Power Rankings.
SUCH LITTLE REWARD
#18 Philadelphia Union vs. #3 New England Revolution, Saturday, 7:00 p.m. Eastern
Last week: Philadelphia lost to D.C. United but rebounded with a mid-week win at Sporting Kansas City; New England hit reset on Seattle's surge with a 5-0 victory.
For the first time since March, Philadelphia is into the win column — beating the defending champions on the road, no less — and what's their reward? A visit from the hottest team in the league. Three clubs had claims to the top spot in this week's Power Rankings, and over the course of four days, the Union have to face two of them.
The Revolution go about their business in a completely different way to Kansas City, but the end product has some similarities. At times, New England can be quite conservative, but they're capable of pouncing on any mistake thanks to the presence of a couple of playmakers. As they showed against Seattle, the Revs can make the most of midfield mistakes, with Diego Fagundez, Patrick Mullins, and Teal Bunbury forming a dangerous trio in transition.
Key matchup: Whomever partners normal central defender Amobi Okugo in defensive midfield will have to help contain Lee Nguyen. Brian Carroll missed Wednesday's game with a groin problem. If he can't go on Saturday, the Union will lean heavily on Okugo.
HOW COME YOU DON'T LOSE ANYBODY?
#2 Real Salt Lake vs. #16 Colorado Rapids, Saturday, 9:30 p.m. Eastern
Last week: RSL won in Houston; Colorado drew in San Jose before losing by three Chivas USA.
Still unbeaten under Jeff Cassar, the Western Conference champions get to deal with the losses of Álvaro Saborío, Kyle Beckerman, and Nick Rimando. Devon Sandoval and Jeff Attinella will likely step in up top and in goal, but who takes Beckerman's spot now that Yordany Alvarez is in Orlando?
As for Colorado, they're missing … nobody? That can't be right. (Double checks roster.) Apparently, it is. As teams like Seattle, Real Salt Lake, and San Jose are hit hard by World Cup callups, the Rapids will roll through the tournament with their first choice squad in tact? Well, congratulations, Pablo Mastroeni. Make the most of it.
Key matchup: Javier Morales can hurt you from anywhere, but if Jose Mari can use Beckerman's absence to severe the cord between RSL's three deeper midfielders and its attacking focal point, Cassar will miss Saborío even more.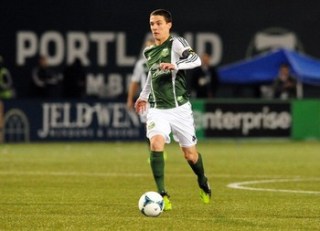 #15 Portland Timbers vs. #11 Columbus Crew, Saturday, 10:30 p.m. Eastern
Last week: Portland drew with LA, 1-1; Columbus lost at Houston and at home to Vancouver
Will Johnson's country didn't make it. Nor did Donovan Ricketts'. Darlington Nagbe's years away from being eligible for the U.S., while Michael Harrington didn't make any progress in the U.S.'s January camp. Aside from the injured Diego Chará, Portland is at full strength, whereas visiting Columbus will be missing three-quarters of its defense. For a team that relies so heavily on its central defenders being decent, the losses of Michael Parkhurst and Giancarlo Gonzalez (as well as left back Waylon Francis) could kill Columbus.
Key matchup: Whenever Diego Valeri turns upfield, Wil Trapp needs to be there. Nagbe is also a key to Portland's attack, but take out Valeri, and the Timbers' drive goes with him.
#14 Chicago Fire vs. #1 Sporting Kansas City, Sunday, 3:00 p.m. Eastern
Last week: Chicago won in New York, 5-4; Sporting won in Montréal but lost at home to Philadelphia on Wednesday
Who would have thought Sporting's would transcend the absences of Graham Zusi and Matt Besler? Yet after its loss to Philadelphia, the defending champions face another of the Eastern Conference's bottom dwellers, only this one is coming off it's best performance of the season.
Like Columbus and Real Salt Lake, Sporting faces a team that lost nobody, with Quincy Amarikwa and Mike Magee guaranteed to test that Besler-less defense. It will be up to Paulo Nagamura and Oriol Rosell to limit their center backs' exposure.
Key matchup: Even in victory, Chicago's defense was a problem. Zusi may be gone, but the work rate of Dom Dwyer can still take advantage of service from Benni Feilhaber, Chance Myers, and Seth Sinovic. Jhon Kennedy Hurtado and whomever starts to his left (Bakary Soumaré or Patrick Ianni) will have to keep tabs on him.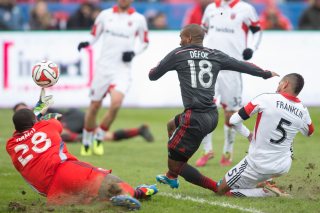 WHERE AGING FORWARDS DARE
#12 Toronto FC vs. #7 New York Red Bulls, Saturday, 4:30 p.m. Eastern
Last week: The Reds were given a week to consider their three-match losing streak; New York lost 5-4 at home to Chicago
In a season where the World Cup talent on rosters harkens back to the league's early days, two of the circuit's big-ticket items are staying home. Thierry Henry has long been out of the France national team picture, while Jermain Defoe will be left behind by Roy Hodgson. Making a combined $10.53 million dollars this year, the former Premier League duo will entertain us while their peers are in Brazil.
The big absence here is Toronto's Michael Bradley. Tim Cahill and Roy Miller are also missing for New York, but neither man is as important to the Red Bulls and Bradley is to Toronto. With Álvaro Rey returning to health, Jonathan Osorio and Kyle Bekker could be teamed in the middle as TFC tries to end its three-game losing streak.
Key matchup: Particularly behind forwards who don't provide much pressure, Bekker and Osorio will need to be conscious of where Henry is moving. Ideally, Dax McCarty will be forced to find the Red Bull playmaker wide, which will shift the emphasis onto right back Mark Bloom.
CAN'T WE JUST RESCHEDULE?
#3 Seattle Sounders vs. #8 San Jose Earthquakes, Saturday, 10:00 p.m. Eastern
Last week: Seattle beat FC Dallas before getting crushed at New England; San Jose drew with Colorado before extending Dallas's losing streak
Number three versus number eight. This looks like a pretty good game right? Except San Jose is missing its four best players (Chris Wondolowski, Clarence Goodson, Víctor Bernárdez, Shea Salinas) while Seattle will be without Clint Dempsey, Brad Evans, and DeAndre Yedlin. Seattle's thinning fullback corps could even things out (Dylan Remick should be back), but without "Wondo" and Salinas, the Earthquakes may not have the firepower to bother the Sounders.
Key matchup: Obafemi Martins can tied up the best of central tandems, but on against Ty Harden and J.J. Koval? The Nigerian will have a major advantage. Hopefully San Jose's duo can summon the spirit of the Nemesio Diéz.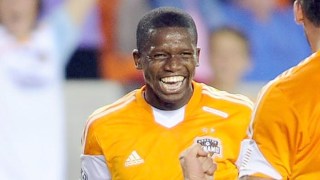 THEY COULD HAVE SETTLED IT ON THE FIELD
#13 Houston Dynamo vs. #5 LA Galaxy, Saturday, 8:30 p.m. Eastern
Last week: Houston beat Columbus before giving up five at home to Real Salt Lake; LA drew in Portland
Landon Donovan is a heavy favorite to make the U.S.'s squad for Brazil, but he still needs to show Jurgen Klinsmann that whatever plagued him in April hasn't lingered into May. Even if he does, the U.S. icon may have to outplay Houston's Brad Davis for a place in the squad.
With both U.S. internationals in California, Boniek Garcia (set to join Honduras after Saturday's game) and Stefan Ishizaki will have to provide the creativity in midfield, though the game's big difference could be in the forward corps. Robbie Keane, who scored his fifth goal of the season last week, will test David Horst in Houston's defense, while Mark Sherrod will get a chance at an Omar Gonzalez-less defender, if Will Bruin can't go.
Key matchup: Horst is going to have to keep his defense organized to deal with Keane, but the absence of Ricardo Clark could prove costly. Last week in Portland was an extremely example, but particularly since Rob Friend's been inserted into the starting lineup, Keane is spending more and more time dropping into midfield.
FINALLY … FAVORITES
#9 D.C. United vs. #19 Montréal Impact, Saturday, 7:00 p.m. Eastern
Last week: D.C. United won in Philadelphia, 1-0; Montréal went down a man early and lost at home to Sporting, 3-0
A huge sign of progress for D.C. United: They're actually, unambiguously, favorites in a game. But from a certain perspective, this is where the pressure starts.
It's one thing to motivate yourself to plays as underdogs, using any means necessary to attain a result few expect you to get. It's another to be the better side, have to take the game to an opponent, and come away with three points.
Not that D.C. can't do it. After last year, however, we just don't know. This is D.C.'s chance to show they can win from the rail.
Key matchup: All eyes will be on Eddie Johnson to see how the snubbed striker responds to his national team exclusion. Who he faces in Montréal's defense will depend on which center backs Frank Klopas presses into action after the Impact's mid-week win against FC Edmonton.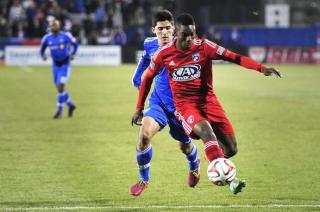 RED, RED, RED, RED … RED, RED, RED, RED
#10 FC Dallas vs. #17 Chivas USA, Saturday, 8:30 p.m. Eastern
Last week: FC Dallas lost 2-1 games at Seattle and San Jose; Chivas USA post a 3-0 win against the Rapids in Colorado
MLS teams are tied for the league leaden red cards (four), and they meet on Saturday in Frisco, Tex.
Dallas will enter the match on a peculiar four-game losing streak, one that leaves us with little idea of how good the Toros are. They lost to D.C. United and Houston while down a man, changed approach and fell in Seattle, then couldn't leverage their own man advantage in San Jose. Along the way, we've learned little about how the team can cope without Mauro Díaz.
Key matchup: Eric Avila, a converted midfielder, continues to grow into a right back, but Fabian Castillo has a way of making even the most experienced fullbacks look foolish.