For the first time this year, D.C. United came into a game as favorites, and for the first time since March, the team played to others' previously deflated expectations. After an early second half mistake from left back Cristian set up Jack McInerney for the game's opening goal, D.C. needed a late goal from Eddie Johnson to avoid an embarrassing loss. The Desginated Player's 84th minute equalizer allowed the home side to salvage a 1-1 result.
United came into the game having lost only one of its last seven, a run that cast the team as favorites on Saturday night. Yet taken out of its normal underdog role, United gave up more chances than it created and were out-shot (in terms of shots on goal) 7-4 on the night. Tasked with taking the game to its opponents, D.C. United was out of its comfort zone.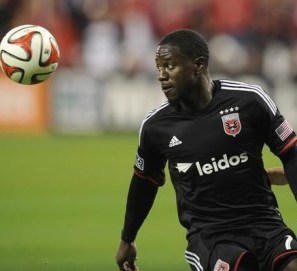 D.C. paid for that discomfort in the 56th minute when Cristian's misplay of a long ball allowed Justin Mapp to race in from wide and find McInerney at the near post. Scoring his second since joining the club, the team's new forward had the Impact on the cusp of its second win of the season.
Perhaps that only set the stage from Eddie Johnson. Goalless since joining D.C. United, snubbed by the U.S. Men's National Team on Monday, Johnson was the center of so many's attentions ahead of this game – those wondering if the Designated Player would try to prove a point. While he was far from taking over this game, Johnson did cut in front of defenders to put a header off the crossbar in the first half. He also came close on a chance wide of the right post, putting his shot into the side netting. If the main qualm about Johnson noted a impact compounded his dearth of goals, "E.J." was at least addressing the former.
Six minutes from time, he hit the other concern. In the 84th minute, off a cross from Fabian Espindola, Johnson headed his equalizer down and inside Troy Perkins' left post, beating Jed Brovsky just outside the six-yard box to make his first D.C. United goal a memorable one. Thanks to Johnson's break through, United were able to salvage a goal against Montréal.
After a disappointing result, it was the home team's silver lining. Drawing at RFK against on of the team's worst teams should be seen as a disappointment, but in Johnson's goal, there's a sign of improvement. Perhaps the next time United go into a game as favorites, they can relying on an in-form Johnson to convert some of its possession into goals.