Midweek MLS action proved positive for a pair of clubs, while the other two faded into defeat.
It's been a rocky seasons so far for the LA Galaxy, but Robbie Keane may have jump-started the club with a world-class goal early on to help Los Angeles past FC Dallas 2-1.
DC United climbed three spots in the table with another three points to extend their streak to nine games with just a single loss.  DC led Houston in just about every category including the scoreline as Chris Rolfe and Fabian Espindola bagged a pair in the 2-0 win.
Both teams showed confidence and skill around the 18-yard box, taking advantage of numerous chances.
For DC United, the three points grabbed tonight puts them at 18 for the season, passing last year's total of 16 in the process.  It's an incredible turnaround for a club that six months ago was searching for any sort of bright light of hope, but now sits in second place in the East.
Rolfe has picked up playing time in the last month, and with Eddie Johnson suspended, the 31-year-old partnered beautifully with Espindola, not only bagging a goal each but also assisting each other's scores as well.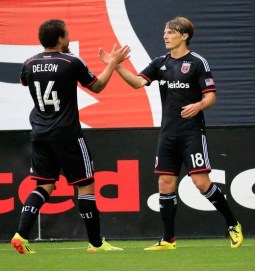 The Galaxy's win over Dallas picks them up off the bottom of the table, still with at least a game in hand on every other Western Conference team.  They showed a few major lapses in defense as Dallas pulled one back in the second half, but weathered the rest of the storm as they saw out the win.
Keane was outstanding, and Gyasi Zardes backed up Bruce Arena's personnel selection with a goal of his own and an assist.  The reward for Arenas is a monumental one, considering all the shifting and changing he's had to do thus far.
Hopefully for LA fans, the win proves the Galaxy are still capable of being their old selves, and picking the club off the bottom of the table can often have boost-like consequences.
The pair of clubs on the losing ends, FC Dallas and Houston, things are slightly different.
For Dallas, things continue to go from bad to worse.  Their torrid start is a distant memory, and they've picked up just a single point since April 19.  They broke their losing streak last time out with a promising draw against Chivas, but their trip to StubHub Arena now just dives them back into the abyss with a trip to undefeated Real Salt Lake next up.
Houston doesn't look nearly as broken, but with results all over the place early on, it's a tough start to their three-match road trip after a (mostly) positive homestand. With two important Western Conference games coming up against mid-table sides, the club needs to get back on the right track.