The face of the USMNT is changing. With a focus on younger players and development, and with one eye focused beyond the 2014 World Cup, Jürgen Klinsmann has already significantly altered the squad that so ignited crowds in South Africa four years ago.
Veterans Carlos Bocanegra, Jay DeMerit and Steve Cherundolo are already gone, ushering in a new era at the back. DeAndre Yedlin and John Brooks are two of the new generation that will hope to find themselves on a plane to Brazil, with other young players hoping to slot in up top and in midfield.
MORE: The latest World Cup news, analysis
Of course, the defense won't be what sticks in people's minds when they remember the 2010 World Cup. Those clustered around television sets and straggling into bars for early morning viewings back then will mostly remember these faces of the USMNT: Tim Howard, Michael Bradley, Clint Dempsey. Most of all they will remember Landon Donovan, whose game winning goal against Algeria in the 91st minute ensured the U.S. would finish top of its group.
But, come 2018, the core that has shaped the recent face of U.S. soccer – and helped attract a generation of fans committed to the sport's development – will no longer be present in the World Cup squad. Their legacy, however, will remain firmly in place.
Tim Howard (goalkeeper)
Howard got his start way back in 1998 with the New York/New Jersey MetroStars, before moving to England in 2003 to join Manchester United. United loaned him out to Everton in 2006, and he's been a Toffee ever since. Howard's USMNT career began twelve years ago, although playing backup to Kasey Keller kept his number of caps low. Howard won the starting 'keeper position back in 2007, a role he kept through to South Africa, where he put in a few impressive performances, including setting up the winning goal against Algeria.
It seemed as though Howard might face competition for the starting role from Aston Villa goalkeeper Brad Guzan, but his form has dropped of late, and Howard is almost certain to start in Brazil.
At 35, Howard's career is coming to a close. Some might argue that goalkeepers only get better with age, and that at age 37, Keller started all three matches of the 2006 World Cup. But it's mighty hard to believe that Howard will be starting come 2018, so it's best for fans to enjoy him while they can.
Clint Dempsey (attacker)
Is he a "forward"? Is he an "attacking midfielder"? Does it matter? Dempsey comes into the 2014 World Cup in fantastic form, having scored eight goals in nine games for the Seattle Sounders. The USMNT captain has been impressing in training camp, prompting his teammates to speak of his play as being "on a different level."
Dempsey, now 31, may feel he has something to prove after failing to impress in his first season with the Sounders. But for most fans of the USMNT, the upcoming World Cup is almost certain to just be icing on the cake of an extremely successful career. Dempsey's professional days began at the New England Revolution, where his impressive performances prompted Fulham to come calling. After five and a half years with the Cottagers, Dempsey, hopeful of reaching the Champions League, moved on to Tottenham, where he spent a year before heading to Seattle.
Dempsey earned his first senior cap for the USMNT in 2004, and by 2006 he was part of the World Cup squad. In fact, Dempsey scored the only goal for the United States in that campaign, putting one past Ghana. His fantastic performances in the 2009 Confederations Cup meant that he was a lock for South Africa. There he became a hero when he equalized against England, making their goalkeeper Robert Green a laughingstock in the process.
Now, Dempsey's hoping to build on his performances to lead his team on a deeper campaign in Brazil. He's already scored 36 goals for the USMNT, making him the second-highest goalscorer, but should his astonishing form in MLS continue in Brazil, Dempsey may be singing one amazing swan song in his final World Cup.
Landon Donovan (forward)
Donovan was only 20 years old when he went to his first World Cup in 2002, but it feels as though that tournament launched him into stardom, making him the face of U.S. soccer. It certainly helped that the young forward scored the clincher against Mexico, giving the USMNT another "dos a zero" and ensuring they'd get through to the quarterfinals.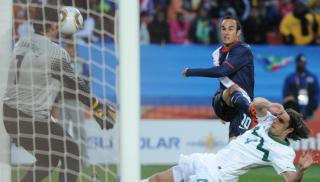 He was named the tournament's top young player, going on to start for the USMNT in 2006, while in between, followers of the national team will remember him for impressive performances in the 2007 Gold Cup and the 2009 Confederations Cup. It was in 2010, however, that he really made casual fans sit up and take notice. Down 2-0 to Slovenia, Donovan scored the first for the US shortly after the break, paving the way for Bradley's equalizer and setting up a crucial final group game against Algeria.
And, of course, that game is what endears Donovan to most USMNT fans. A win would put the U.S. top of the group, beating out England, but a loss could put them out of the tournament. The U.S. dominated much of the match, and Dempsey had a first-half goal harshly ruled as offside. Then, in stoppages, Dempsey raced through to fire point-blank at the Algeria keeper. Donovan pounced on the rebound, tucking it into the back of the net…and giving new meaning to the phrase, "The Crowd Goes Wild!"
It's hard to believe that Donovan won't be around for the 2018 World Cup, but it's even more difficult to fathom (especially for a casual fan) that he might not make it on the plane to Brazil. There've been questions about his commitment, particularly after he sat out 2013. There are rumors of a rift with Klinsmann. He's carrying a lingering knock.
But for most fans, Donovan simply has to be part of the 2014 World Cup squad – if only to say goodbye to the man that's done so much to bring attention to the sport in the country. If he goes to Brazil, Donovan's presence won't be a mere symbol, but it will certainly serve to highlight the changing of the guard, to showcase the way U.S. soccer continues to grow and develop.